** DENG Chris!! my title was Chris' June's Bday .. he scat his gf wor.. yoh.. not sporting geh... **
she will kill me if she read this. and i kno chris will enjoy it veli much.. haha.. die lar. both oso my frens... how ar? ok la.. june, come and kill me la..
nuthin much we can do during her bday celebration too. cos it fell on weekend and all of us r not free.. haha.. so?? replaced it on last monday lo (8 june 09). went out for a dinner together. ya.. summore hv to drive all the way from office to Telok Gong, Klang.. aiyo.. tiring la.. wat to do? fren ma.. hv to sacrifice a bit. haha..
who else going? erm.. chris chris lo, mei-mei (MZ) lo, june june lo, april lo, bra bra (subra) lo, onn onn (WO) lo n jim jim (LA) lo.. opps.. terlupa me..and liangmui lo..haha.. 8 of us.. 5 cars.. damn crazy. government wans us to car pool but almost each n everyone of us driving one car.. cos balik tak same tempat ma.. tat's y lo.
reached the restaurant ard 8pm. chris chris had a nice pics for us first.yea.. the ladies..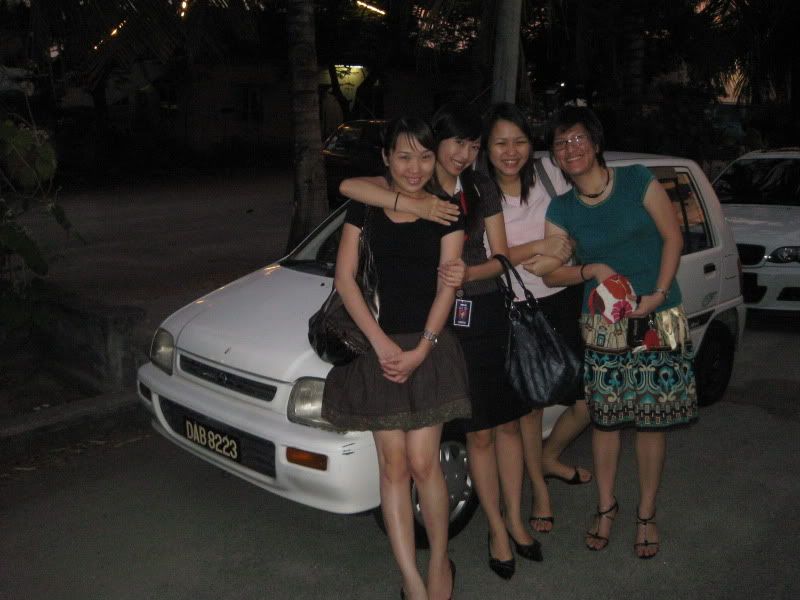 Mei-mei, June June, April n Liangmui..
** ya, this is the first time i'm wearing skirt to office.. and i regretted!**
ok... masuk restaurant.. waiting for food. snapped pics again.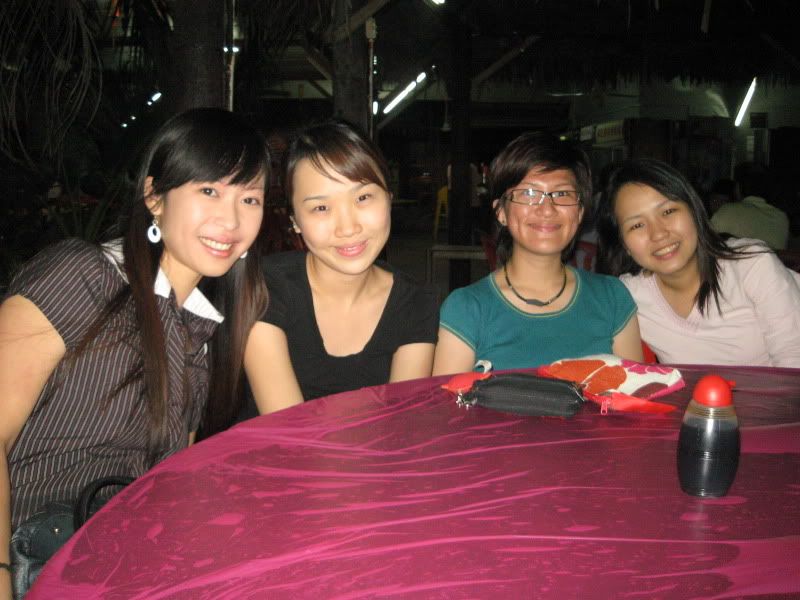 June June, Mei-Mei, Liangmui n April.
Not forgeting the guys...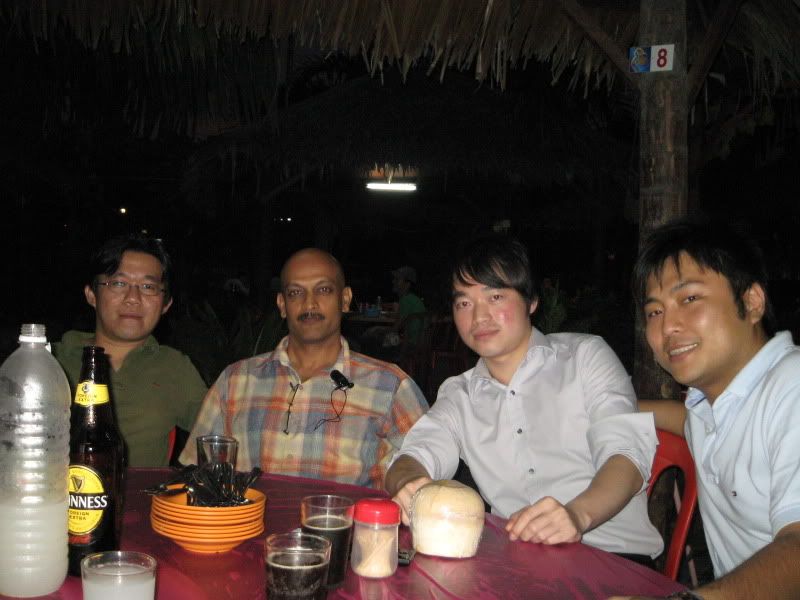 Jim jim, Bra bra, Onn Onn and Chris chris..
cam-whoring again...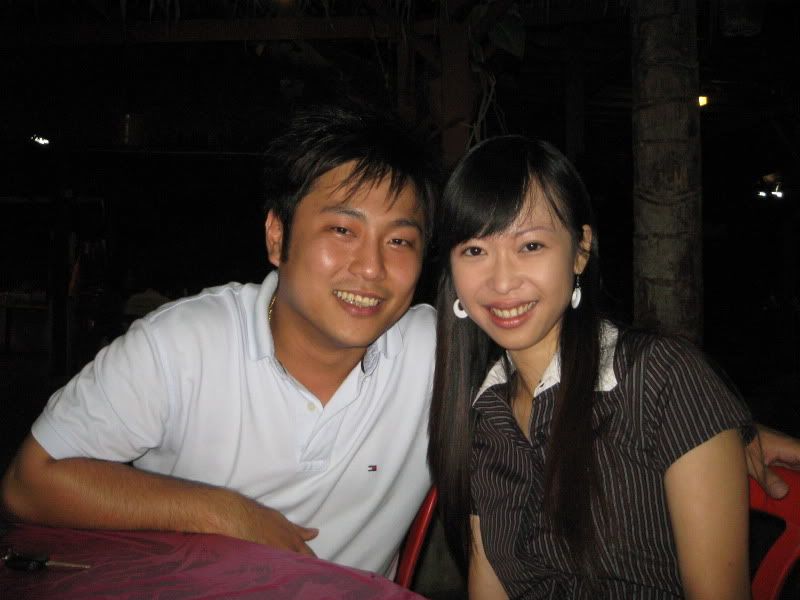 Chris n June.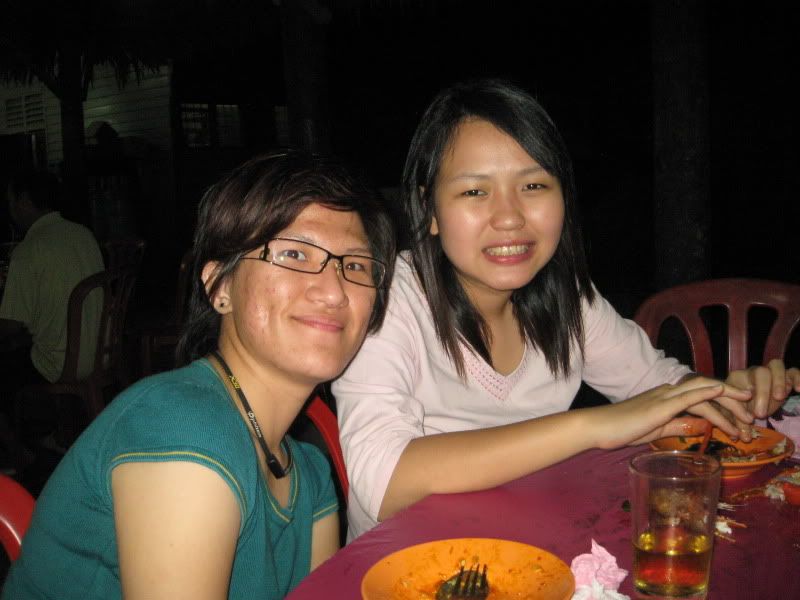 Liangmui & April
don't judge a book by its cover.. both of them can reali eat a lot!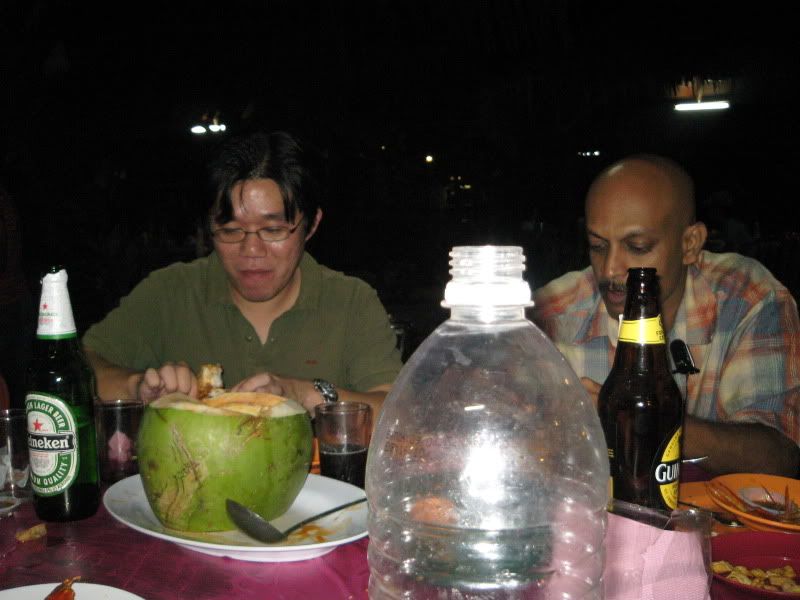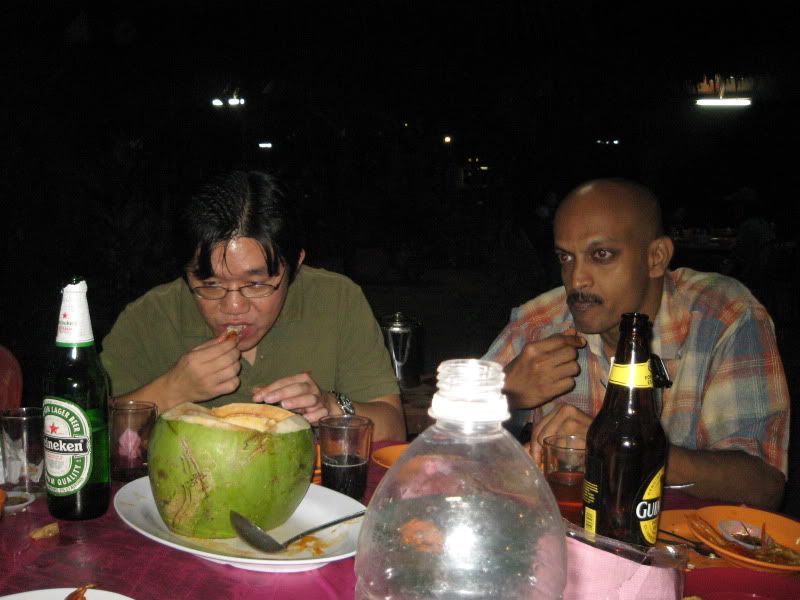 June and the bloody stuff.. haha.. joking la.. she's not coughing blood la.. actuali she's wanna help i-forgotten-who's-the-person to crack the crab's shell off. and it ended up like tat due to her super-hard bang on the crab. phew~ luckily i belum kena from her.. or else i think i nit to get a famous plastic surgeon from korea to gao tim my face.. haha..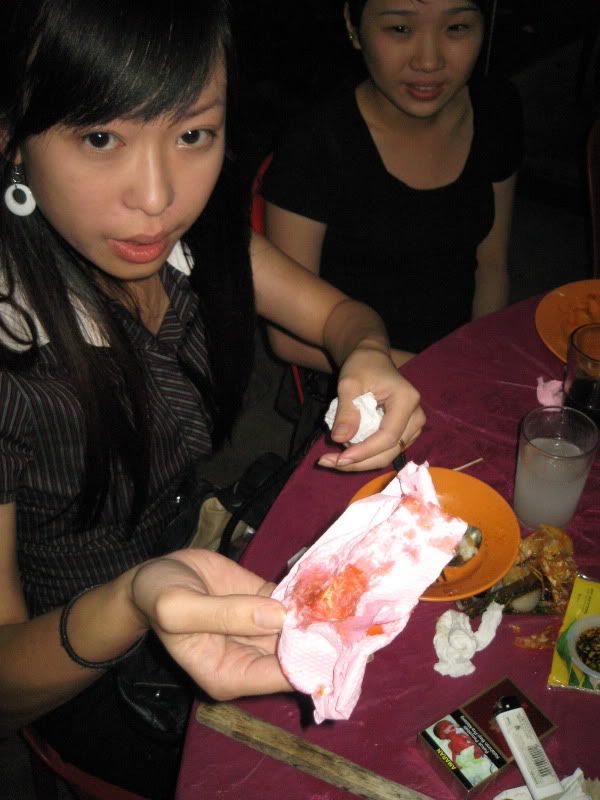 ok.. cake cutting session..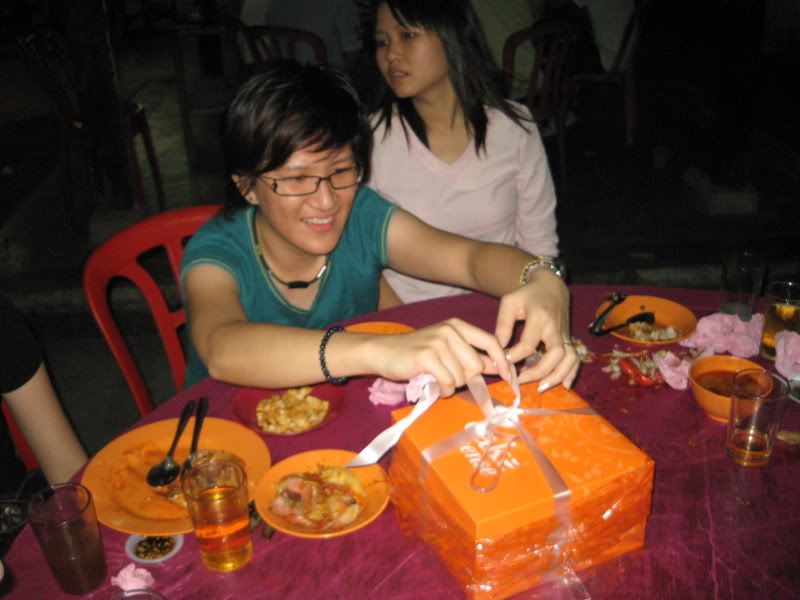 wat happened to me? essh.. cos i actuali untied the ribbon and then got scolded by chris cos i'm not the birthday gal. he wanted his june to untie it herself.. tat's y i nit to tie it back.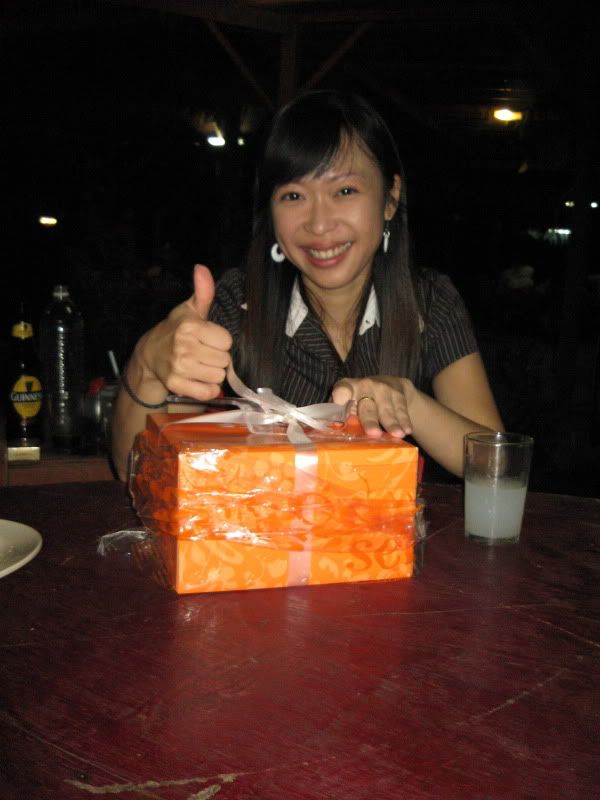 june's turn to untie it.. deng chris chris.. stupid la...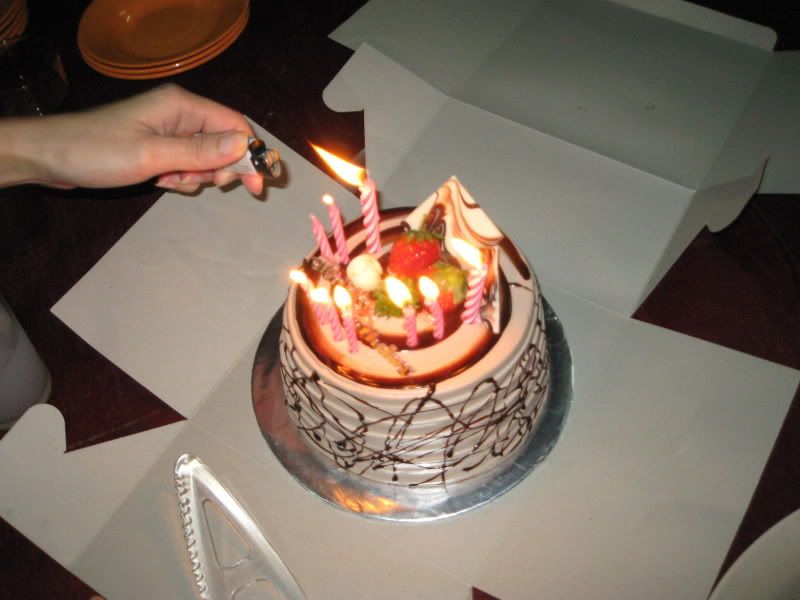 See-toohh-beh-lei (strawberry) cho-co-lat (chocolate) cake.. hehe.. 0.5kg.. wahah.. not we stingy.. jus tat cant finished the cake if i get it bigger than tat.. so hv to save money a bit.. 0.5kg oso kenot finish d.. nice o not? er.. i dunno wor.. cos i cant take chocolate la.. another nice scolding from the gang.. cos getting a cake wic i cant even taste it myself.. well, i shld say i'm lucky as i dun hv to finish the cake later.. hahaha.. :P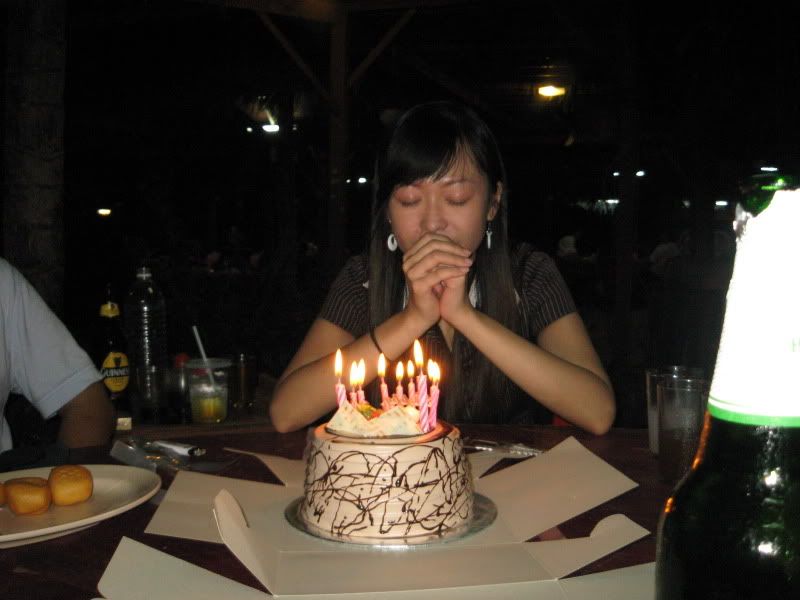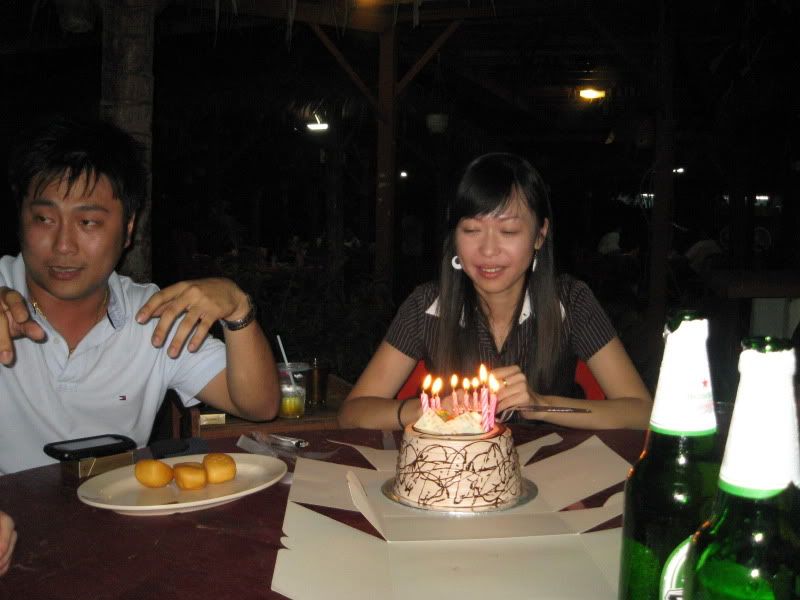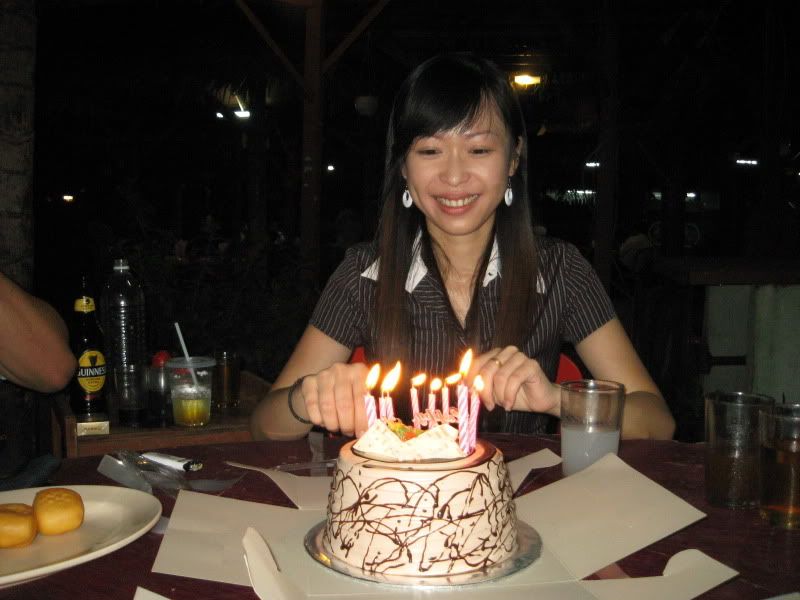 wish wish and then cut the cake and then?? eat lo....
**sigh~~ ** 7 of us.. cant finish the cake.. and then? the crazy june june suggested to play 'Count Fingers'. Rules: each of us will show our fingers out and start counting and get the number. then will start counting the person. the one who got the number will then be punished.. wahhaha.. wat else can the punishment b?? FINISHED UP THE CAKE. ya ya.. i'm considered lucky cos i dun hv to eat the cake...
but.... hv to bottoms up the drink i had on my hand + one tiny bun.. ok.. HEINEKEN.. :P teruk la.. luckily it's half glass..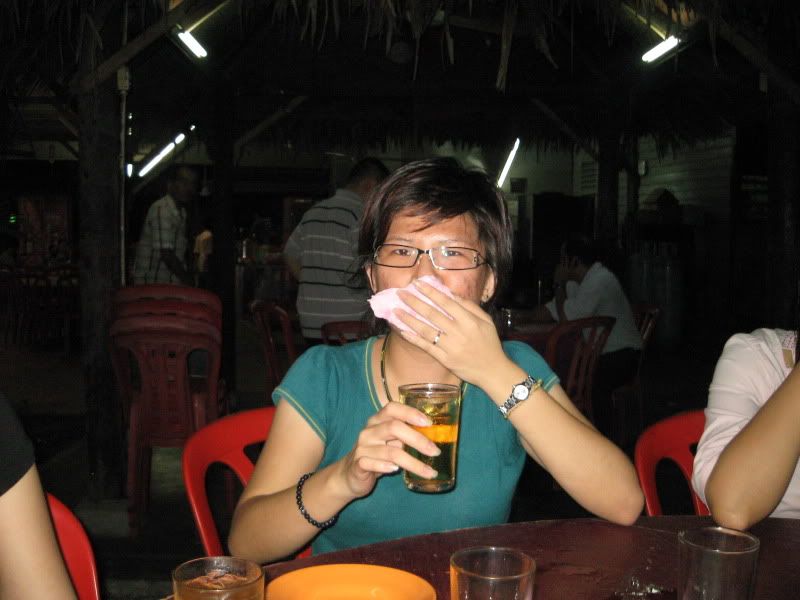 well, i slowly sipped and then makan the bun then take a bigger mouth of beer.. but they said hv to be exactly half.. phew~~ they made me spitted out some of the beer out from my mouth.. yuckss~~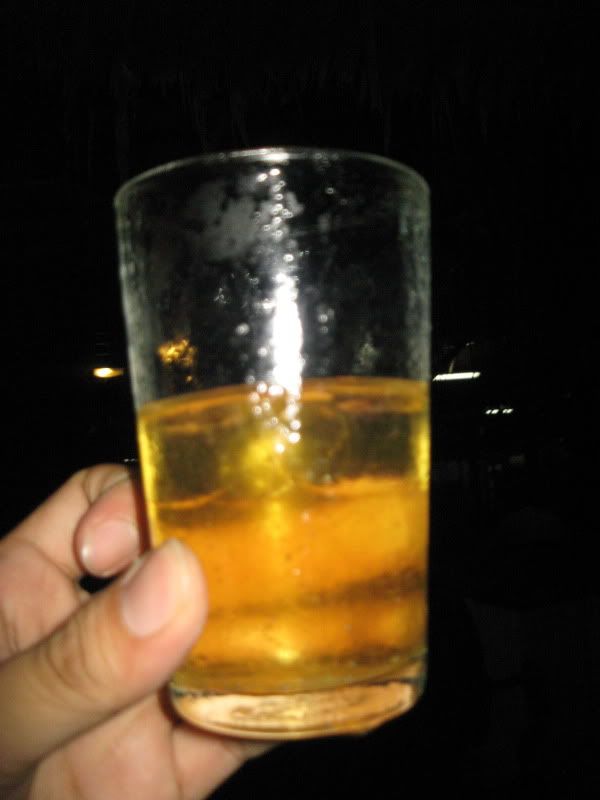 can u see the bread floating there??
and the worst thing is.. i'm the 2nd loser again. chris challenged me to drink back tat drink. ok.. accepted and they had to salute me :P..
** next time dun play play wif liangmui **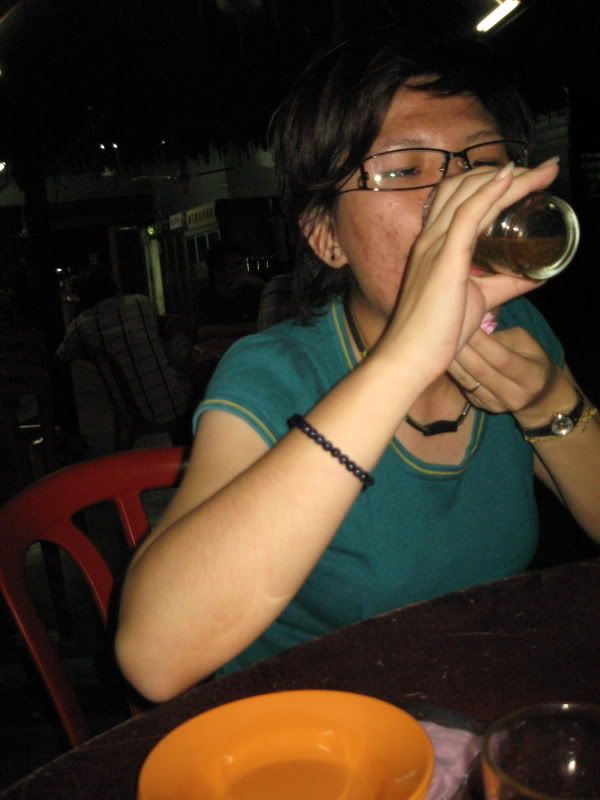 and the game continued...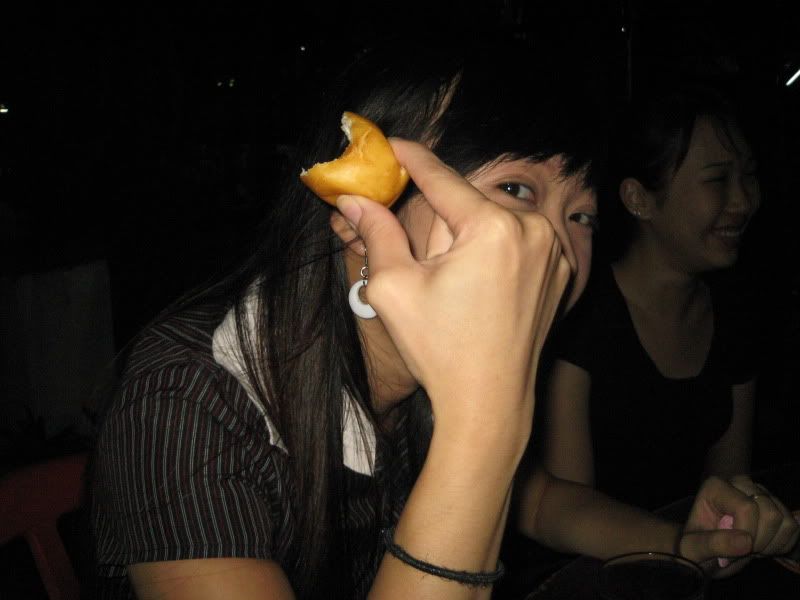 2nd Loser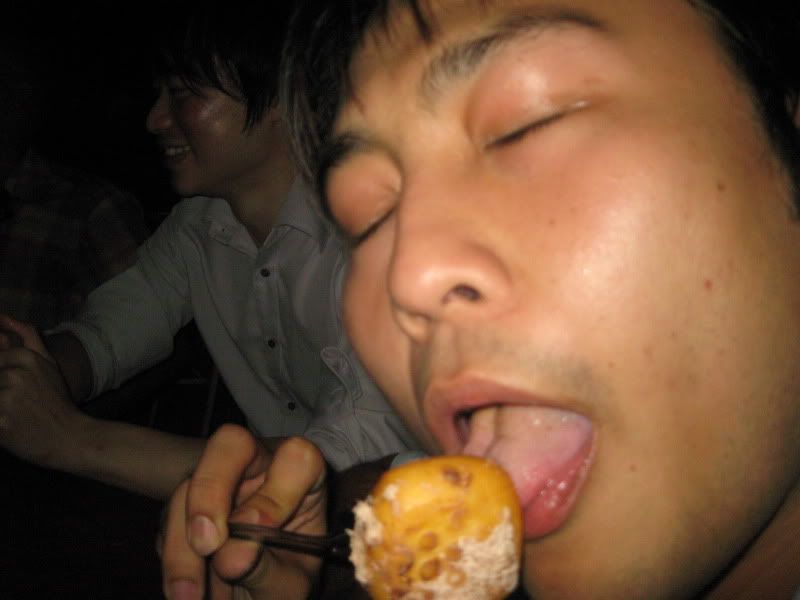 3rd..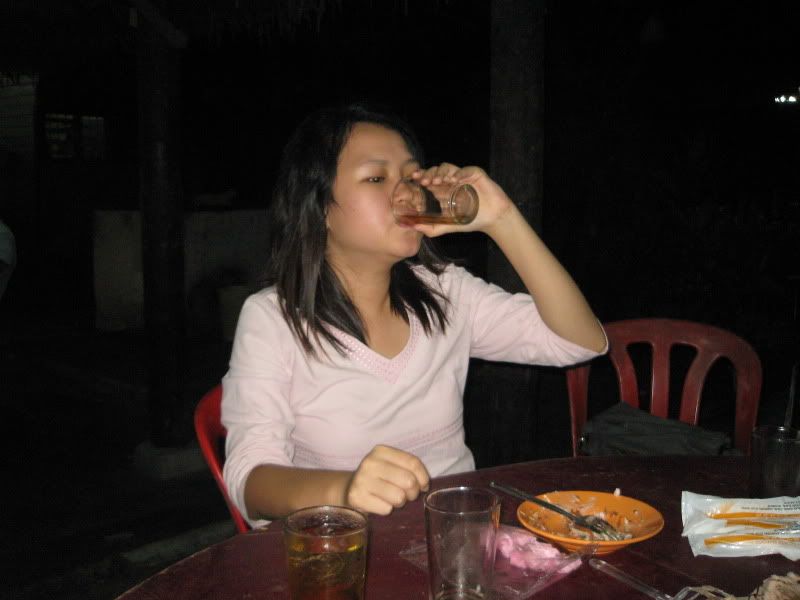 4th..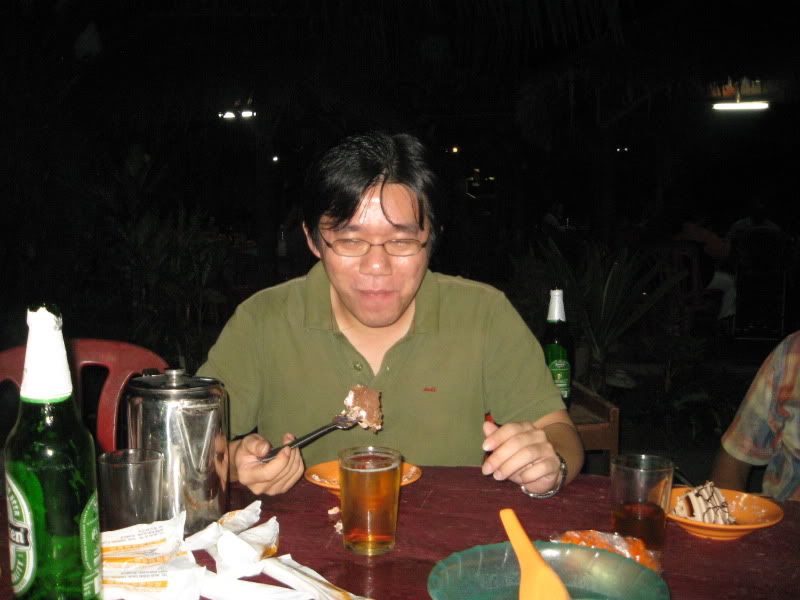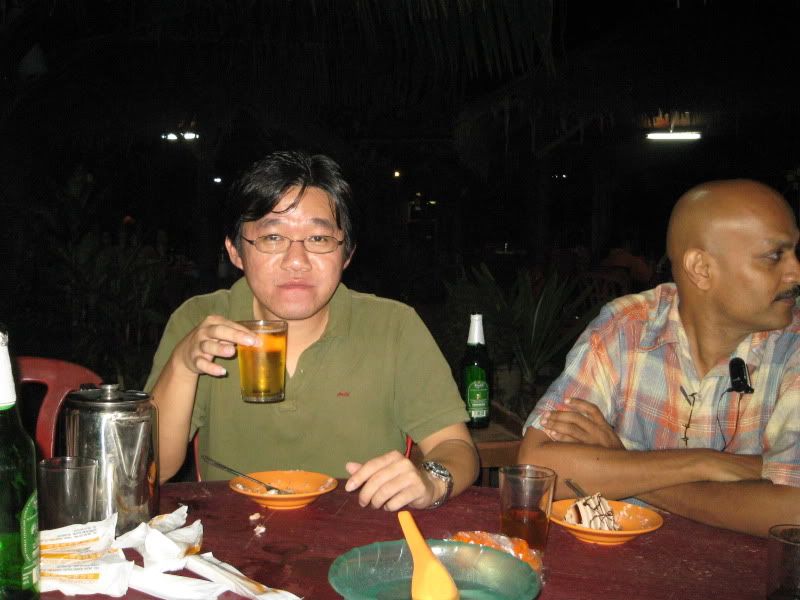 5th.. kesian him.. hv to finish one big piece of cake.. 1 glass of Heineken.. and 1 glass of Guiness.. luckily he din vomit.. wahhaa...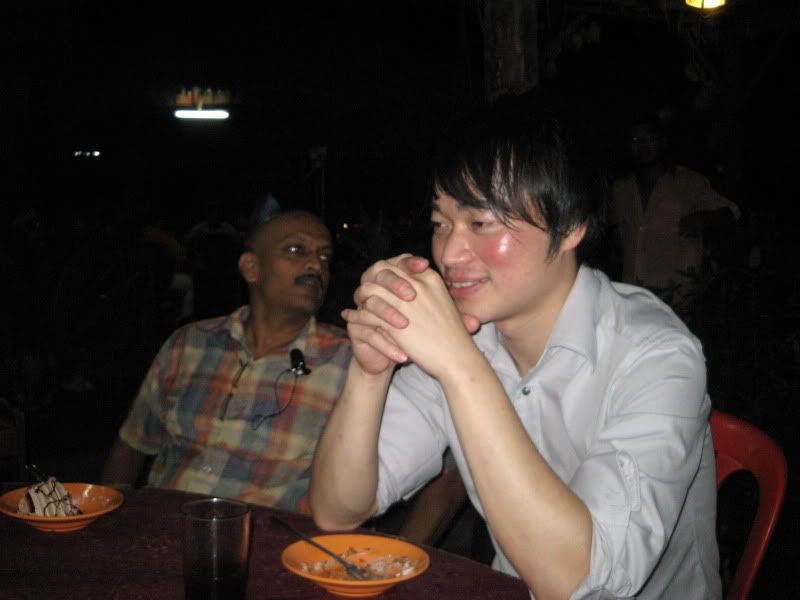 last... er.. sth happened to him.. but we kenot disclose it wor.. or else he threaten to complain to our boss and our KPI will drop.. teruk teruk.. tat's y.. dun b so fren wif managers.. :S
got Mei mei n Bra bra.. i oso dunno y their pics are not included.... hai~~
ok la.. the night was no more young.. haha.. hv a nice group pic..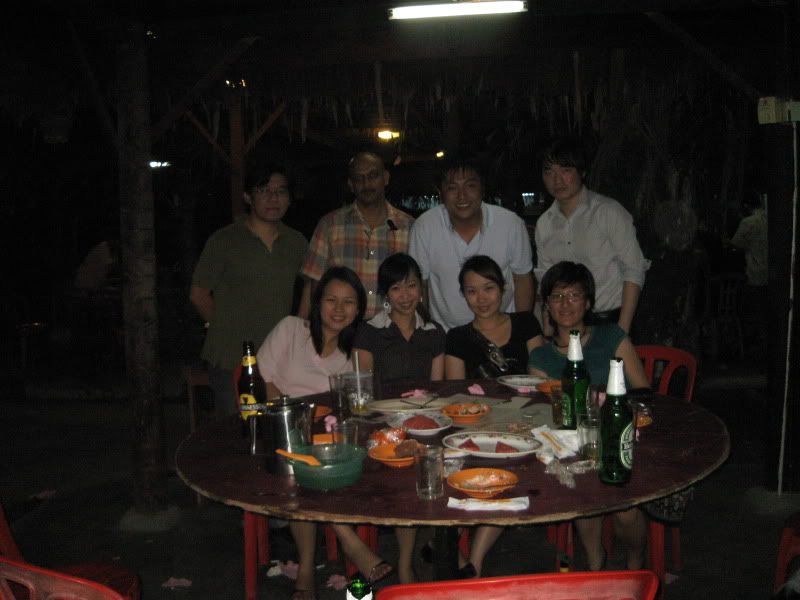 ok.. they cam-ho again..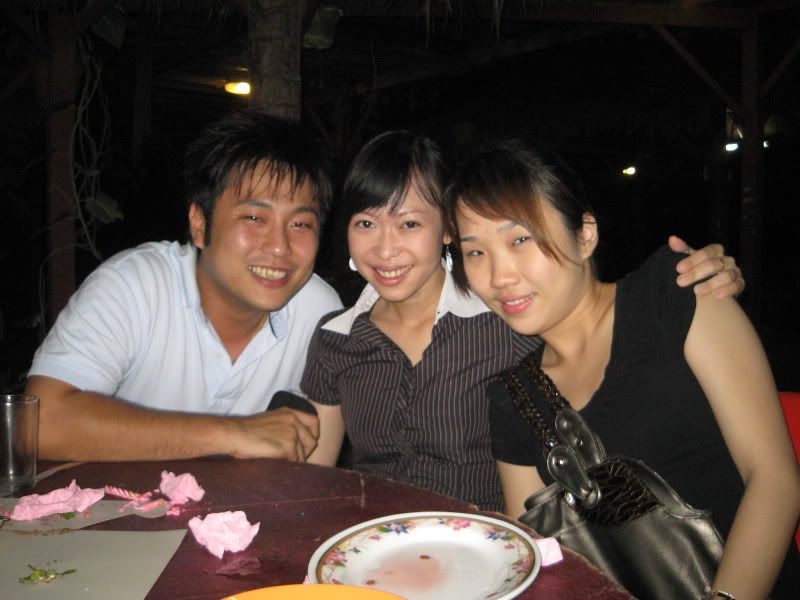 time to go back.. and i speed like nobody's business.. u all kno lar.. i'm driving SLK ma.. fled faster than Gardenia(Caldina) and BMW (Banyak Masuk Workshop).. haha.. but then.. who cares?? as long as i reahed home safely and sleep like a pig :P
** june ask us to respect her as her bf is not chris.. haha... **