Venue: Marché, The Curve
Time : 7pm
quite tired cos today went out for bridal gown testing. ok.. not mine.. it's Janice. went there wif her. gip some ideas and had some snapshots on the dresses she tested out. i wanted to post the pics but then she said kenot wor.. how ar??
** Janice, can i post them?? i'm so eager to post them on lar.. **
we were there from 3pm til 6.30pm. damn tiring. i'm the camera lady saje oso can feel the tiredness. jus imagine the one who test and hv to decide wic gown to wear during the photography session. phew~~
after that,
liangzai
and me went off to dinner cos we skipped lunch. damn hungry. liangzai tot of chilli's but then out of sudden, i missed italian food. so i suggested to go to The Curve. i cant recalled the name of the place and i simply named it as 'Nachos'. wahhaha..
reached Ikea, parked our SLK
** Small Little Kelisa **
and we walked to The Curve. Searched the restaurant's name from the directory and i jus couldnt find it. OMG!! luckily i remembered it's located at The Walk in the The Curve. ok.. walked there and reached the place. and we just couldnt stop laughing at myself. wahahhaa.. the place named
'MARCHE'
** come.. follow jie jie said the word again.. MARCHE.. (mar-shay) **
not 'NACHOS'.. -_-" doink doink... hahhaa...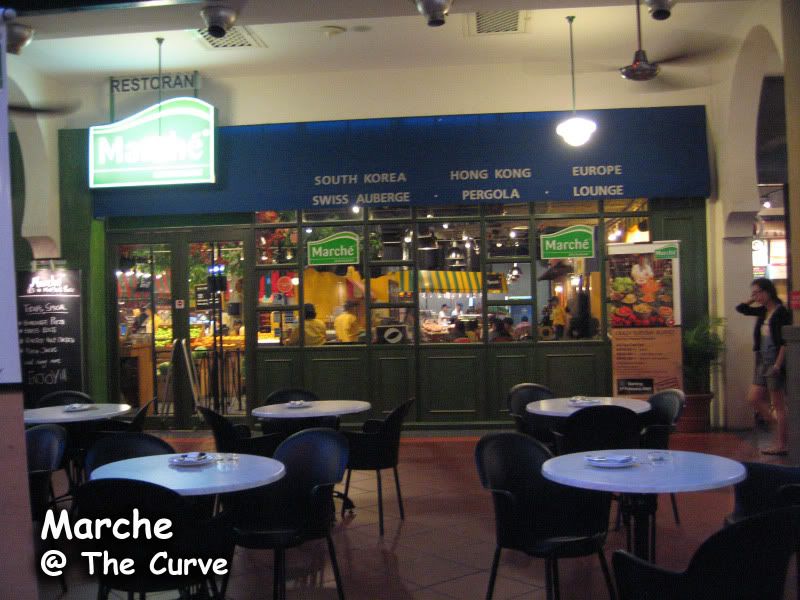 yup.. and my 38 hubby tak pernah datang. acting jakun. but i'm even more jakun than him lar.. wahhaha.. i went to Marché once. but tat was when i'm in singapore. my uncle brought me for a dinner at Marché tat time. i nv tried out Malaysia's Marché. so this time hv to try it out rite? since liangzai and me nv try before.
went to reception place. the lady so cute and friendly. she presented us 2 tickets for food ordering. she summore ask us whether we understand how to use the tickets. ya. me the one acting 38 ask her to explain the steps to me again.. wahaha.. although i kno how to use it.. i jus simply lazy to explain to liangzai..
** me oledi categorised as the worst wife **
went in the restaurant.. wow wow!! exactly the same as wat i saw in sg.
** ya lar.. i kno it's a franchise restaurant so the design wil be the same everywhere just like McD **
it's full of those cutie stalls. hv a feel like loitering ard a small market wif lotsa food surrounding us. macam-lar the pasar malam in malaysia lo.... got Grill stall, Pizza stall, Salad stall, Juice, Pasta and etc...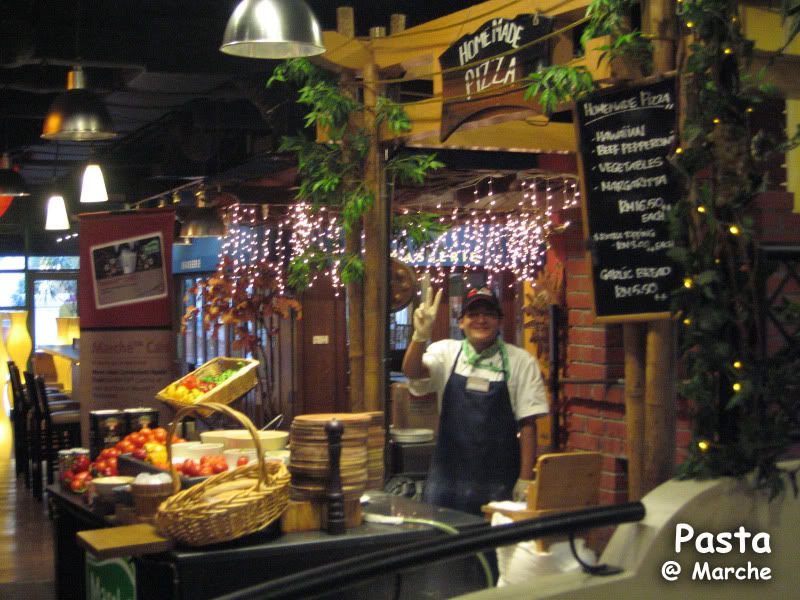 ok.. this shld b PIZZA stall instead of PASTA.. haha.. typo error cos I'M TIRED.. cant focus d.. haha..
then, i went to Pizza stall and placed an order.. not onli Pizza, i went ard the other stalls too. well, cant order tat much cos i just cant stuff so much food into my tummy. tat's the food tat we ordered.. :D enuff lar.. too much for me, ngam ngam for liangzai.
see.. how happy i am.. er.. dun ask me y liangzai look like tat.. cos the food portion quite small so he got a bit heartache lar.. wahaha :P
ok.. finished all the food.. omg!! i cant stand up cos too full liao.. rested a while. then moved on to cashier lo.. btw, the cashiers veli cute lar.. i think they are quite boring liao.. tat's y 1 look veli relax. and the other one, she got no choice but to entertain us rite? wahahha.. i jus cant stop laughing when i look back at the pics. good post!
btw, Marché means market in FRENCH. i jus gotta kno it. hehe :D