Shopping again.. hehe :) so wat? tat's part of ladies' life rite? even go for a window shopping, it still satisfies a lot! jus like me. well, i just acc the 2 going-2-married ladies. they hv to get ready on their wedding stuffs. yea.. going to KRABI/PHUKET for their wedding pics. tat's y they are going to search for beach-look costumes.. haha.. and i become their consultant plus driver. wahahha.. ok lar.. a group of ladies went out for shopping and then wat else can we do? yes!! GOSSIPS!haha.. non-stop.. and we started our mission @ 12pm.
reached sunway, parked my SLK nicely then we started on our shopping plan. ok, from Upper to Lower level or from Lower to Upper level? and guess wat? the 2 smart ladies prefer to walk from Upper Level to Lower Level. y? cos i parked my SLK @ CP5. then then then?? so they wil hv another chance to browse from Lower Level to Upper Level back lo. seee?? tat's y i said they are
SMART
!! maklumlah, they are LADIES ma
** macam i'm not a lady.. hehe.. **
went to the first floor, shopped in a few shops and managed to try some of the outfits. and guess wat? ok.. when we mentioned beach-look costumes, we dun reali tested on that rite? so any nice dresses, shirts, skirts and etc, we wont let go a chance to try it out. and here's the pics of us. ya.. i din see any outfits tat attract me. tat's y i din test lo..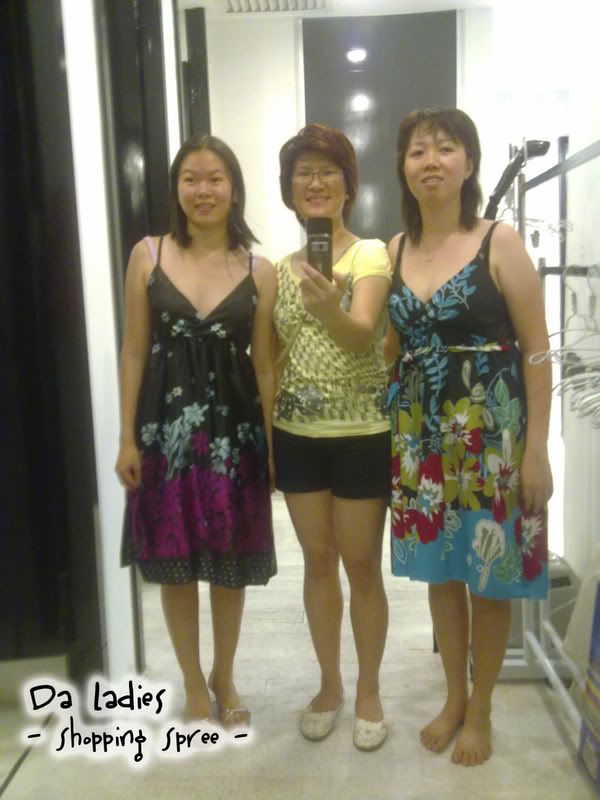 ** u tel me lar.. is tat called beach-wear?? absolutely NO, rite?? **

ok, u guys saw wat i'm using to take the pics rite? hehee.. tat's the main reason y i'm taking the pics. SHOWING OFF MY NEW BB ma.. summore it's taken rite in front of the mirror. REFLECTION!! and i stil think i look better than the 2 of them :P.. wahahha...
then?? walk walk and shop shop again lo. quite thristy oso ler.. cos we din bring our bottles along. wahah.. and the SMART me left my bottle inside my SLK. so forget it lar.. lazy to take. and we dropped by @ Station Kopitiam and got ourselves some drinks. after tat? shopped lo.. went into a shop tat's selling accessories and clothes but the accesories attracted us. wahah.. necklaces lar.. earrings lar.. rings lar.. too bad, cant get to see any anklets or bracelets. so we just checked it out on the earrings.. and u can see my new earrings when u're reading this later. wahah :P we stayed there for abt 15mins.. selecting the accessories lar.. and janice finally got 2 rings for herself.. see?!?! the purple one is my choice but she got it first. too bad!
after tat, we stopped by @ Friendster Cafe.. yes yes.. FRIENDSTER CAFE.. NO JOKE ok? dun believe ar? ok.. look at the pic below..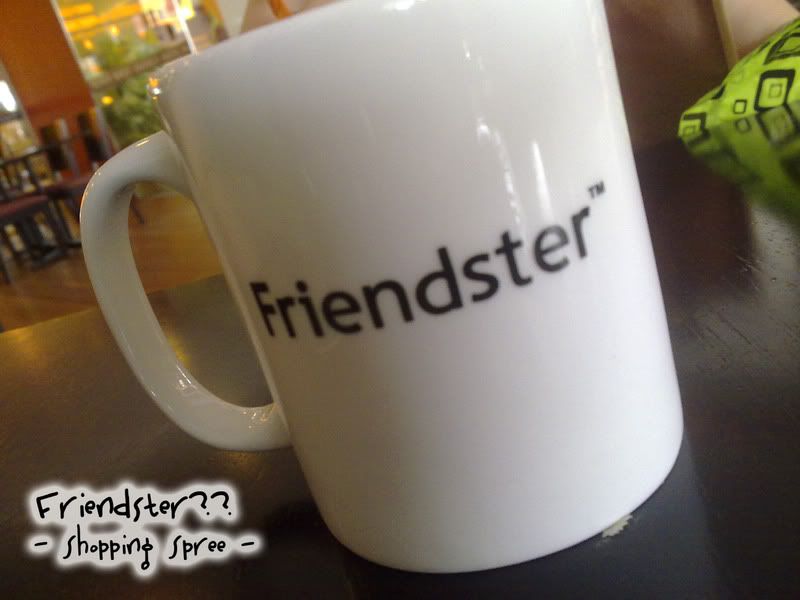 so now u believe me rite? hehe.. i oso din forget to cam-ho together :)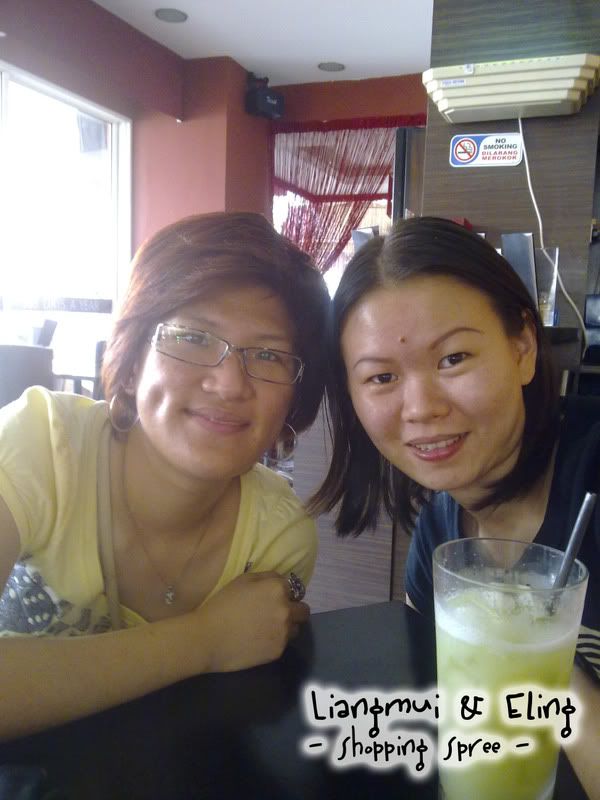 :) the drinks tat eling ordered.. guava juice wor.. teacher, u where got so healthy geh?? dun pretend ya.. and of cos, FRIES la.. we wont love it if the food is healthy rite? normally unhealthy food taste better than those healthy one.. :P..
dinner time.. yahoo~~~ @ Pasta de Gohan. er er.. where is it located ar?? er.. i dunno wor.. lower level.. next to SK.. hehe.. sendiri cari lar.. dun kacau me ya.. hehe.. :D easy to be spotted cos u can see lotsa pasta choices rite in front of the shops. and guess wat? i din kno tat it's a Japanese restaurant. when i walked into the shop, i was greeted by the ladies with Japanese. Surprised!! i tot i masuk salah kedai lar..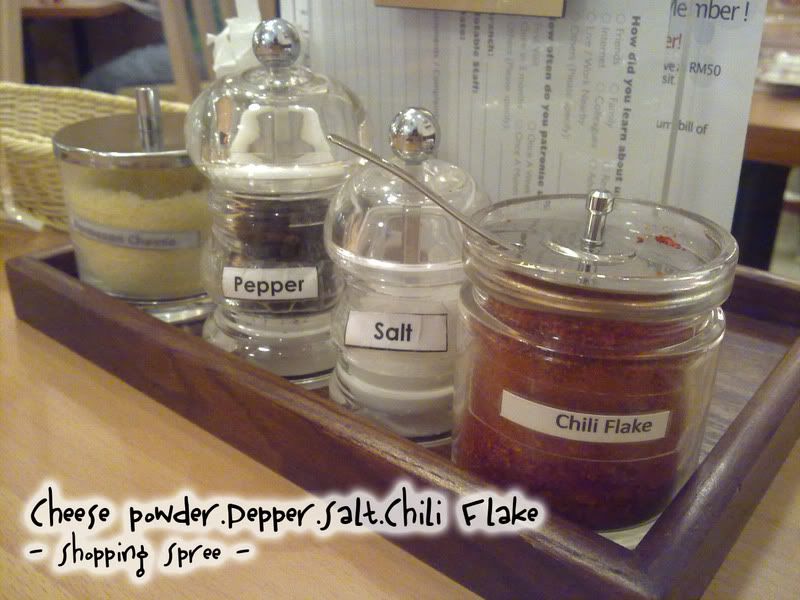 so we grabbed the menu and ordered some food to eat lar.. damn hungry u kno? walked for almost 8 hrs ler..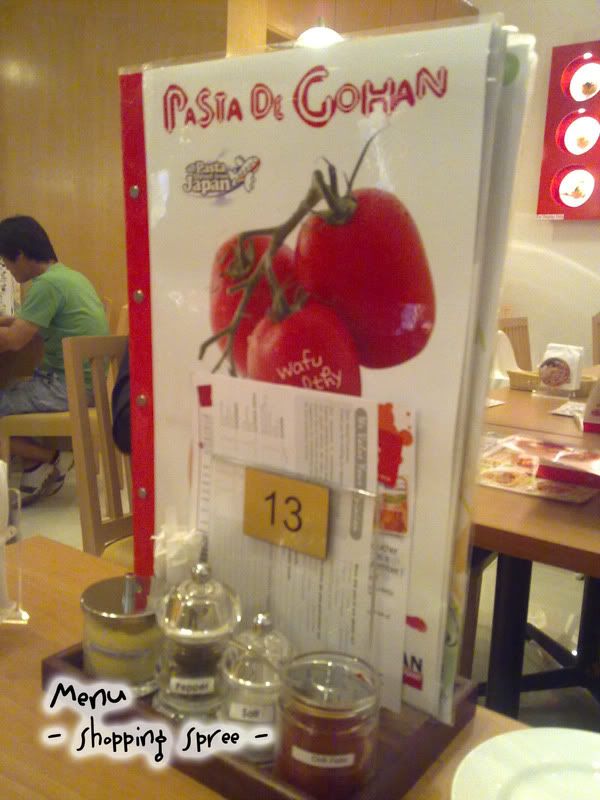 our drinks...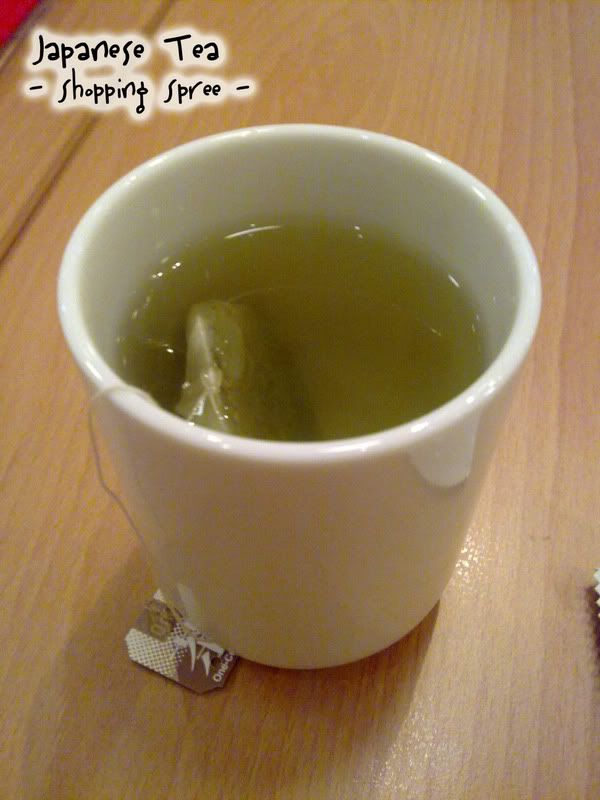 then each of us ordered one set and then shared among ourselves.. great rite? it's alwis nice to hv a sharing of food together wif ur frens. so u can taste more food. wahahha..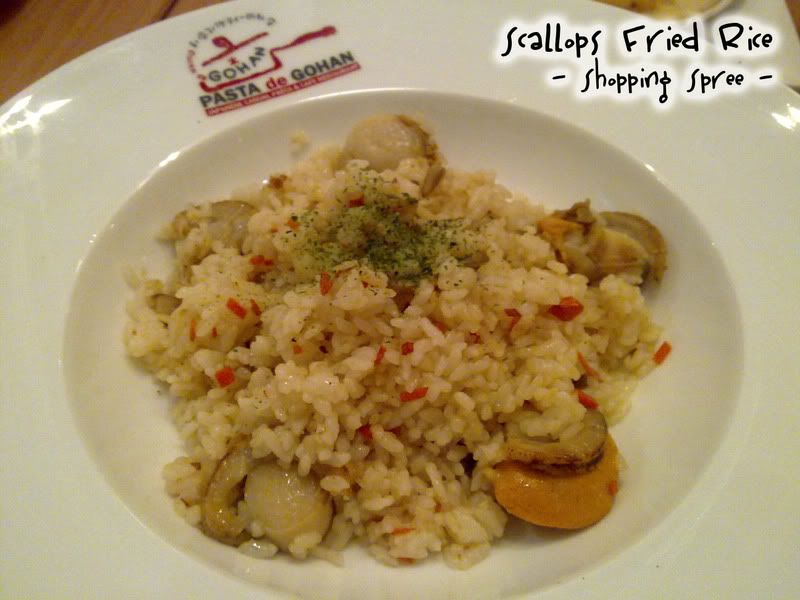 Janice's choice => Scallops Fried Rice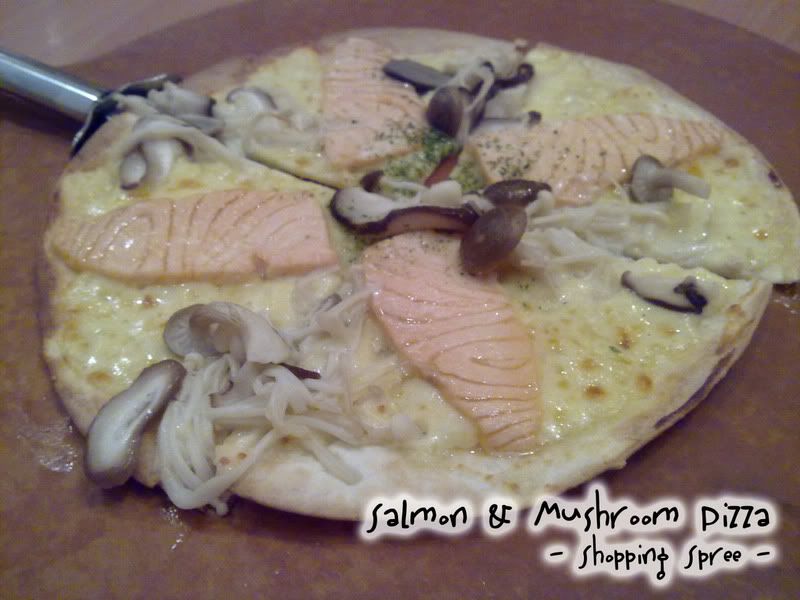 Eling's choice => Salmon & Mushroom Pizza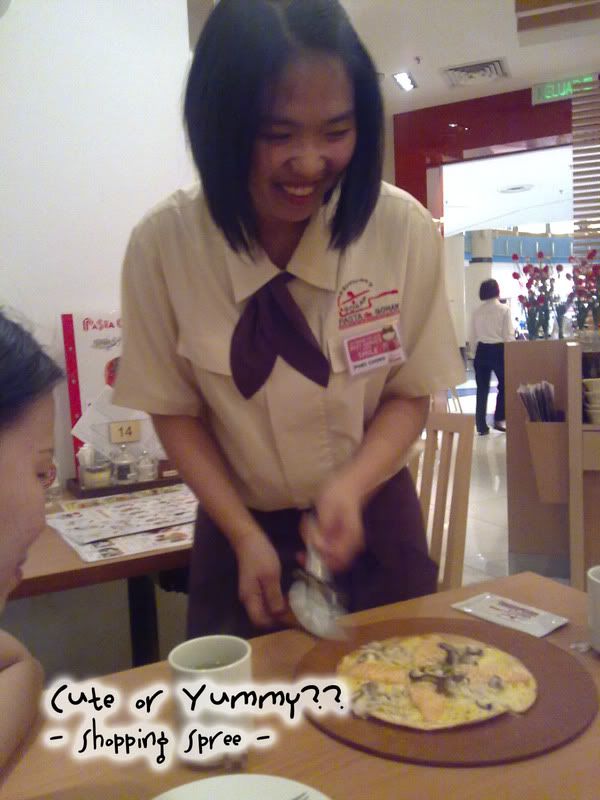 this lady veli cute.. she's veli shy when i was snapping the pics.. forgotten to ask whether she's available or not? or else can intro to some desperate leng jais.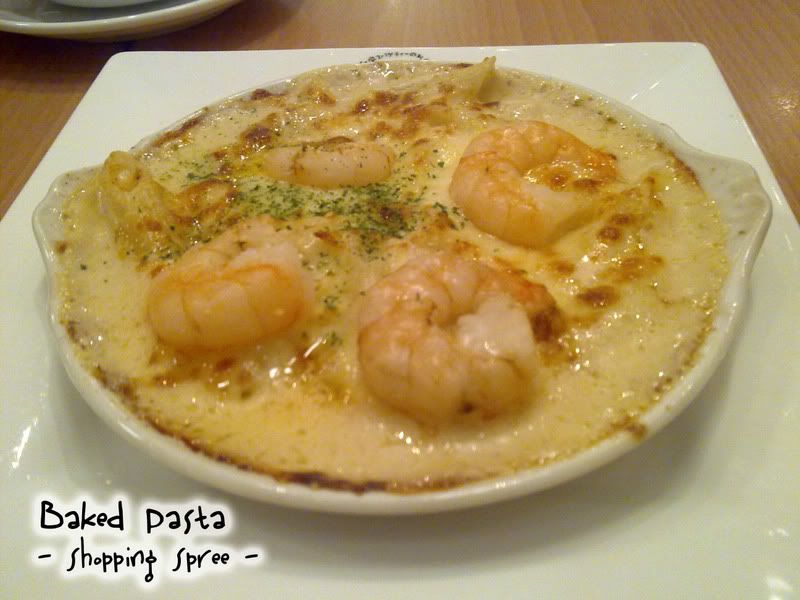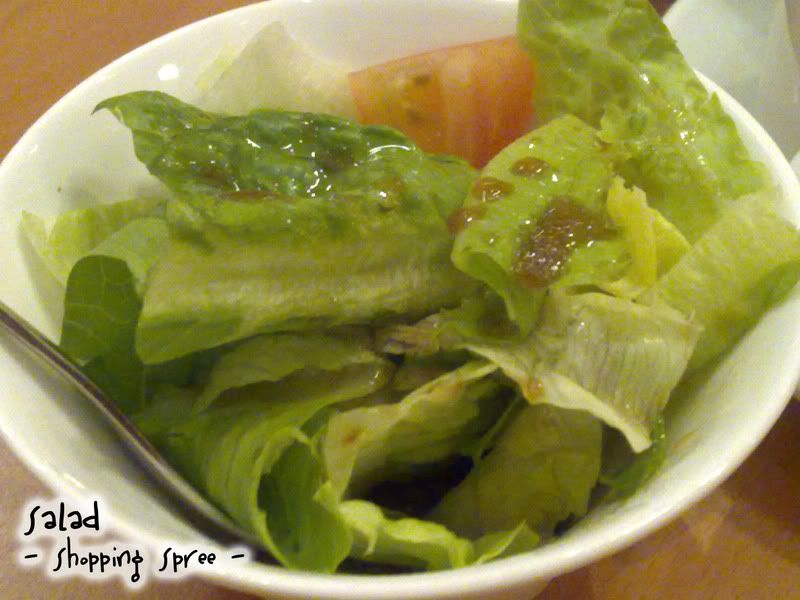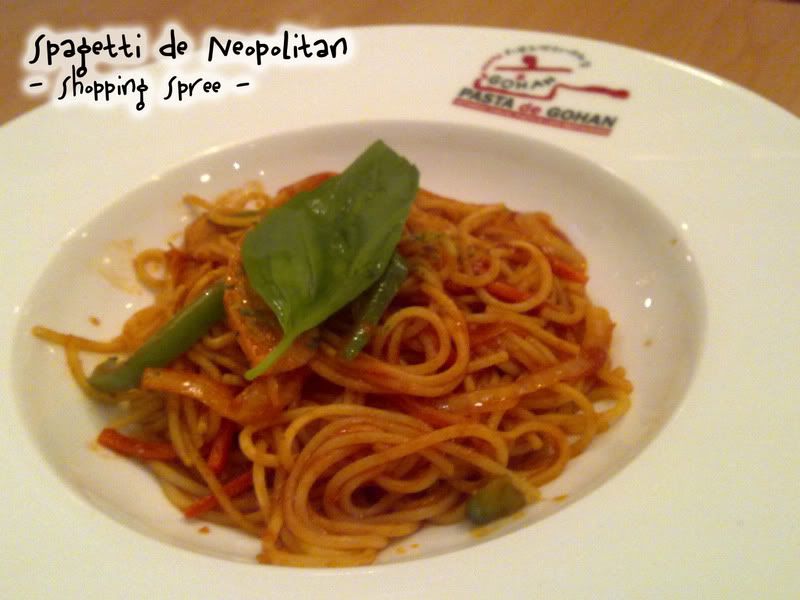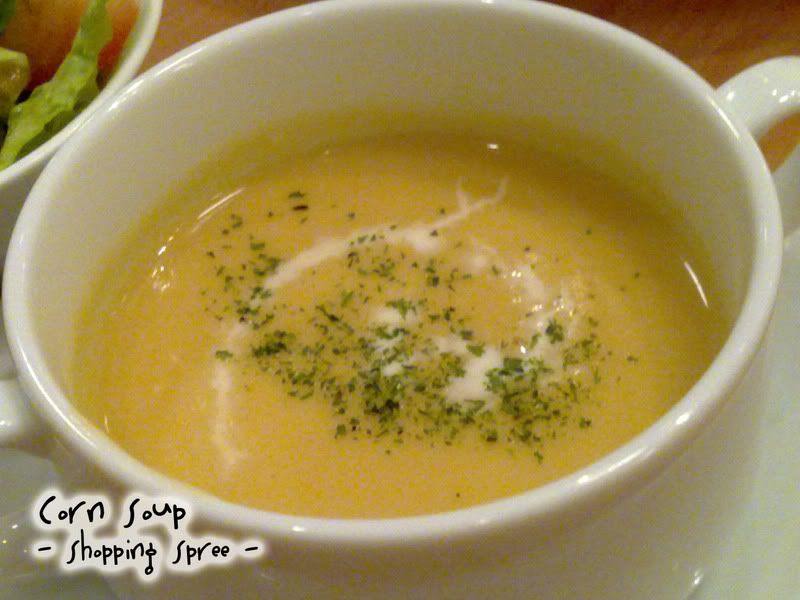 Liangmui's choice => gratin set.. yooohooo~~ many choices.. hehehe.. consists of Baked Pasta, Soup, Salad and Spagetti... yummy!!

ok.. started our dinner. starting of by big mouthful then small portion then slowly.. bit by bit.. wahhhaa.. extremely full by the time we finished off everything. yup!! gentle reminder to all of u.. pls kindly order small portion of each and every set if u're not a big eater, ok? or else u wil vomit everything out after u finished.. well, worth to gip a try but it's not economic lo.
3 of us.. spending abt total of RM84.40 for the dinner.. and the price is already discounted offf by 10%. luckily i paid using CIMB card.. or else we wont entitle for 10% discount. then, it will b total of rm92++!! pengsan..
so wat did we get for ourselves at end of the day?
1) Janice => 1 dress, 2 pairs of shoes, 2 rings n 2 earrings (if i'm not mistaken)
2) Eling => 2 dresses, 1 pair of sandals, 2 earrings
3) Liangmui => 1 pair of sandals, 2 earrings
yea!! managed to control myself for not spending a cent on clothes.. :) good!!