Venue: Bar-B-Q Plaza, Sunway
Date : 16-Nov-2008
Time: 830pm.
sorry for the late post abt this. wahahha... was supposed to post it yesterday rite? but then i forget to copy the pics out from my camera. paisei.. then not sure wat's happening to office's internet cos it seems like hving some problems whenever i tried to upload my pics to photobucket. phew~~ tak pe.. luckily habis uploading.
i'd made fun on my bro and purposely made him to buy me a nice dinner. at first, i tot of going for a brazillian food but then sympathy to him lar.. cos oledi mid of the month and he got not much left rite?? haha.. so went for the cheap one. hehe.. i nv been to this place. i read lotsa nice comments abt this restaurant. and my bro himself went there for several times d. he said it's a good place. so i just had a try there.
well, this restaurant is originated from Thailand. so u guys kno lar. the food is non-halal ya. yea.. it contains
pork!!
** (wondering) y do i hv to highlight the word in PINK?? **
well, my bro ordered deluxe set. just nice for 3-4 persons. the food contains beef, pork, chicken, prawns, mushrooms, udon and lotsa veges.. so before we entered the restaurant, we hv to make order first. surprisingly when we were welcomed to our seats, the food is served rite in front of my eyes. wow!! this is the first restaurant i'd been to that provide this kind of service man!! good!
ok.. i shall just let the pics do the toking ya :)
The main door.. :) it's just located opposite secret recipe at the old wing :)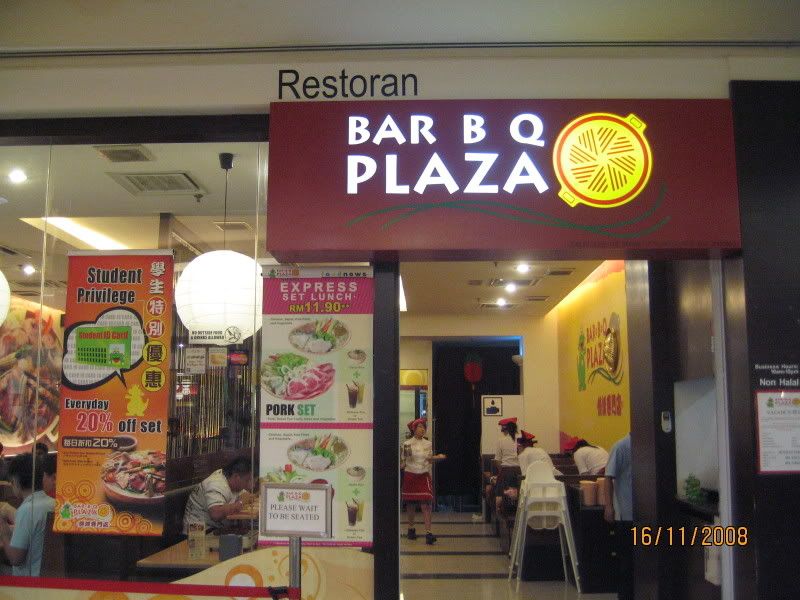 cute mascot :) haha.. my bro said this look like him.. :P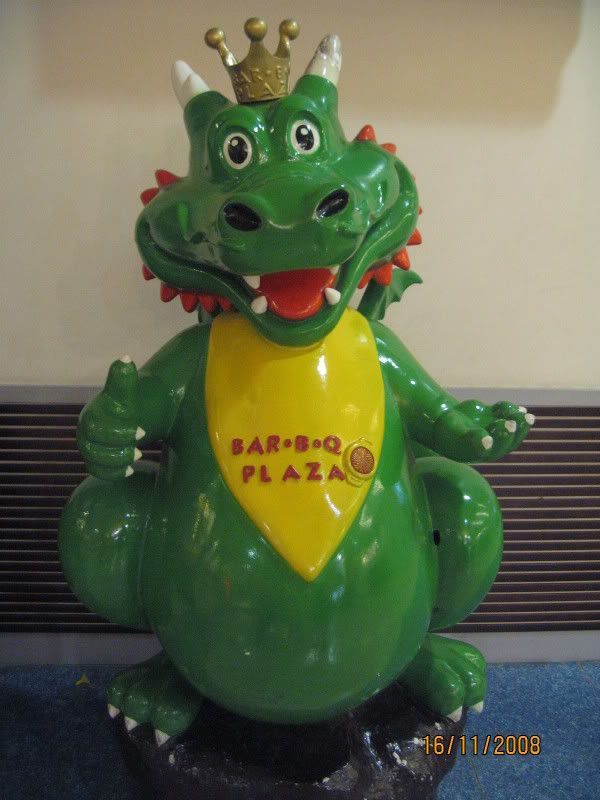 they will serve u an empty pot wif chicken stock (can refill)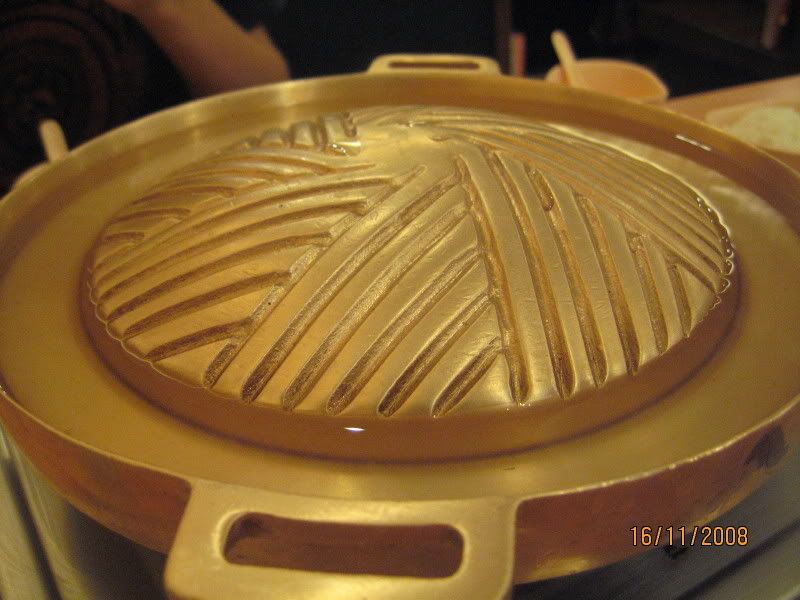 lets see the food....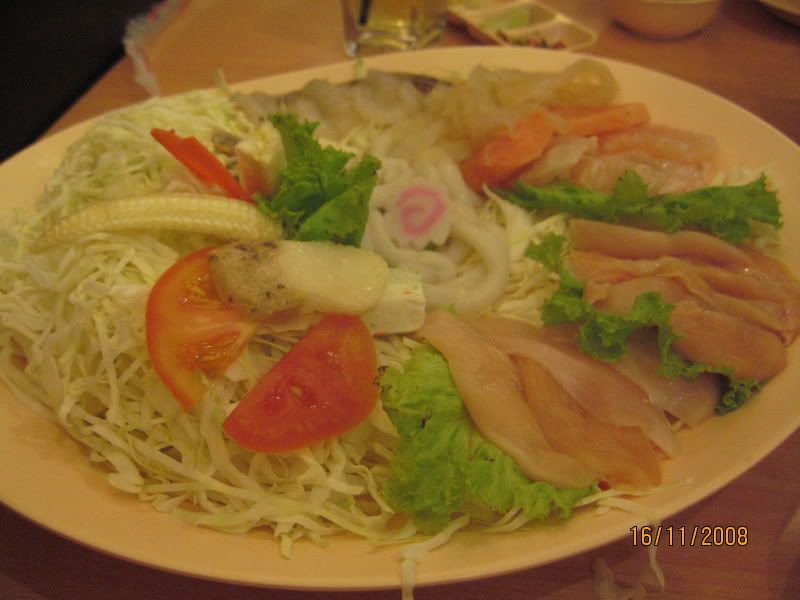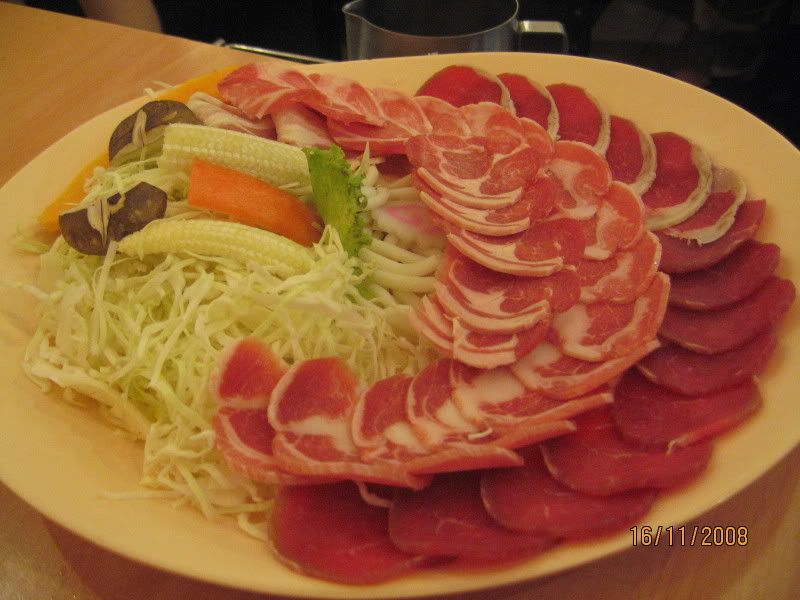 Chickens, prawns, veges, udon, taufu, fish cakes, bacon, beef, pork, mushrooms and etc...
The lard.. they wil gip u this. to make sure the pot is not sticky when u 'barbq' ur food :) so u place the lard on the pot.. then jus go round the pot.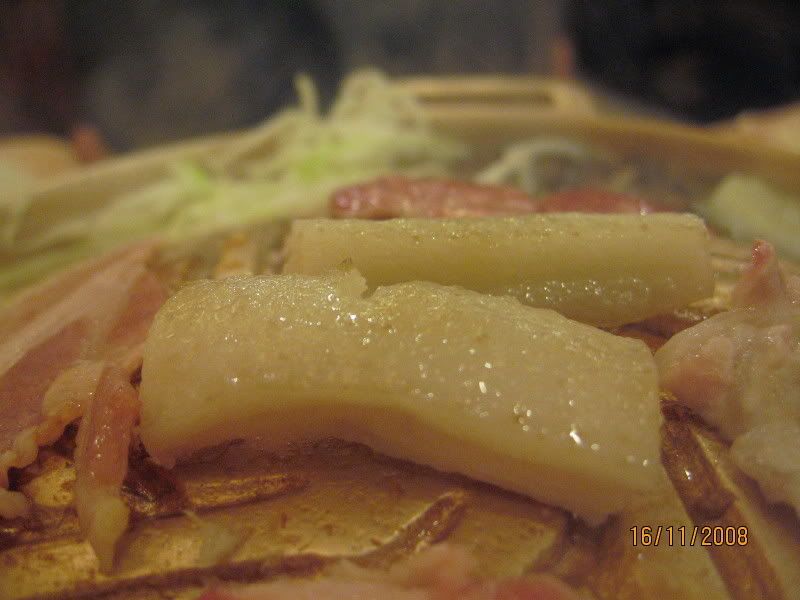 The place ur food in the pot for BBQ lor..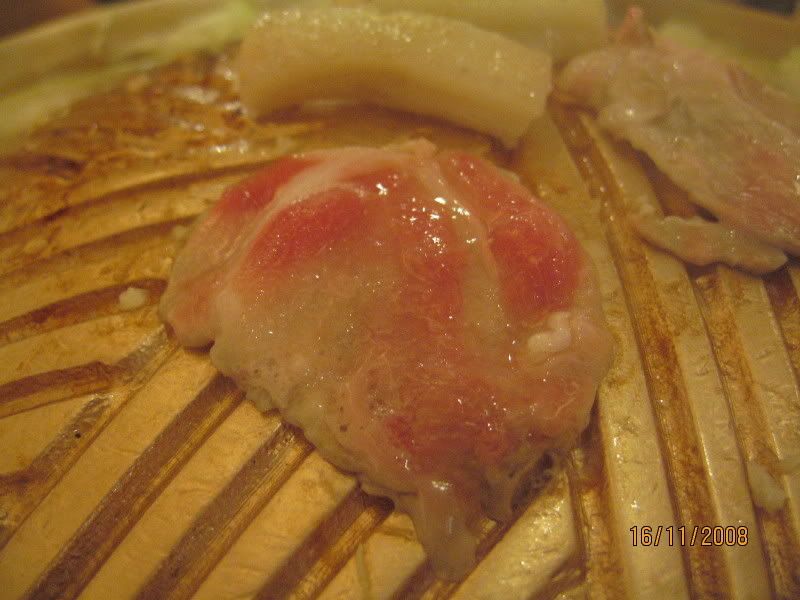 see... my bro.. look like the mascot or not?? wahha.. he was too hungry di.. tat's y keep on placing the food in the pot.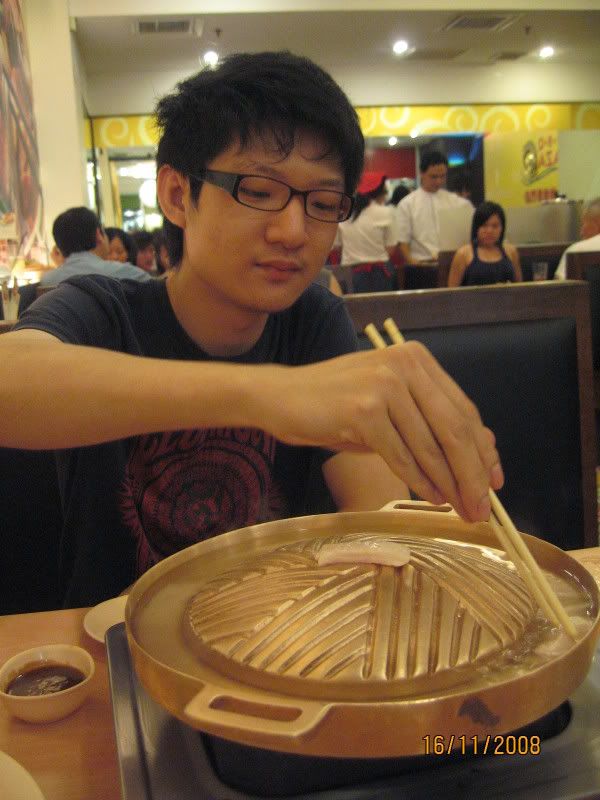 The results....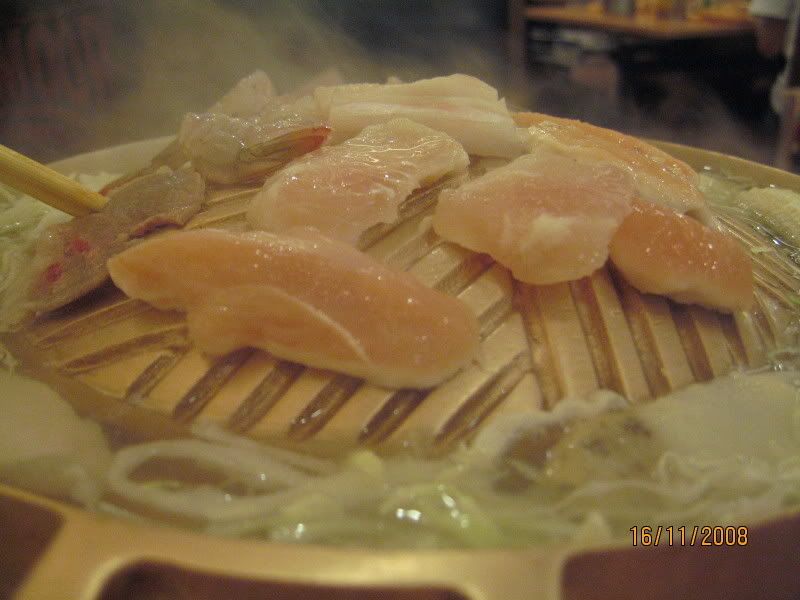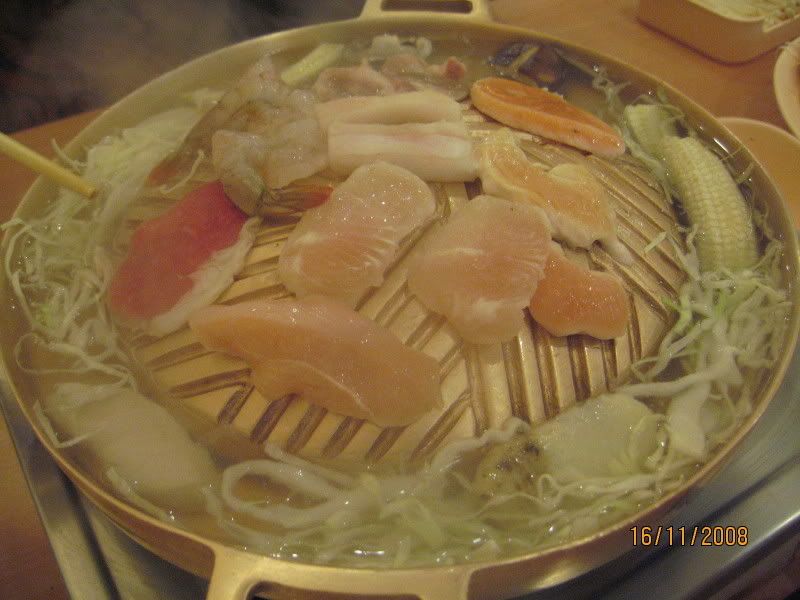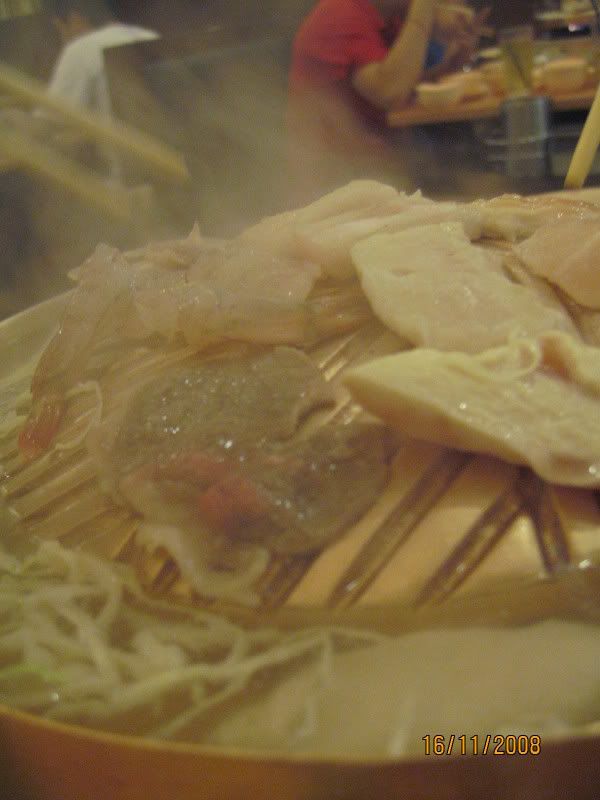 Chilies, garlic & lemon => this is to mix in the sauce.. paisei.. i forgotten to snap a pic of the sauce.. and my white rice. :) liangzai ordered garlic rice.. not bad too...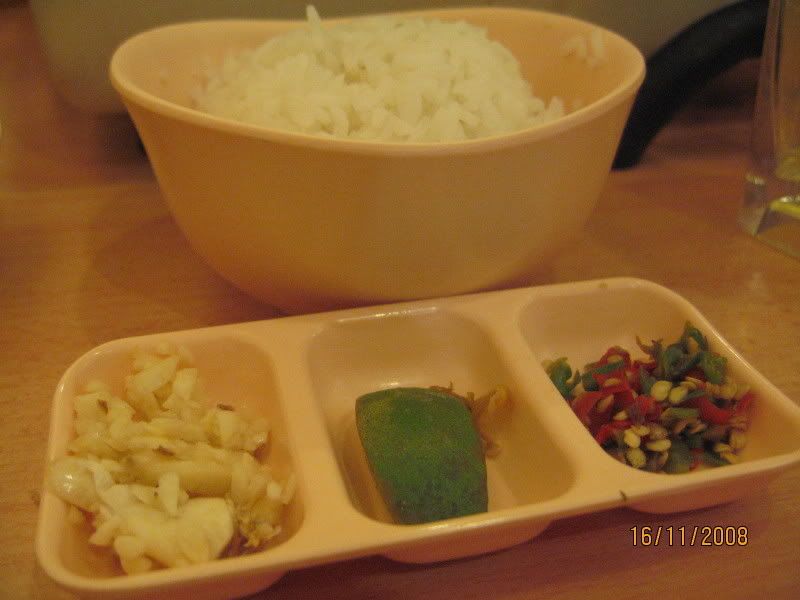 TA DA!! see the pot and the lard?? ya.. end of the session, the pot and lard turned blackie..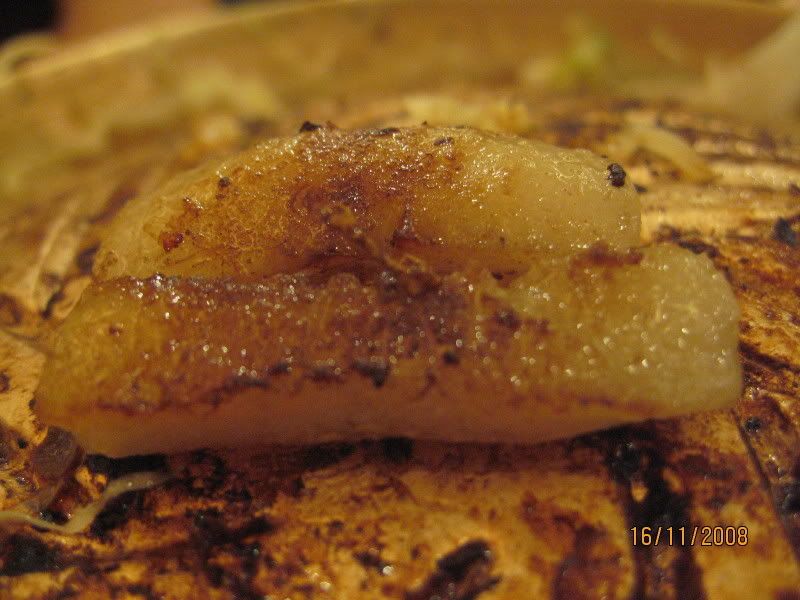 bear in mind!! if u're on diet, pls dun go for this restaurant ya. cos the meat quite fat.. hehe :) baru nice ma.. yummy!!
well, this dinner was not cheap too.. costed abt RM80 including drinks, side orders and tax.. wahaha.. but liangzai n me were eating it for
FREE
!! we got 'water fish' to 'slaughter'.. wahahha.. :P the deluxe set actuali cost abt RM49.90 exclude tax..
THANKS to my BRO, EIKO!!