well.. sorry guys for the late post cos i'm kinda busy wif my new job recently. hv to catch up watever i can within 1 month. phew!! hectic!! so sorry ya.
last sat was kinda rushy for me. earli morning gotta get up from sweet dreams cos 08/11/08 was the big day for Ann and Chua. they're legally getting married. happy for them. so we went to witness their marriage! hehe.. meet up wif liangzai's collix. funny young chaps. Mouse and Boon. dun ask me y he named himself as MOUSE ya... haha... we reached Thean Hou Gong @ 845am as they gotta start their registration at 915am. :) so took some pics wif the bride and bridegroom of the day.
so after that i had to rush to 1U. yup! my first FACIAL appointment. appointment was at 11am. well, i reached 1U at 1015am. phew~~ quite earli huh?? ya.. got nuthin better to do.. so jus loiter ard 1U til i met my cousin sis. yeah, we dated previously for facial appointment. hehe.. well, dunno wic one to go for.. some suggested Adonis, some suggested May Fair and some suggested Dermalogica.. until my cousin mentioned Dermalogica.. ok.. since she'd been there for more than 1 yr and i can see her face improvements. so i think y not i gip myself a chance for it rite? went to Leonard Drake.. located in level 2.
so had my relaxing and nice and of cos, expensive facial. spent abt rm218 for deep cleansing facial course (single). of cos, the ladies there will mentioned abt those attractive packages. and i was nearly attracted to it. luckily my smart liangzai stopped me.. luckily~~ or else i wil b credit card slave again. phew~ poor liangzai had to wait for me for abt 2 hrs for my facial. his turn to loiter ard 1u. haha.. luckily he met wif mouse and boon. so tat he wont b so boring.
since we dun hv to urge to go for shopping tat day, we jus proceed back to puchong. we was deciding where to had our lunch until i remembered the Thai food that Suk Sing highly recommended which is located in Bandar Puteri. yup!! when i mentioned abt Thai food, of cos, i wont miss out the TOM YAM rite? She did mentioned abt the TOM YAM Noodles. so without hesitation, i ordered Tom yam. and wat bt liangzai? hai~~ he surely wont miss out any chances to try on NASI LEMAK. tat's y he look so LEMAK lor.. :)
well, let the pics do the toking :)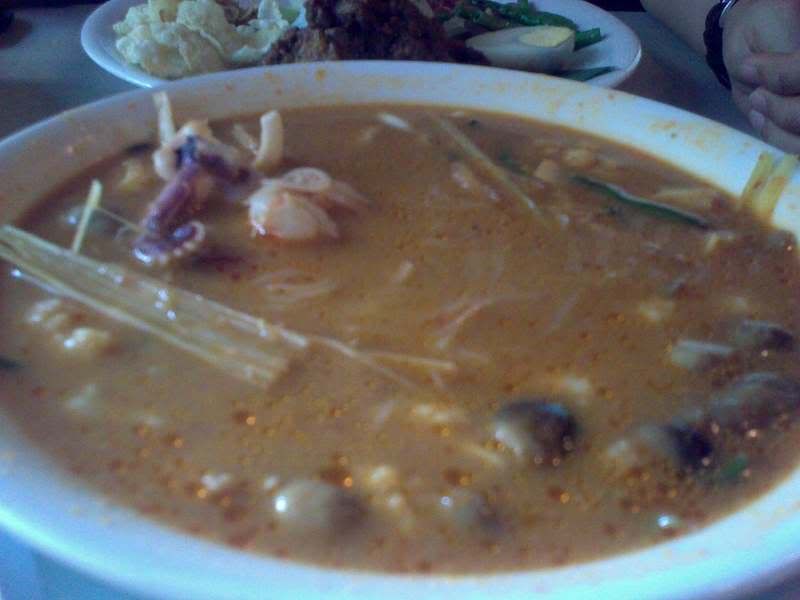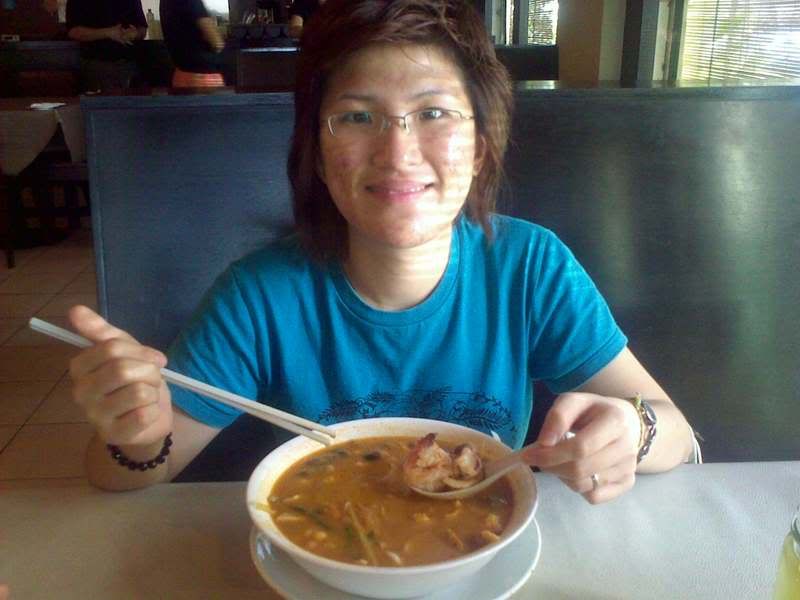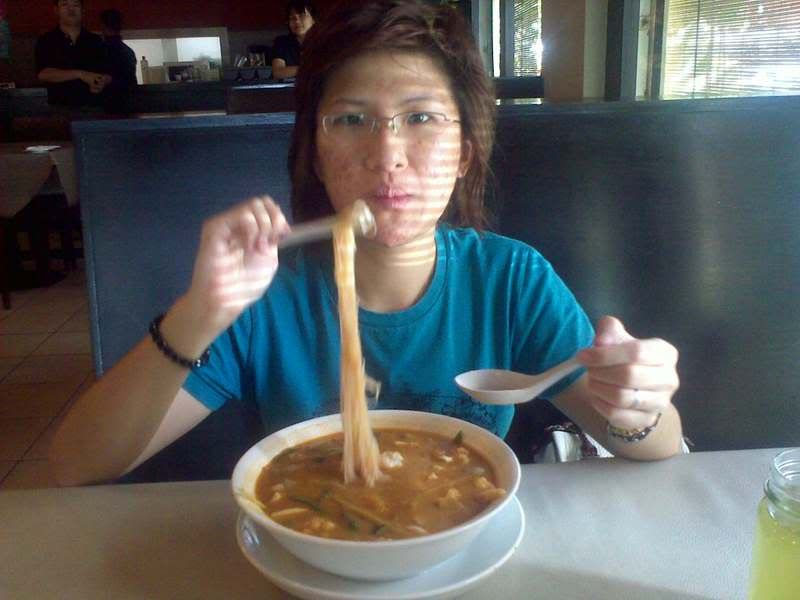 Tom Yam Seafood Noodles
Rate: 3/5 => the soup not spicy and it taste a lil sweet. lotsa prawns and squids and button mushrooms.
(Thanks to Vanity Fling for reminding me of Kim Wan in Penang in her previous comments. I still prefer the one in Kim Wan)
Price: RM12.90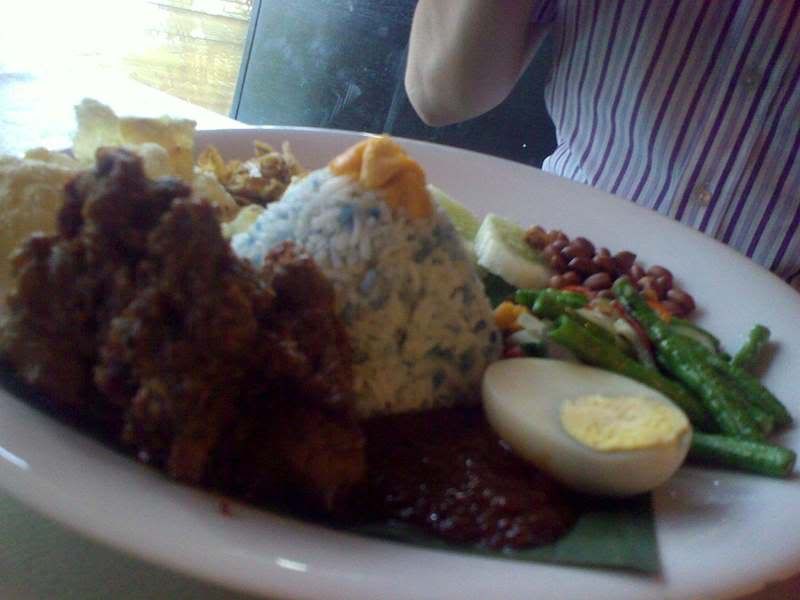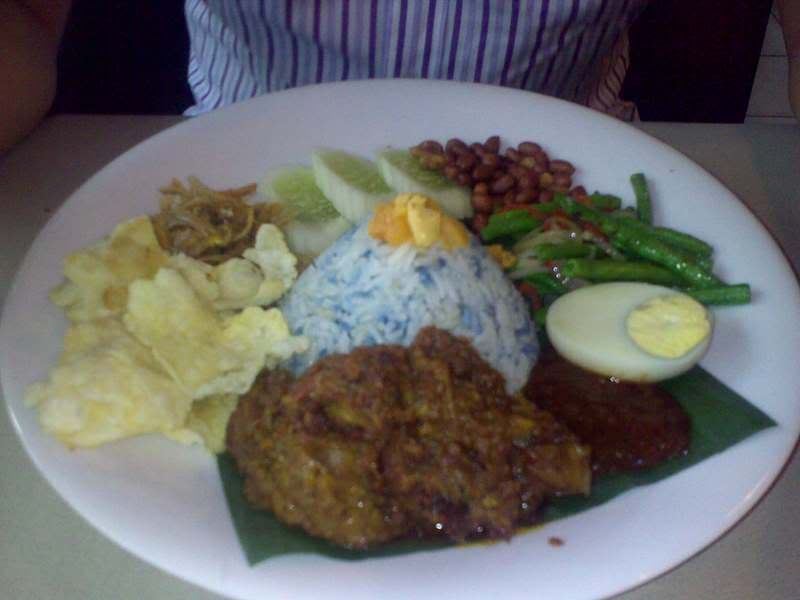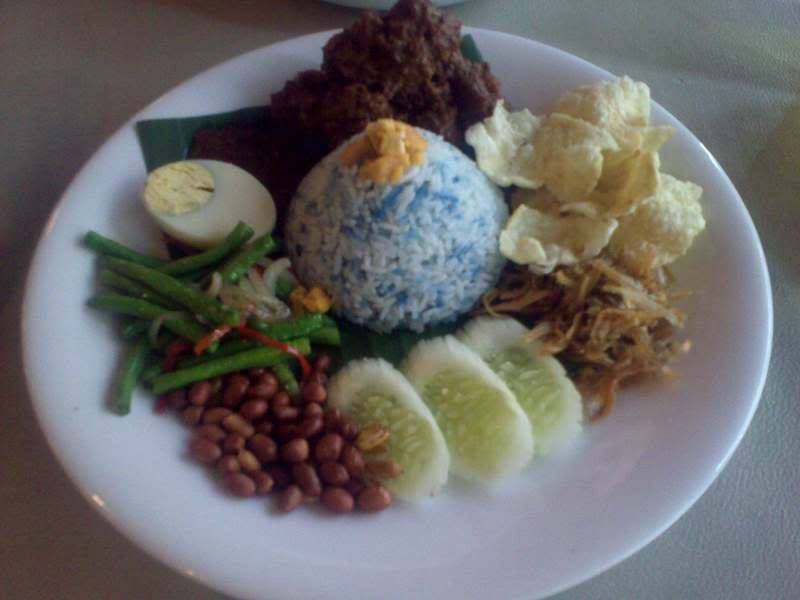 Nasi Lemak Special
Rate: 4/5 => the rendang chicken is reali good. the chicken is tender and juicy. the portion is just nice for a medium-diet lady. so u guys kno the portion is not enuff for liangzai rite? haha.. the rice is good. full of coconut milk fragrance. yummy :)
Price: RM13.90
it cost us abt RM40 for tat lunch. this includes those titbits, towel, drinks and service charges. a bit expensive. but once a month shld b ok rite? haha.. jus a reward for own self after suffering for one month.. haha :) aiyo.. start to get hungry d.. mouth watery now :P
Bibi Wok
Address: 16, Persiaran Puteri 1, Bandar Puteri,
47100 Puchong, Selangor
Contact Number: 03 80607659