hmm.. it's a bit headache to get him a memorable birthday man!! luckily i got a bunch of damn 38 frens... i would like to take this opportunity to THANK u guys. ok ok.. i list ur names lar.. uncle CK, Yee Ling, Janice, Wilson, Fish Suyee and Lau. of cos not forgetting Steve and my bro, Eiko. hehe.. how many ppl?? 1, 2, 3.... ok.. 10 including me and liangzai.. wahaha...
this liangzai reali creates headache to me lar.. well, yest he had a meeting wif our dear dear 38 frens outside. so i had to sms all my 38 frens rgding his birthday surprise. told them i wil get a cake and make sure they reach my house at 12am sharp sharp. ** hee hee ** there comes the lil devil, liangmui lar.. he went out at 730pm. so i went out to Bread Story at 8pm. bought a
BLACK FOREST
cake. hmm.. nice looking but i cant take. so sad.. cos it's choc. but nvm lar.. liangzai loves choc so much. ok lor.. let him take lar.. since he's the birthday guy..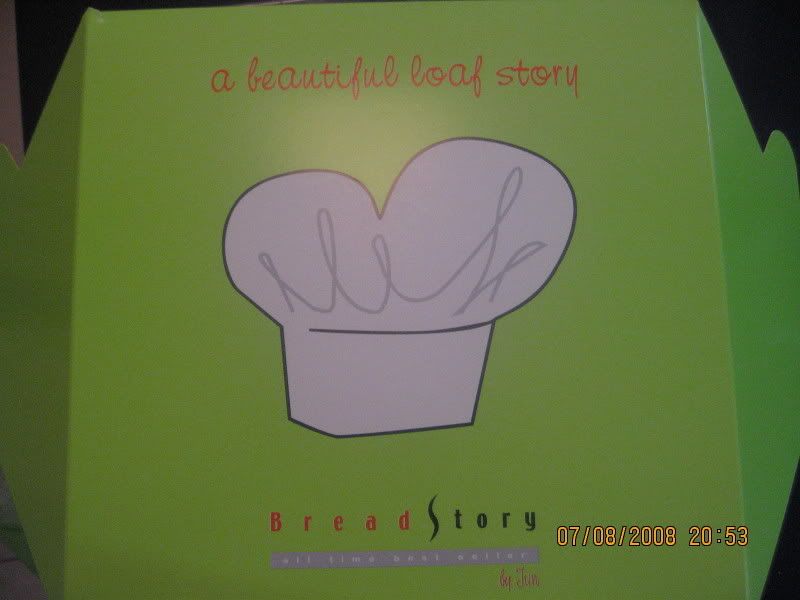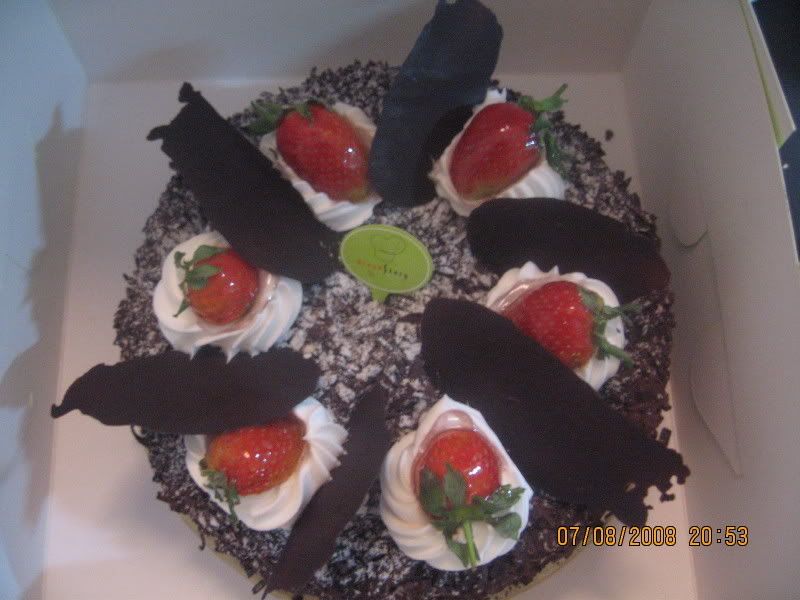 nice boh??
so ard 11pm, i called him and asked abt his whereabouts lor.. hv to make sure make sure a bit ma.. so hv to pakat wif the crazy gang. ok.. sms sms sms.. i summore hv to tipu him tat i'm hungry.. urge him to b back asap.
well, indeed, he came home ard 1130pm. and he said 'oi, faster lar.. say wanna go supper stil lay on the bed.. 'omg!! panic panic.. how to go out supper when everyone is coming rite? so make lotsa funny funny excuses.. luckily, my lame tummy started to b a lil disobedient this nite.. haha.. pain man.. tel him lar.. tummy pain.. dunno hungry or pain. ask him to put ointment on my tummy lar.. massage massage a bit. then he got fed up. 'like tat nonit take supper lar. kns' ok lor.. i dowan supper d. so prepare to go to bed.. aiyo.. go to bed ler.. so panic.. frens outside waiting. summore sms when can come in. i sms-ed back.. can come in d.. aiyo.. tat cake macam mana? at first, i tot i wanna bring the cake myself one. but then both of us in room. i summore act sick ler.. aiyo.. how ar?? luckily, someone created sth call
HANDPHONE
. phew~~ fast fast sms Steve lar.. 'pls get the cake from the fridge and light up the candle. sms me once u're ready ok??' and he replied 'where's the lighter??' ** fainted when i saw the sms **.. haha... ok lar.. hv to curi-curi sms him back to tel him where the lighter is. haha... so i was expecting Steve's sms when he's ready. omg.. seems like quite long ler... it took abt 10-15min. i was thinking how come lighting a candle take so much time? then i heard ** KNOCK KNOCK **.. ok lar.. expected Steve to ask him go down. i go and open the door lor.. ooppss.. ok.. Steve is holding the cake.. hehe... TA DA!!...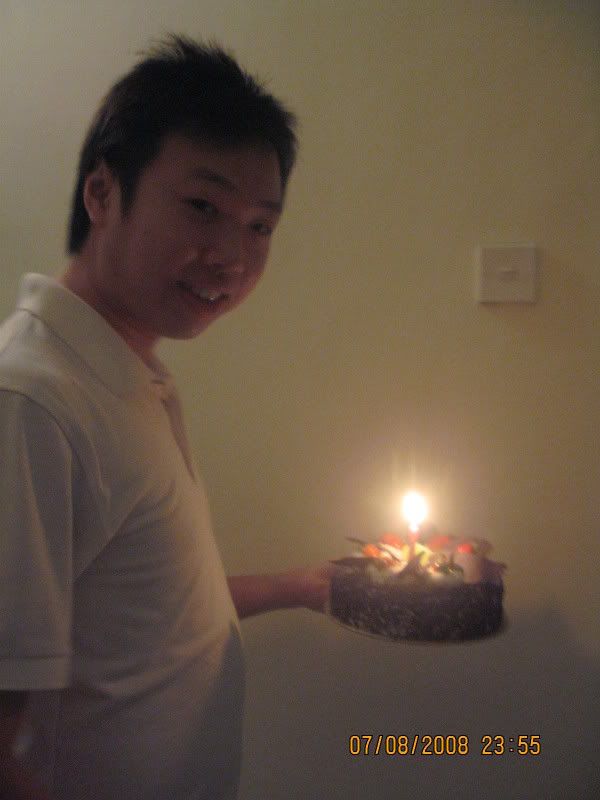 can u seee sth sth sth?? hehe.. macam 5 months pregnant.. wei.. go diet lar :P
my liangzai oledi laid down on the bed wif his sleepy look. damn funny. then birthday song lor. wat else.. hehe.. ok lar.. surprise surprise although my plan wasnt in the room. nvm lar.. he happy i oso happy. take pics. and sing song. then went down to dining room to distribute the cake.. wahaha.. ok lar.. everyone ate one piece.. finished eating then take one group pic.. hehe..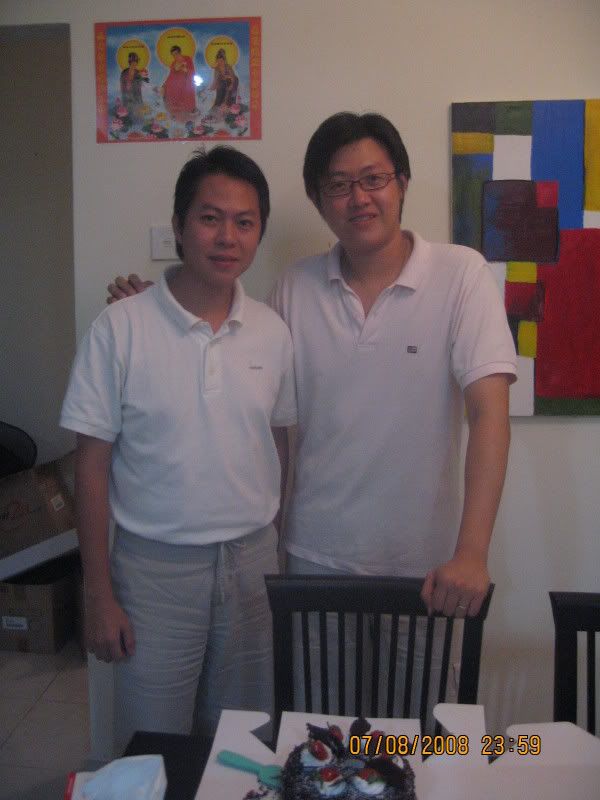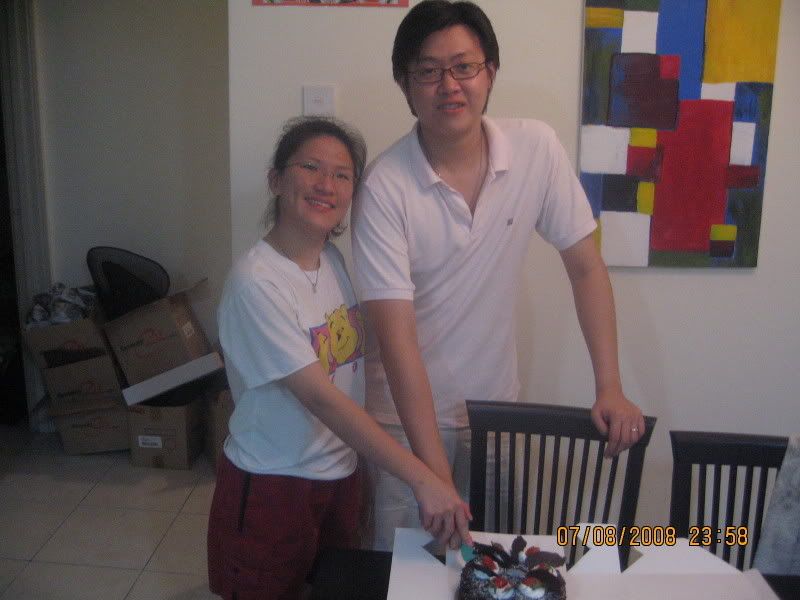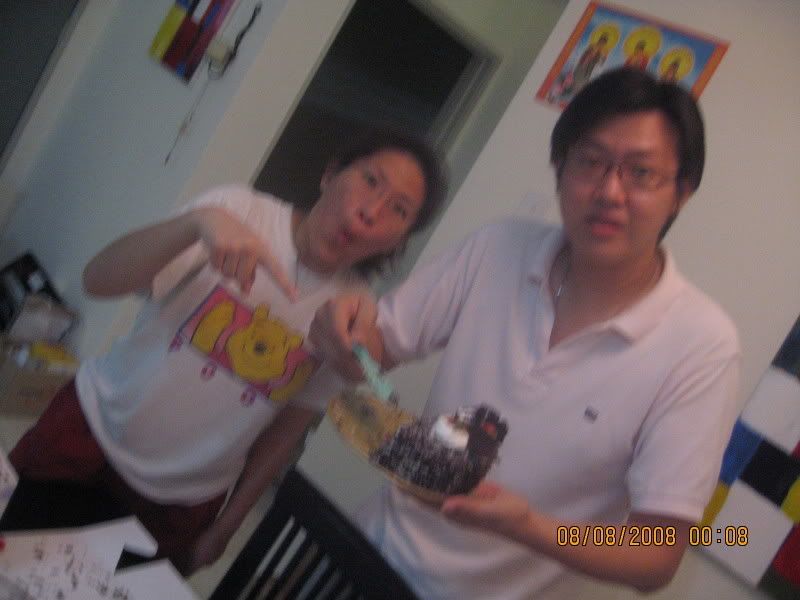 phew~~ he's going to finish the half for breakfast the next morning.. crazy!!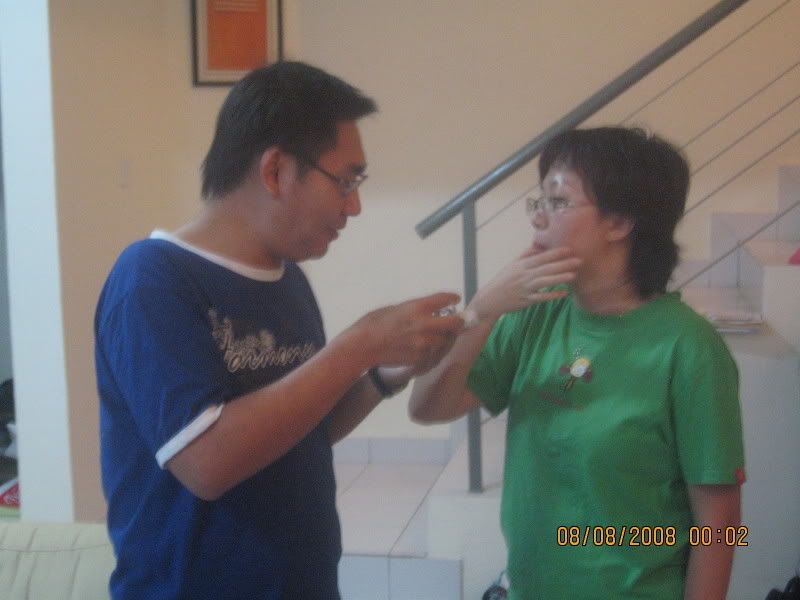 wah.. so lovey dovey.. they shared one piece.. hmm.. din gip me face ar.. :P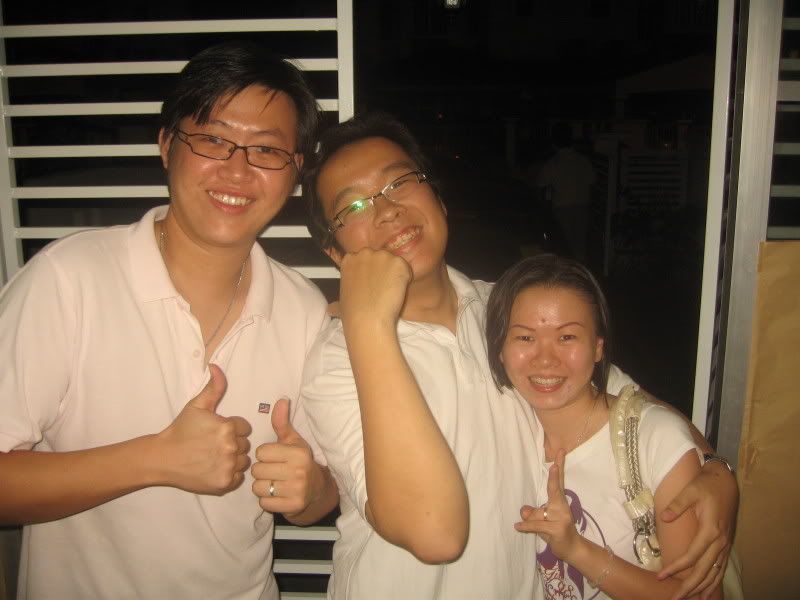 1230am.. party dismissed!! balik stil wanna post here and there.. see.. damn 38!!
my tummy stil pain like hell.. crying for help. took chinese herbs for tummy.. then flu attacked me. aiyo.. terrible night. then i took medicine for flu. after 30 min, sth happened. my tougue got numb and my body is itchy. omg!! not sure whether is it bcos of the reaction of 'when east meets west' medicine. damn it!! cant sleep well whole nite. but the blardy liangzai slept like pig d. ** eeshh eeesshh ** wanna slap him.. haha.. but i tahan tahan.. aiyo.. rashes all over my body jus like mosquito bites. so pathetic. some more during midnite.. there's no way i can find a 24hr clinic. ** sob sob **.. tahan lor..
hai~~ ya.. wat a day. Pathetic Liangmui and Happy Liangzai..
anyway,
HAPPY BIRTHDAY DEAR
.. wish u prosperity, success and healthy. hv to wish him like this lar.. correct? if he's rich, tat means i'm rich too.. wahha :P
P/S: the pics are wif him. waiting for him to send the pics to me ya. wil update asap.
*** EDITED *** posted the pics ya.. :P