see.. i'm no more
GOING TO
read.. i'm reading.. haha.. in fact i finished a novel d. wahahha... er.. not sure whether it's a novel or a story book. i'm reading The Cinderella, The Ugly Duckling, The Little Mermaid, Beauty and the Beast.. wahhaha... seee seee.. veli childish rite? but i like to preserve this kind of childish feel within myself. tat's y i love cartoons veli much. i stil remember how i was chasing over those comics.. hahha.. every month hv to check on the tiny-whiny indian book store for my DORAEMON. aiyo.. reali sickening. haha... after tat, it was my sis's turn to chase over it and lastly, it turned out to b my bro. wahhaha.. yes.. all 3 of us was brought up reading DORAEMON first. hehe :D
but now seems like hardly can get these kind of nice comics ya? due to the high-speed-growing technology, we have anime now!! yuhoooo~~ but then anime is quite a long long story. tak boleh tahan lar.. but i like those special effects. wow.. i dun remember i watch one b4. paisei paisei. i tak pernah tengok anime lar.
nah.. i jus made a fool of myself. i dun read those story books anymore lar.. i'm reali reading on novel. remember i mentioned i wanna get a book entitled 'Confessions of a Shopaholic' by Sophie Kinsella?? this book reali got me go coo-koo. went to a few of the bookstores but couldnt get it. first, i went to MPH in 1 Utama. the store-helper told me tat this book is out of stock currently. i was a bit disappointed at tat time but then i jus searched for another one. just to sooth my eagerness to get a book to read. haha.. so i got myself one. well, cost me abt RM 20.95. not cheap and not expensive too rite? hehe.. so i bought it. ** wanna-seee wanna-see wanna see ** ok ok...
** deng deng deng deng **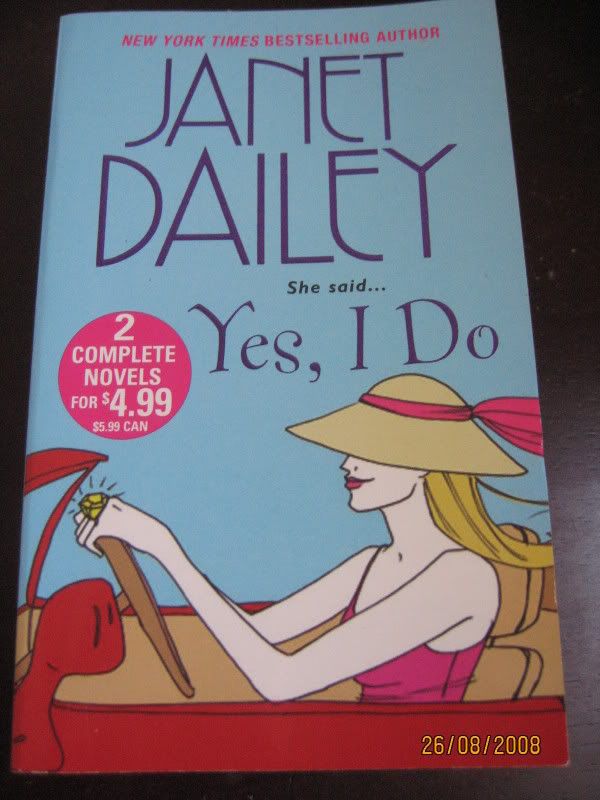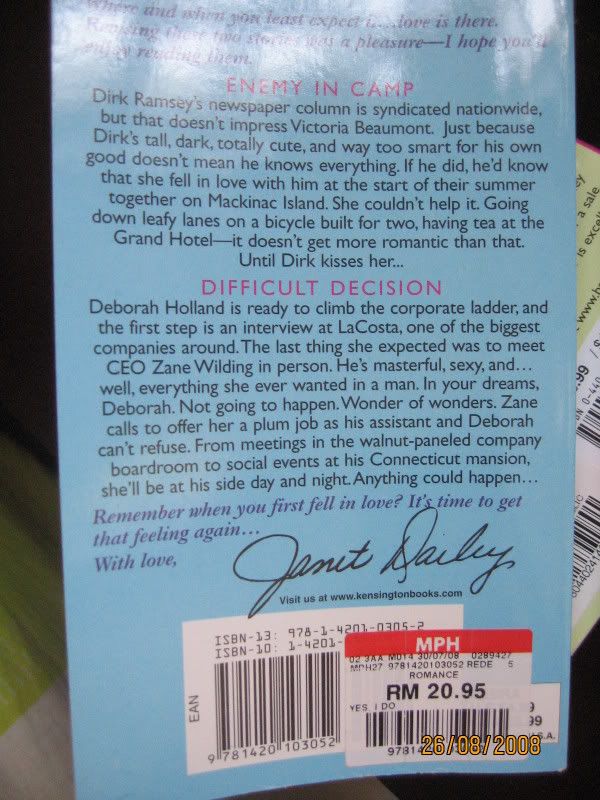 ok... 2 novels in one book. hehe... not bad huh?? by Janet Daily. er... paisei lar guys.. i think u GUYS wont fancy to it lar.. cos it's a Romance Fiction. :P nvm lar.. as long as naive gals like me suka enuff lar.. :P ok.. i personally recommend this book. not bad.. the way tat the author describe the lady is damn beautiful and the man is damn handsome. use ur imagination to visualise ya. sometimes i wonder y cant they jus described them like normal ppl. hai~~
guess how long did i take to finished up this book?? hehehe... onli 2 days.. smart me rite?
i'm not sure wat happened to liangzai last weekend? he seems like quite moody. i guess must be the weather made him kinda like blur blur + down + moody + boredness + tiredness. well, last sat, he helped out to clean the mess in the garden. washed my car, swiped the floor, washed the laudry, and etc etc. he brought me to market then we proceed to bank and then proceed to lunch. but he was stil down. so after our dinner, i jus suggested y not we go to Ikea? cos he bugged me to CAVENCI tat afternoon but i dowan to go. cos it's located quite a distance from home. so since he wanna get out of the house, i jus suggested to go IKEA to see see furniture lor. some interior designs for our reference to our new house. haha... but then reached LDP, a bit regretted. cos ler.. JAM!! haha.. it was already 730pm. omg!! i dowan the friday's case to repeat to my beautiful SAT again! so i jus told him whether we can change plan to Sunway instead? luckily he said everything is fine except back to home. phew~~ ok.. went to sunway. car park is alwis crowded wif cars during weekends. headache. so my target is to get Sophie's book. ok.. went in to Popular. FAIL!! hai~~ out of stock again!! so we jus wandered ard sunway doing nuthin. jus window shopping. kinda bored oso. luckily pass thru a store. veli familiar!! hehe.. MPH again. so i guessed he knew wat i'm supposed to do.
well, i dun put so much hope onto getting the book. jus searching ard to get my luck. and then, i spotted this.. SOPHIE KINSELLA.. ok.. a nearly complete series... ok. check check.. C....O.... N....F...E....S..S..I..O..N.S.... yes yes yes!! BINGO!! I'd found it.. I nearly screamed out. hehe... damn happy. there are 2 versions. i'm not sure y? both exactly the same except for the beautiful cover. the newer version cost extra RM3. well, since everything is almost the same of cos i'm going for the cheaper one rite? since it's jus a novel :D.. TA DA!! I got my NOVEL d... :D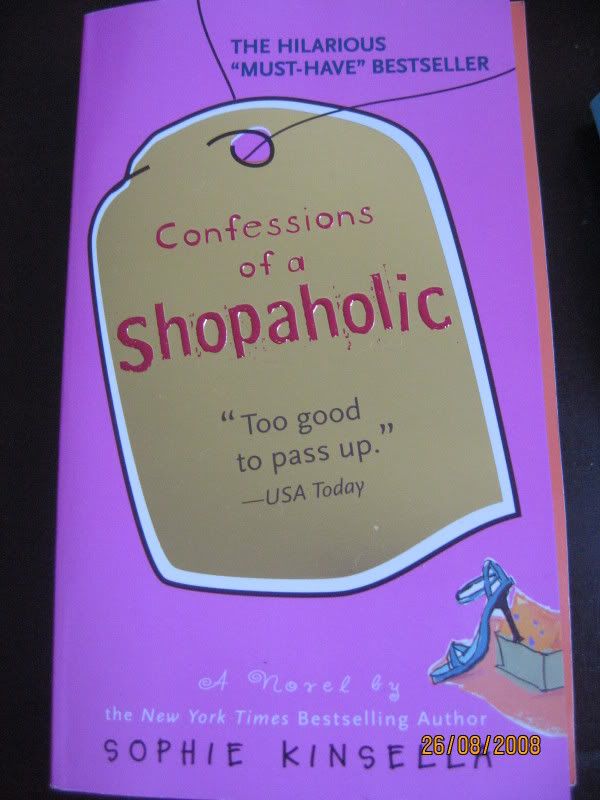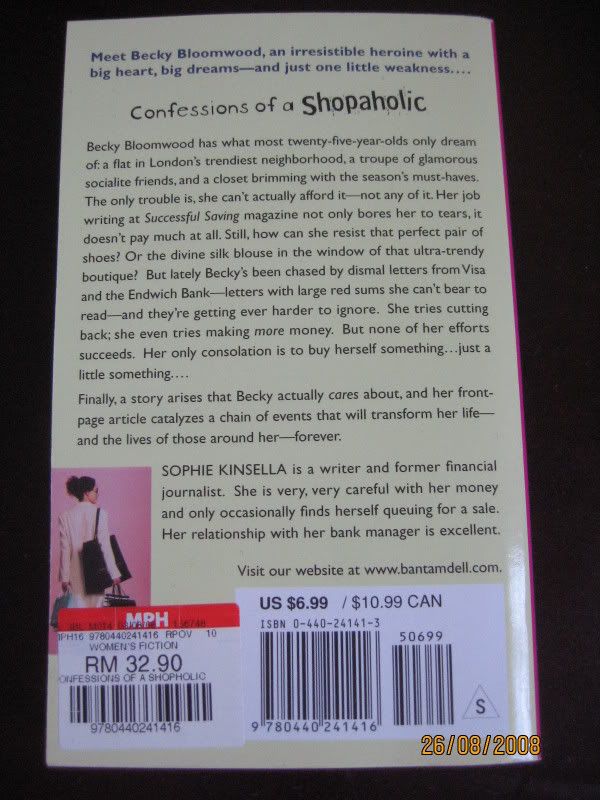 i'd jus started reading it yesterday. ok.. dun tel me the story ya. hehe... i'm sorry to
BEN
for putting so much effort to get me the E-Book of the novel.
BEN, I APPRECIATE TAT ya. THANK YOU ** hug hug and muaks muaks **.
but i was too late cos i din manage to check my mail until Monday. i dun hv internet access at home. :S. sorry sorry... but i reali reali appreciate tat. i stil keep ur mail in my inbox :) so any of u wan the e-book, jus mail me ya. haha...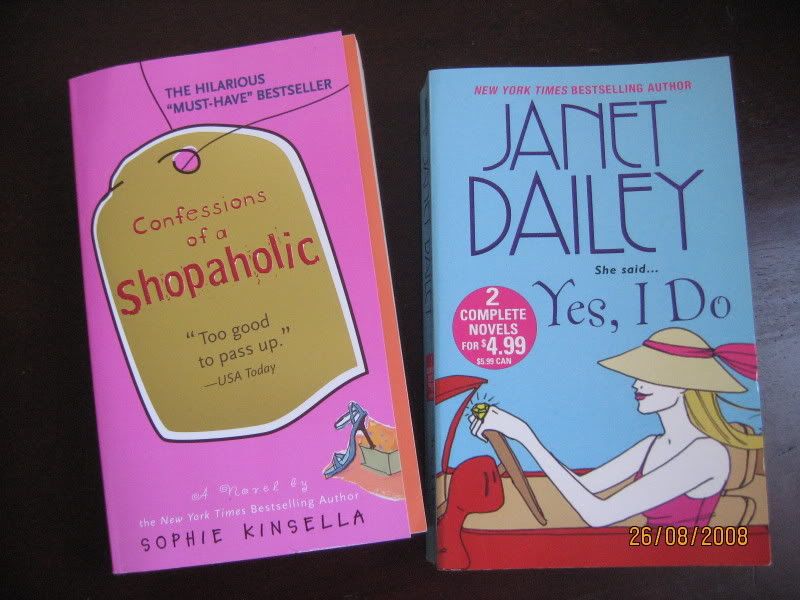 so.. these are the 2 books i got it for this month. i kept the receipt oso. hehe.. can claim income tax ma :P