after struggling hard from the training given by my Big Boss this morning, we went out for lunch @ Atrium, Sunway. well, not bad actuali as i dun hv much personal time to spend wif my colleagues.. a good gathering i shall say.. :)
i think most of my colleagues know me quite well now. haha... pictures for the blog.. tat's y i told some of them to wear nicely so tat i can make u prettier in my blog ma...
Venue: Atrium @ Sunway
Date : 05 June 2008
Time : 1230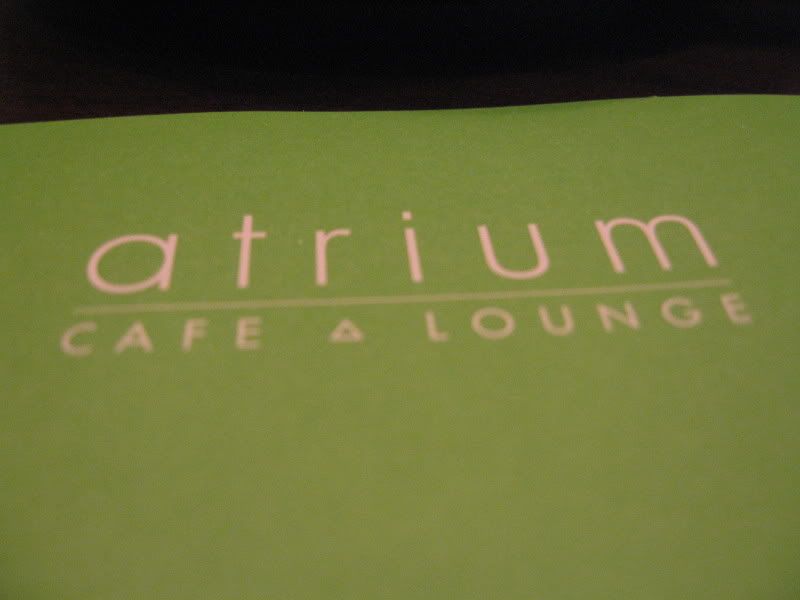 reached Atrium.. we're like hungry ghosts heading for the food.. lets see wat i have and joan too... can u differentiate?? huuh... 2 joan?? ya ya... we got 2 joans in our department but her name is pronounced as J.O.A.N.N.E and mine is JOAN(u kno Joan of Arc, rite? dun tel me u named her as Joanne of Arc.. quite weird is it?).. "but ppl dun call u liangmui meh?" yes, they do. and liangmui is my nick...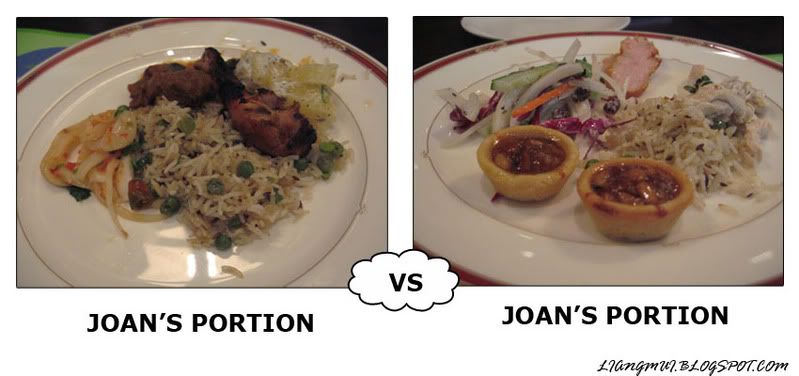 yes.. smoked salmon.. ooppss.. sorry for the typo mistake.. i meant salmon not fish.. omg!! dunno wat's happening to me.. i was thinking abt salmon but instead i typed FISH... kns!!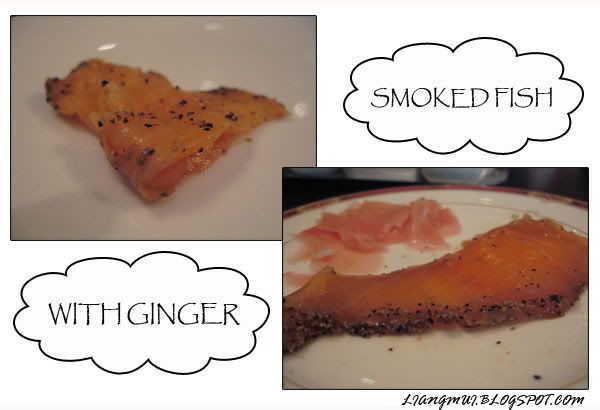 Can u see wat's tat?? haha.. cheese nann.. reali cheessyy... see how meng swallow the whole nan? this shows it's damn nice... oh.. tat pic?? i purposely used photoshop to modify it.. nice or not?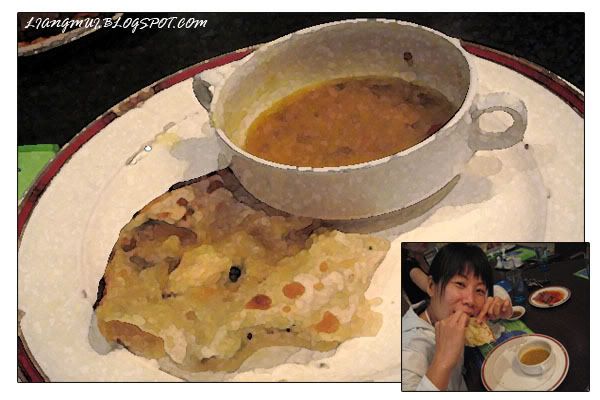 This one was given to me by TEOH. Taste YUCKS!! no wonder.. so kind of him to get me one without needing me to tell him to do so... y so yucky ar? dunno how to explain.. but then the cheessy taste like doesnt blend well wif the strawberry... i shld hv taste caramel... haha...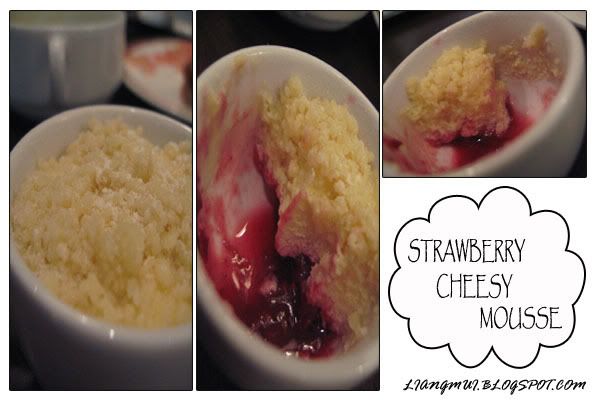 ya ya.. they serve wan tan mee there oso.. har? y get wan tan mee ar? not me lar.. i was too full at tat moment.. joan did it.. she summore ordered 2 bowls ler.. and then got some extra special request wor... more soup lar.. more vege lar... i think the chef oso blur. so many bowls to prepare and yet she requested so much.. haha.. luckily he's kind enuff to help her out...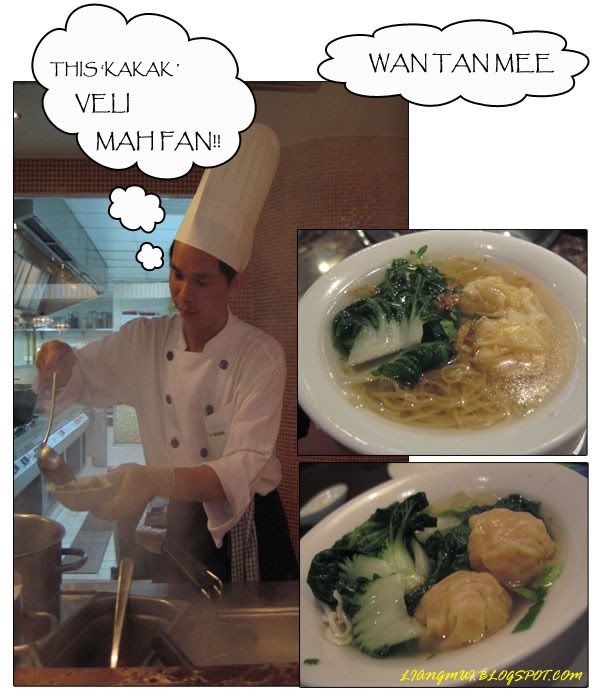 yes... dessert time and i get myself 2 scoops of ice-creams.. ya.. i was reali full but i cant control myself for not taking ice-cream man!!.. veli nice.. the ice-cream's texture veli smooth and it's like once u put in ur mouth, it melts from ur mouth then slowly to ur throat then slowly to ur tummy. omg!! so nice.. of cos, dun compare it wif Baskin Robbins or Haegen Daez.. :)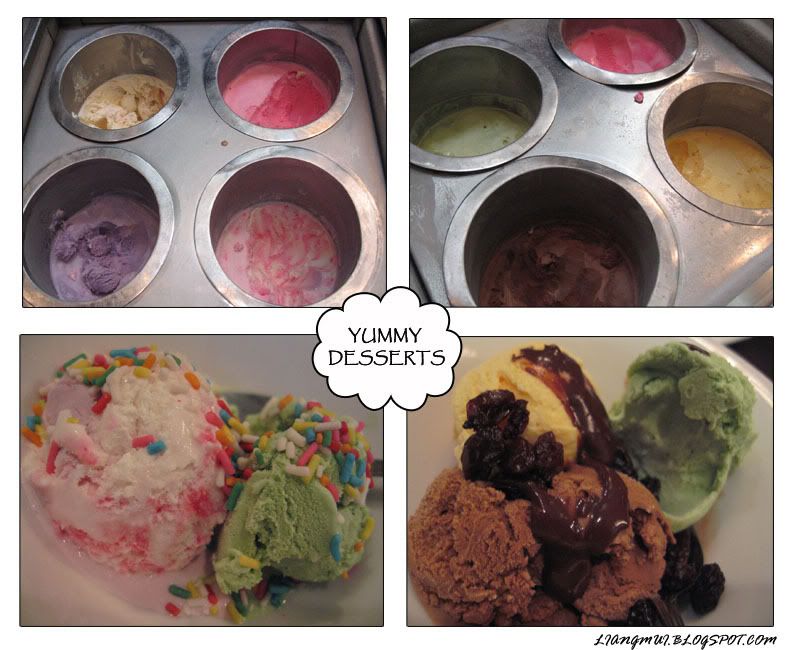 Lastly.. group picture.. can u see how many hungry ghosts among us? haha :) all the leng luis and leng jais...
first...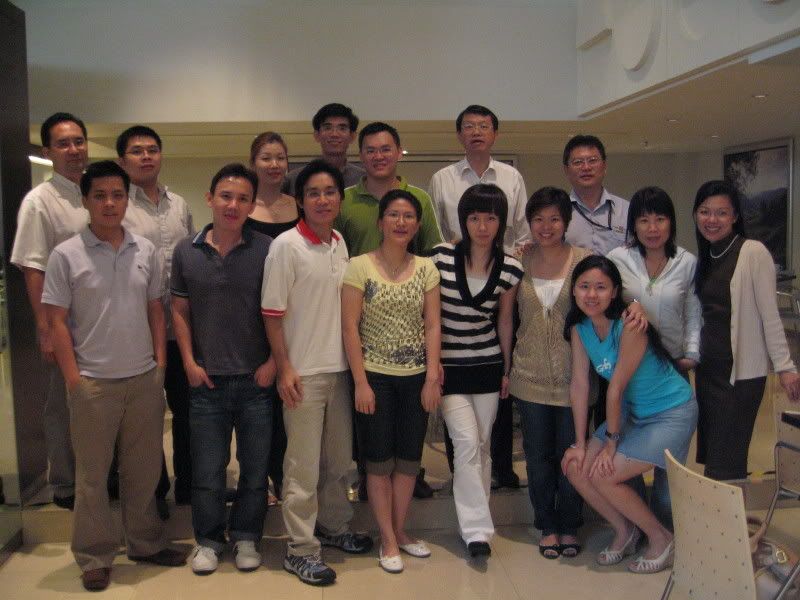 second...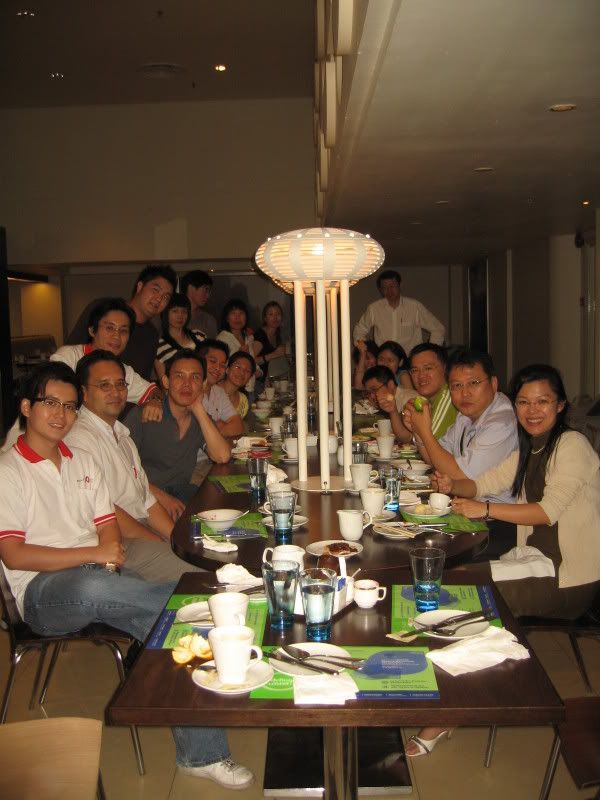 Third...from left (start from the one 'Peace'-ing.. 001, spencer, andy, and teoh)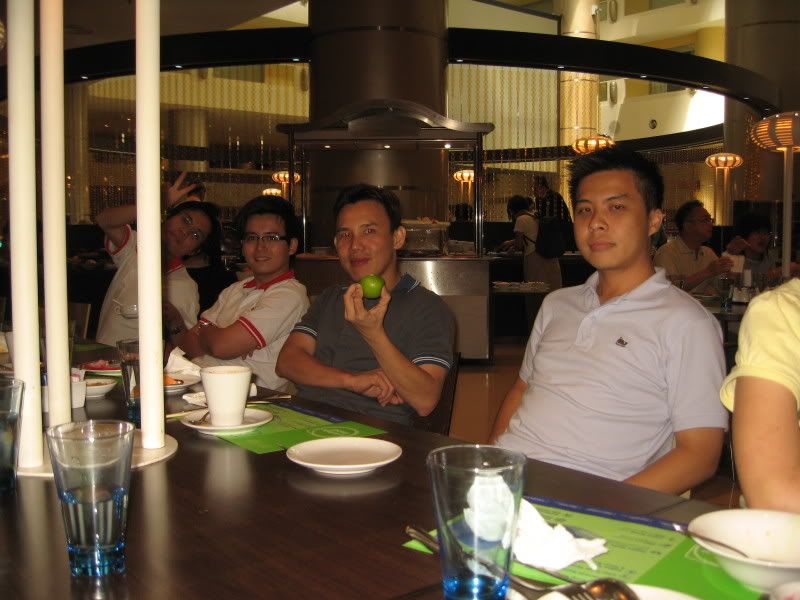 from left -> ee joe, benson, 001 and jimmy...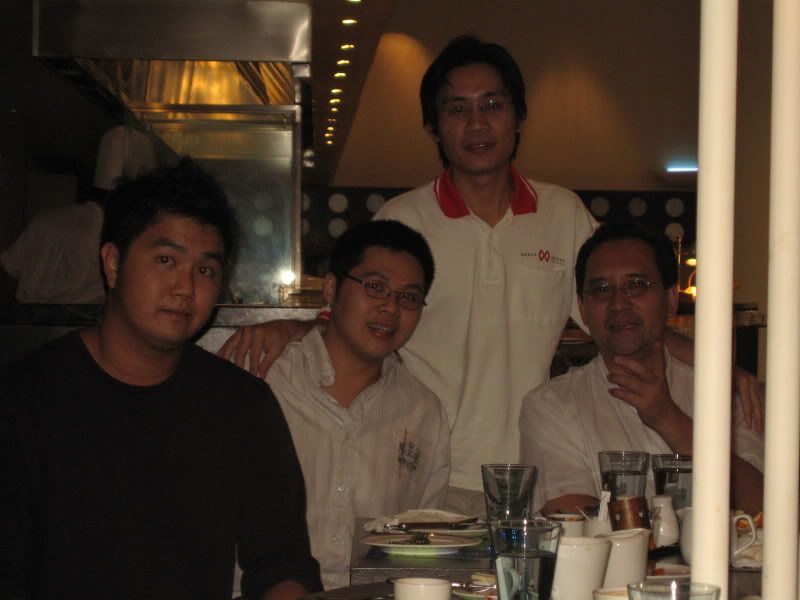 wan summore pics ar?? no more lar... dun b greedy ok? a bit for u to see is enuff... the rest is for my collection onli.. huh? no one wil enjoy? who says.. I'm the ONE ok??
how much ar?? wahhahaha.... FREE OF CHARGE... surprised ler?? if wan me to pay for this lunch, i better get myself a plate of wan tan mee at the hawker stall :P