Venue : Chicken Hartz @ Sunway Pyramid
Date : 3-June-2008
Time : 8pm
Price : RM 19.90 per person
We're actuali thinking of going to IKEA but then the plan was changed suddenly bcos of the heavy traffic jam at LDP after the Sunway toll. So, we moved on heading towards Sunway pyramid instead. And this is how my Dinner changed to BUFFET! Not the normal buffet but it's CHICKEN!!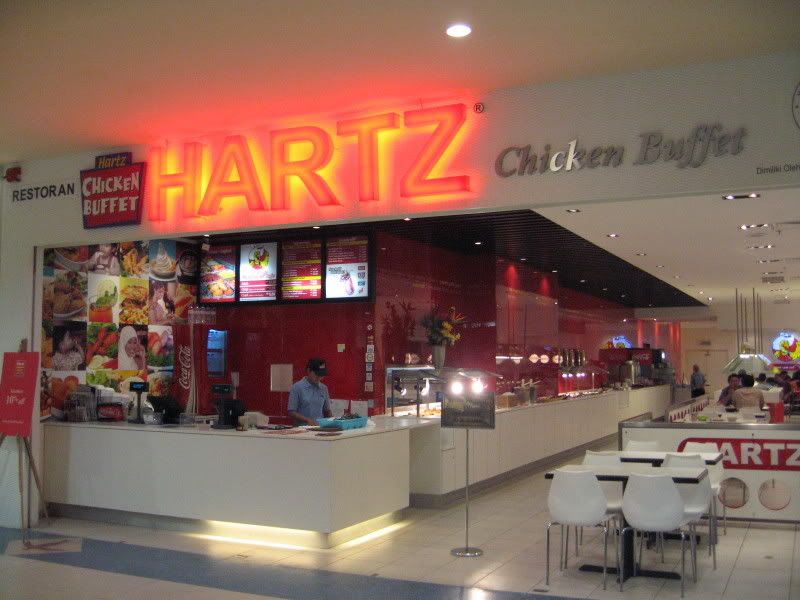 We reached there quite earli so we dun hv to crowd wif the ppl and grabbed the chickens like hungry ghost with others..
The environment is not bad compared to a few years back where they onli provide music and the food. haha.. now the interior design looks more relaxing and as usual, liangzai grabbed the chickens as much as he can swallowed into his tummy..
while looking ard the interior, i saw this quote 'Vegetable are a must on a diet. I suggest carrot cake, zucchini head and pumpkin pie' and this is quoted by guess who?? -John Davis, "Garfield"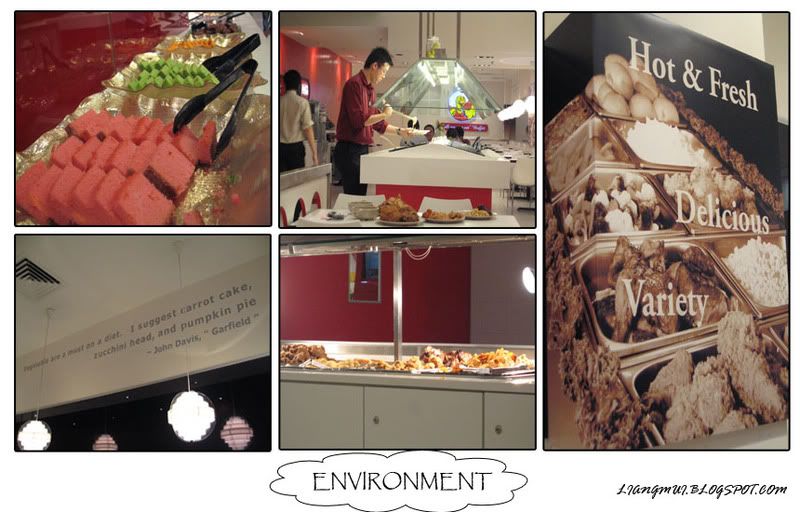 lets move on to the food. honestly speaking, the food quality is getting lower and lower. hai~~ not much choices. Roasted Chickens and Fried chickens are normal.. tat's y liangzai grabbed a lil for himself. A little to him is 2 pieces of each ya. Total = 4 pieces.

This is my portion. haha... Recently, I alwis wanted to eat ONION RINGS. but i cant get it here. so i take some FRIED ONIONS to replace it instead. and some FRIED Ladies Fingers or the label showed 'SPICY FRIED OKRA'. to my disappointment, it's not spicy. luckily the soup not bad. dun get me wrong. not the creamy one ya.. the creamy one is kinda like tasteless... liangzai got some macaroni too.. cheesy, soury and curry (or i shld say sth like kapitan flavour)... the one looks nice instead taste funny.. i prefer the cheesy one.. nice! oh.. forgotten my favourite.. i mean the must take food - boneless chicken.. y boneless?? cos i dun like to get my hands dirty jus becos i hv to use my hands to eat the chicken.. i wanna use fork and knife onli.. haha :P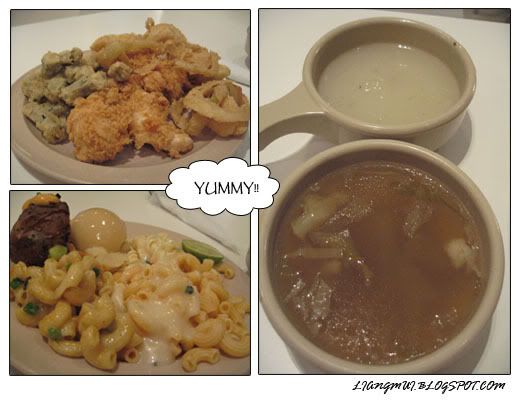 not forgetting the smash potato, baked potato, curry chicken and braised chicken. Braised chicken is the best! THUMBS UP for it! After finishing my portion, I just got liangzai to get me some chips but can u see there are some additional food for him again? dun forget, he already finished his 4-piece-chicken and here goes the extra one!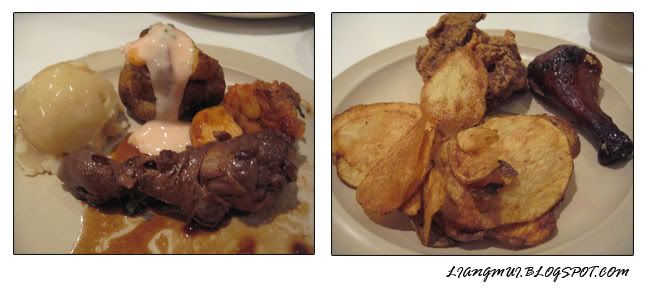 Last but not least, after struggling from the desire of wanting more chickens, he stopped and get some fruits, cakes, and ice-cream for dessert. oh ya, coleslaw too.. tat's for me.. veli veli small portion onli.. haha.. hv to maintain my diet ar.. i'm supposed to go for yoga class yesternite instead i went out for a CHICKEN BUFFET!! so guilty.....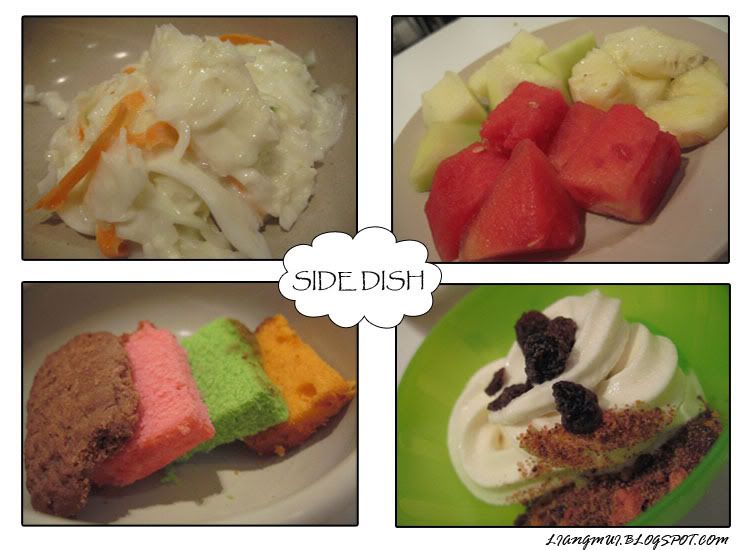 Lastly.. i shld say AT LAST, liangzai got himself a cup of hot coffee.. aiya, he's a coffee addict.. one day without coffee, he wil suffer from headache.. haha.... i think it doesnt taste good cos he looked like as-if he was forced to finish up the coffee.. dun believe ar?? look at the pic below lar...
after buffet ar? sure go shopping lar.. hv to exercise after such a heavy meal ma. i din get anything for myself instead i bought a king-sized bedsheet for my going-to-get-married fren, IVY.. i hope she wil like it.. :)