Do u kno y ppl alwis said ur frens will alwis beside u when u're in trouble? now i kno y. i think my 38 gang can sensed tat i wil fail my paper.. tat's y they organised another gathering again. tis time i'm sure not for
Exam-fail celebration
. It's Gathering wif New PPL, Denise..
** Hey Denise, Nice meeting u ** ** wink wink **
well, Steamboat session again
Venue : Restoran Talipon @ Kuchai Lama
Date : 14 June 2008
Time : 630pm
Price : Adult: Rm21.80 Children, Rm12 (exclude drinks ya)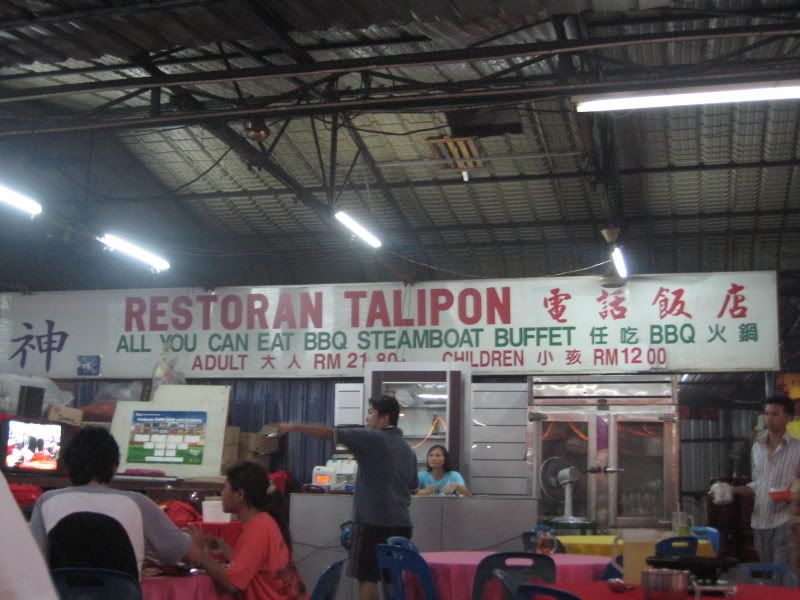 well, i dunno whether i shld b happy or sad to hv such a bunch of 38 frens together.. i think Happy more.. wahahha..
aiyo.. tat pot ar?? i nearly fainted when i saw the pot on the fire.. so small.. 2 big gulps from my mouth then the soup wil b finished ler.. dun forget i'm a SOUP LOVER!!
check it out the below pics for the before and during session (before makan and during makan)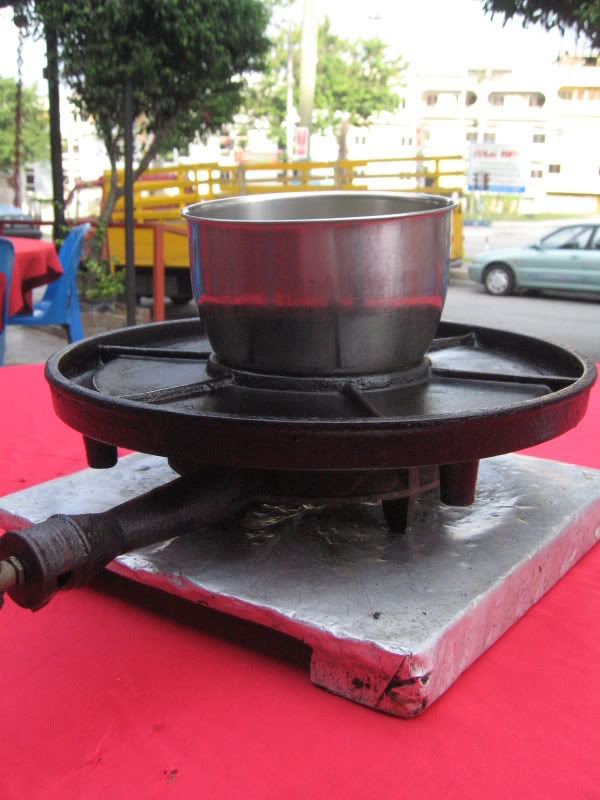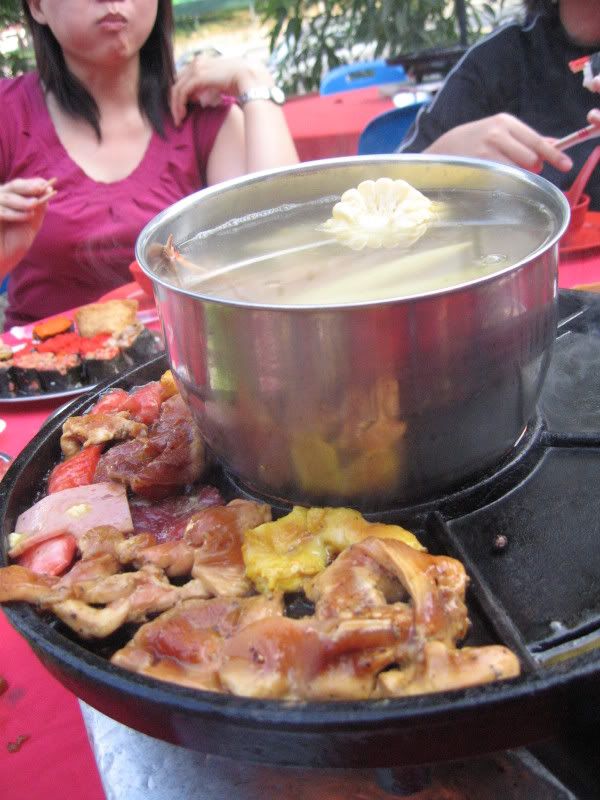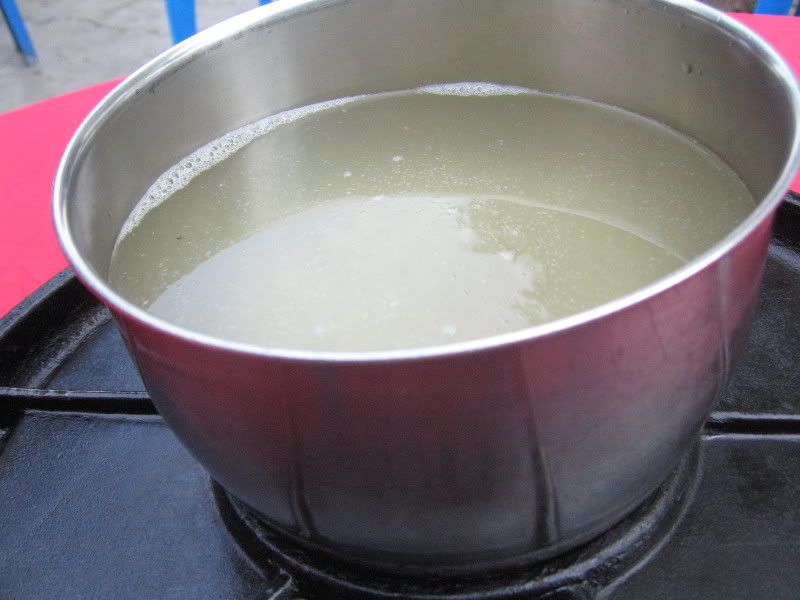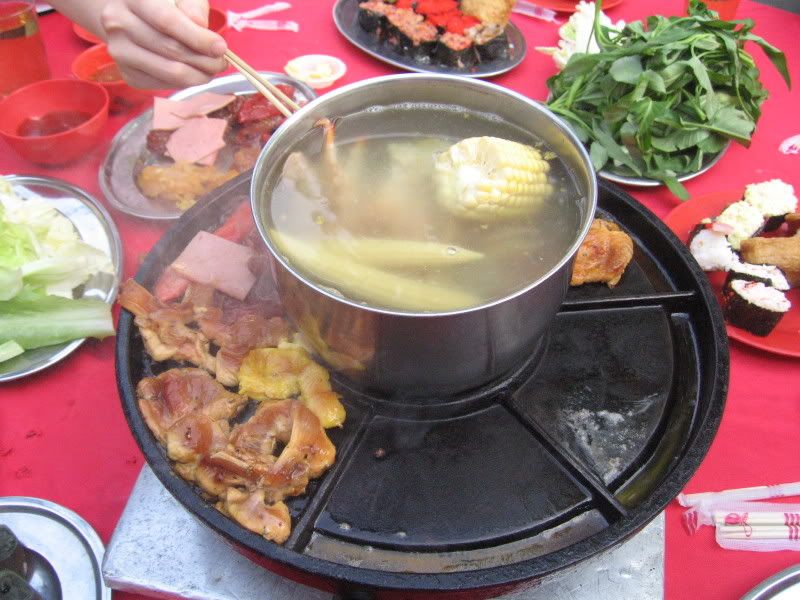 is ur saliva dripping out d?? the pork, chickens, seafood and etc etc.. i can tel u the soup is reali veli sweet lar.. yummy!!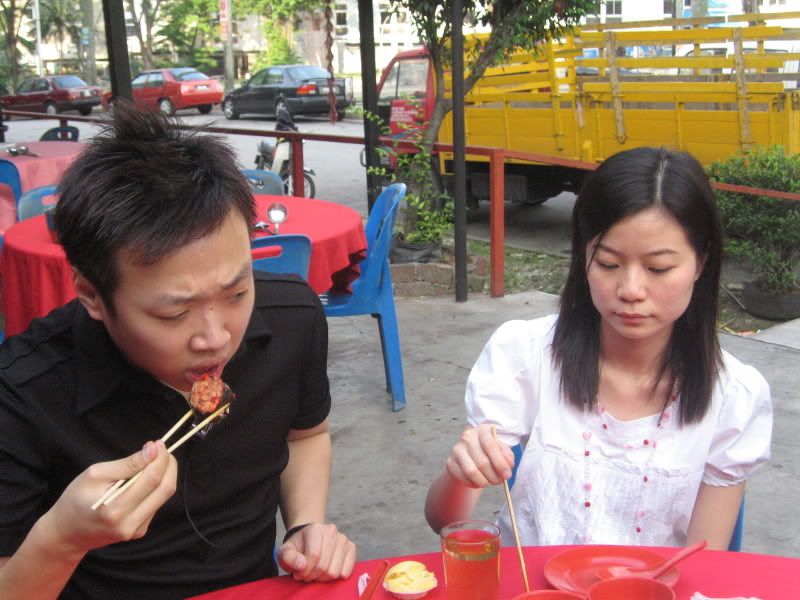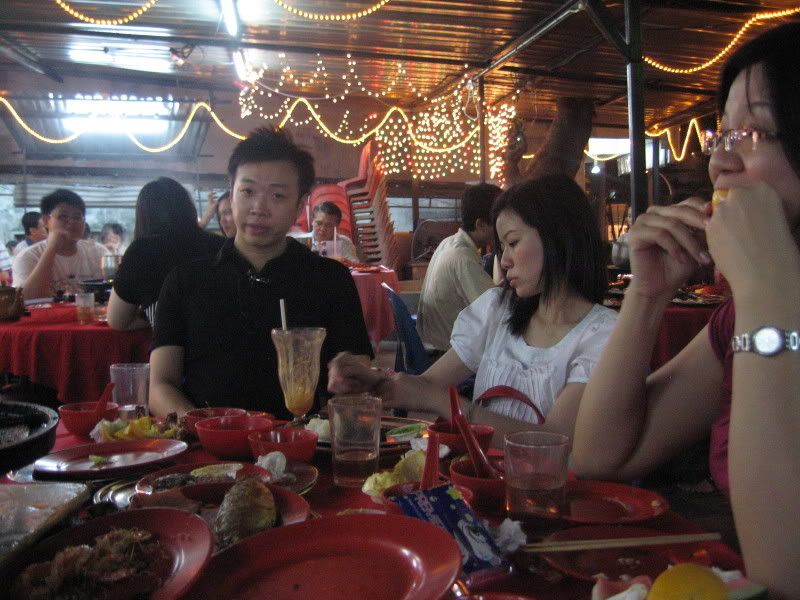 see see.. the new leng lui ler... left one is 38 Steve and the lady next to him is Denise.. well, next post will add u as 38 Denise.. so dun worry so much abt the 38 first ya.. wahahha.... the pic one the right shows tat they are damn full d.. see Denise.. dreaming away... ** oi.. camera on ur LEFT, dear **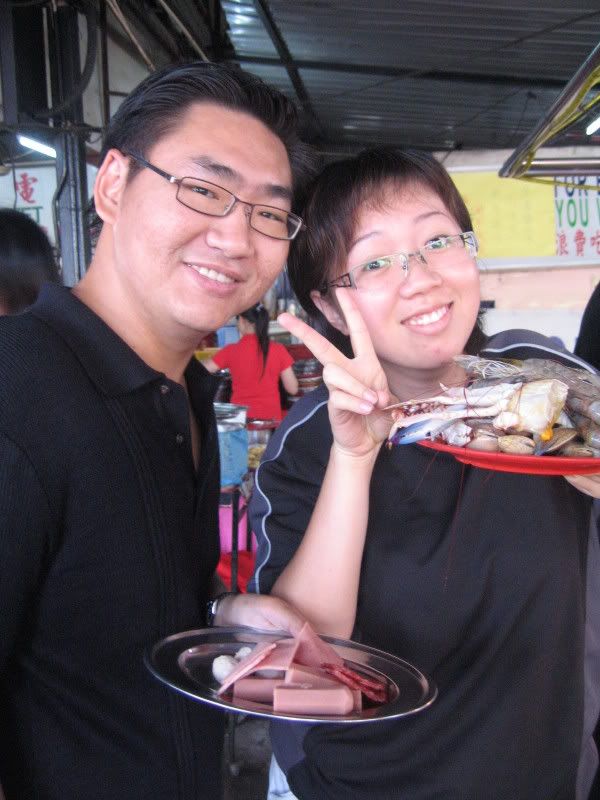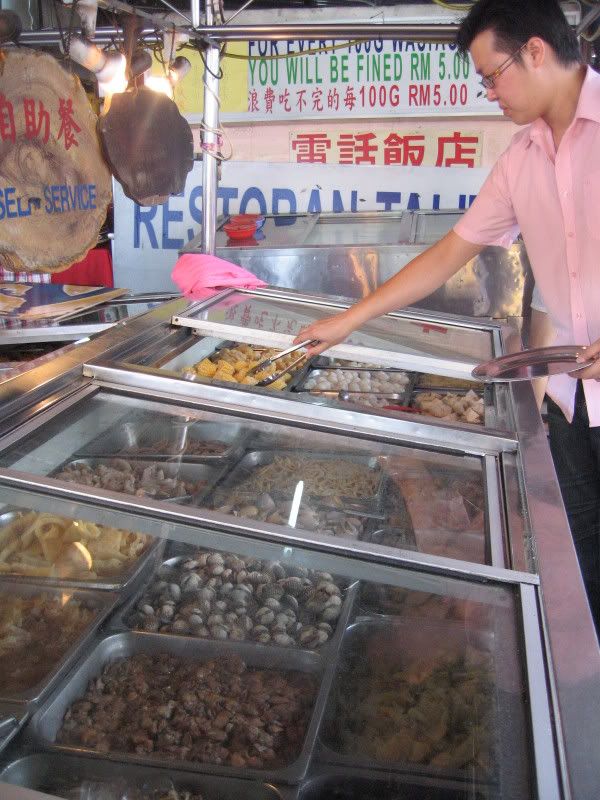 hai~~ Fishball ah pak and ah soh again!! ya lar.. from the pic u can see how desperate they are to SEAFOOD and HAM!! They jus cant stop taking it again and again ler.. hahaha... can u spot liangzai?? he damn busy taking food one lar.. of cos mostly are mine!! wahahaha...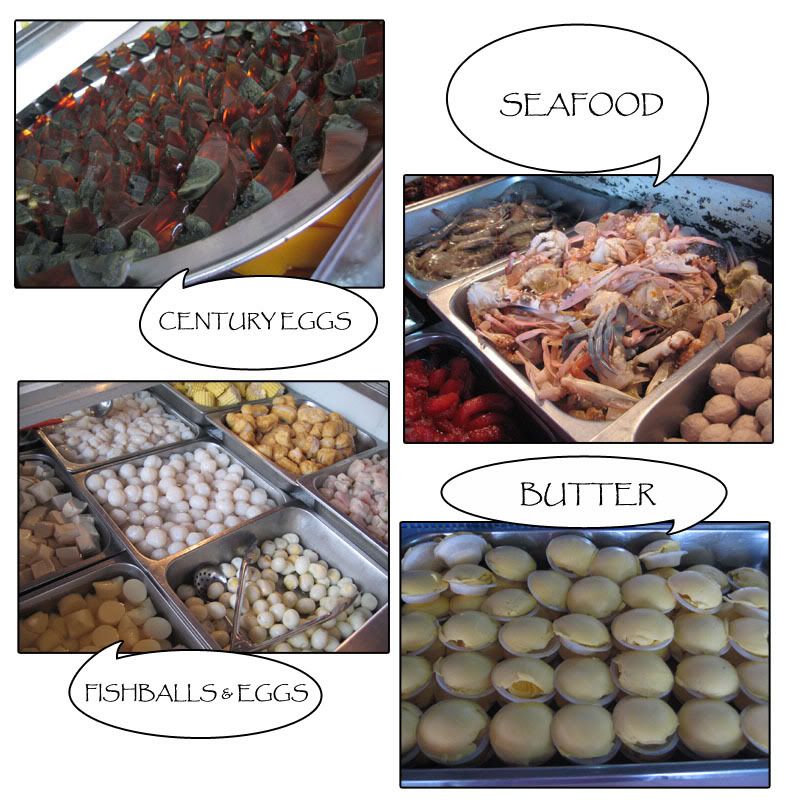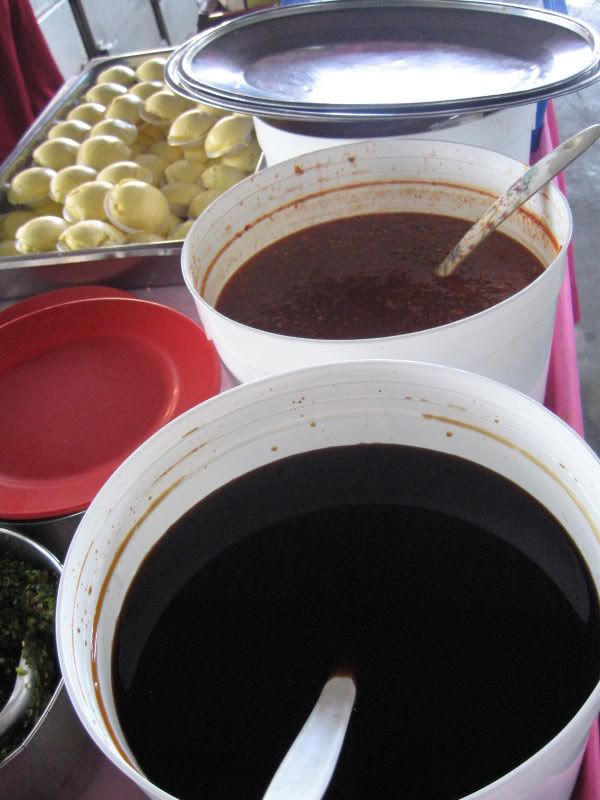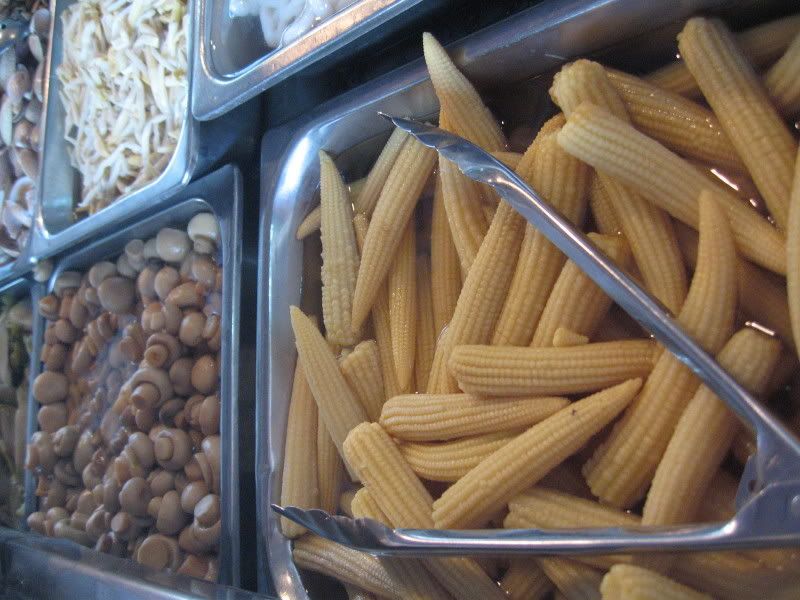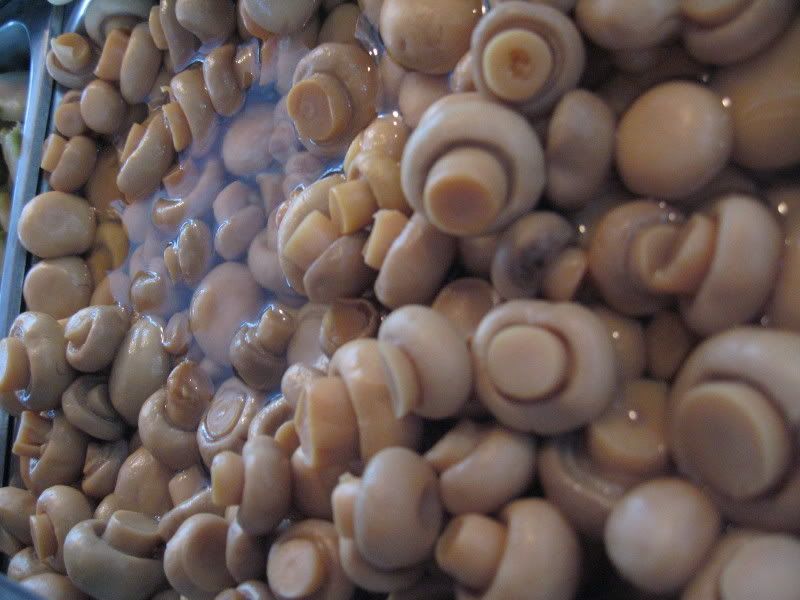 the food and sauces lar... mushroom and jagung.. those are my favourites lar... tel u one joke ar..
can u see the butter there?? all are in round round shape rite?
**
ahem, Joke start...
one fren of mine is a 'Tau Sah Pneah' (Salty Yellow Bean Paste Cookies) Lover and she got serious myopic problems. the joke began when she had a steamboat session wif us and she went and took some food for herself and she spotted 'Tau Sah Pneah'. She came near and shouted to me.. "faster go and grab some tau sah pneah for me. my plate veli full oledi.. kenot fit it.. put in urs first can ar?" of cos, the kind liangmui wil alwis help out if can rite? so i'm looking for tat tau sah pneah and i couldnt find it. i went and asked her "where's tat tau sah pneah u mentioned?" immediately she answered "there.. behind u lar" i nearly fainted ( -_-") when she answered so and i teased her "OOiii auntie, tat's not TAU SAH PNEAH lar.. tat one is BUTTER!!" the whole bunch of us LOL asking her to change her specs soon..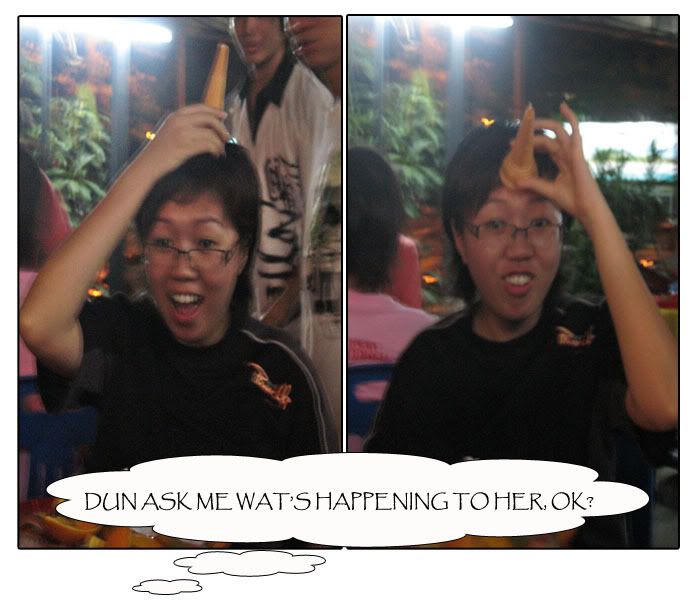 I reali mean it.. dun ask ok?? the customers behind oso ketawa-ketawa at her..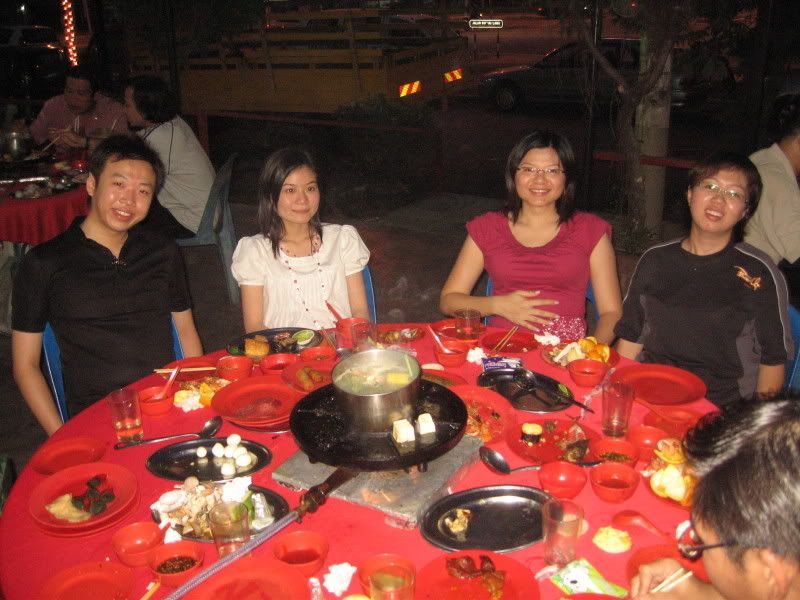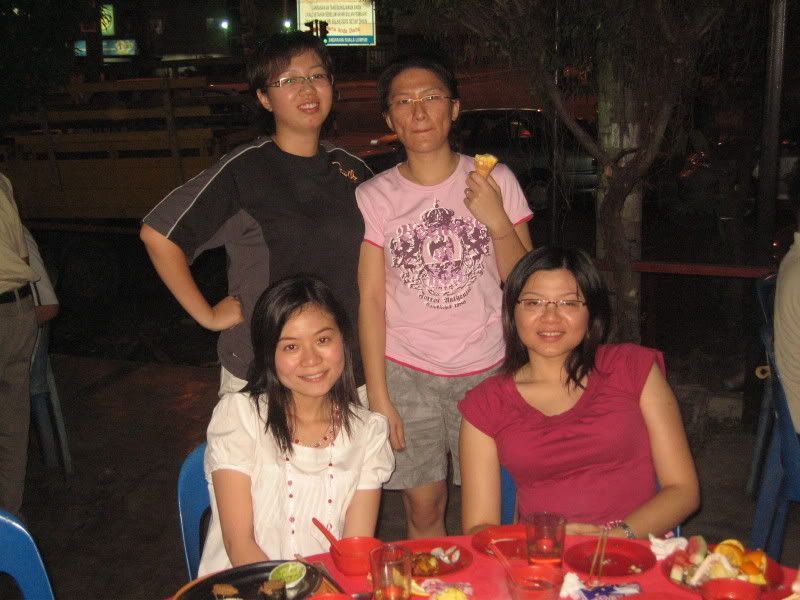 ooo.. the ladies... see Fish (in red) keep on massaging her tummy..
** oi liangmui.. buang u punya ice cream lar. take pic oso wanna take wif ice cream ar **
oi.. kenot meh?? jealous ar.. cos ur tummy cant fit the ice cream d tat's y asking me to throw rite?? but i dun care.. yummy..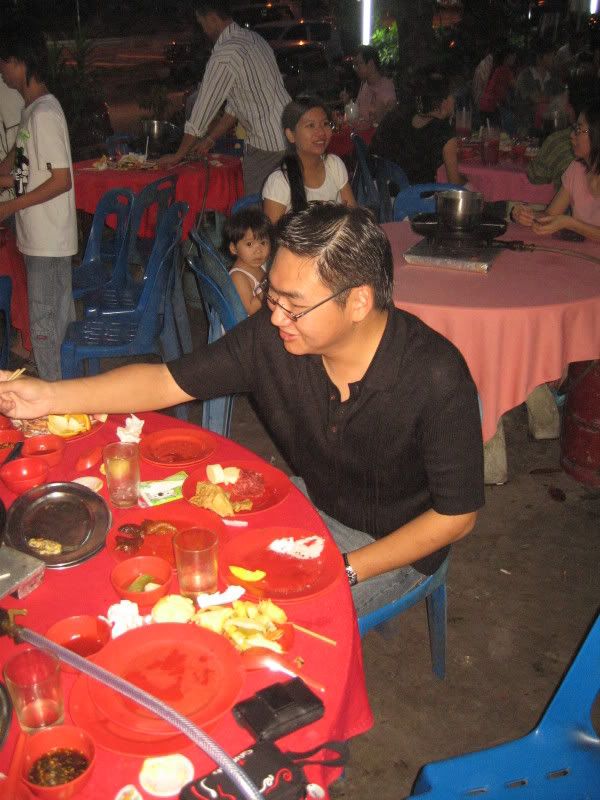 The Last Survivor!! go on, Fishball Ah Pak!!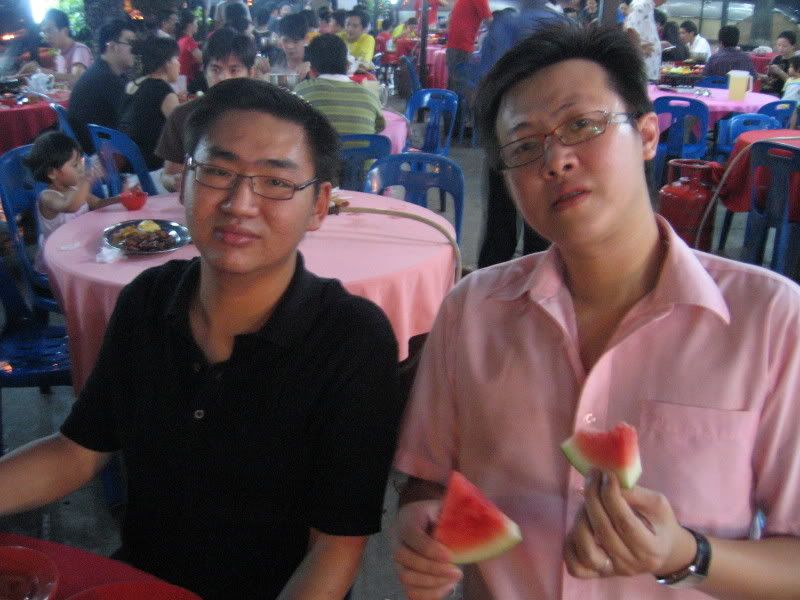 see liang zai wif the Lan Si Face.. i dunno whether Fishball Ah PAk stepped his tail or not (make him angry).. haha.. actuali no lar.. he's Damn Hot.. tat's y makan his watermelon.. hai~~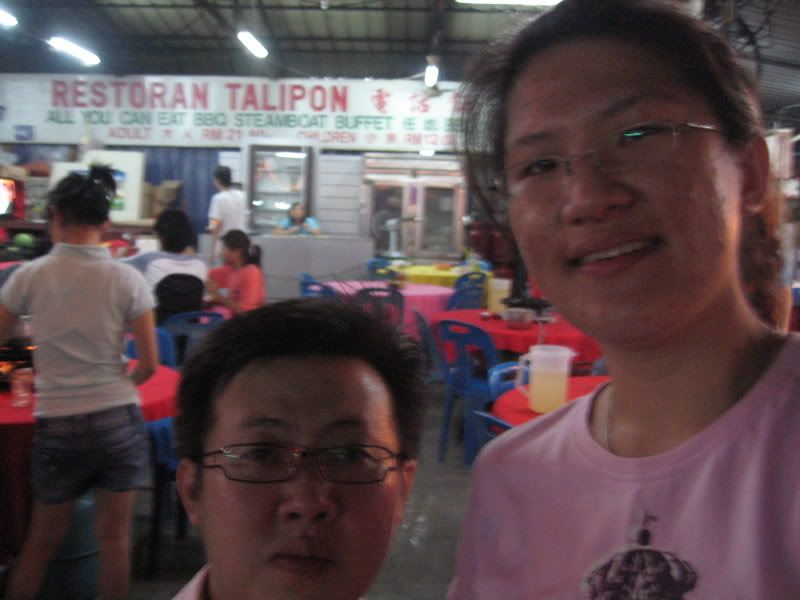 Fish said ngam ngam can fit in liangzai's head wor.. tis is the tricky one.. u kno he's too tall and i'm too short.. so hv to make him sit then i snap the pic.. and u kno lar.. my hands so short.. i think it's quite good if this take can fit his head.. guahahahha....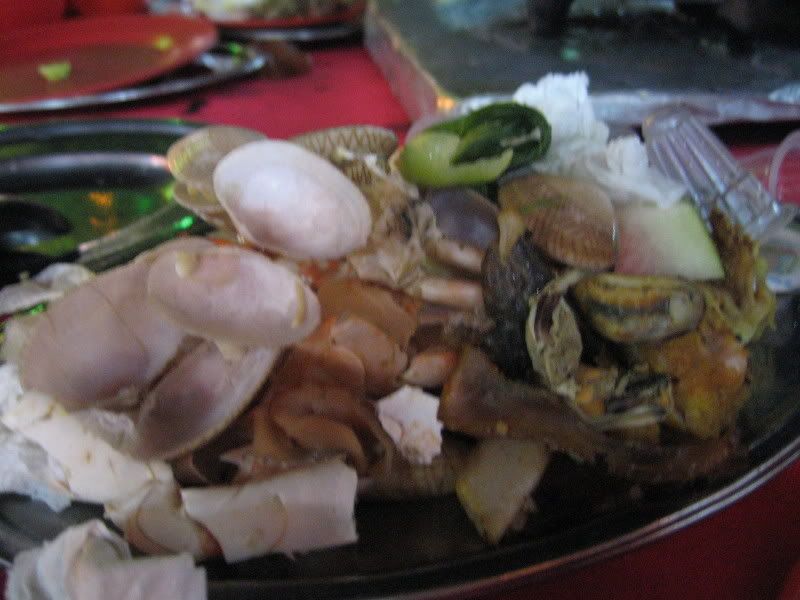 the leftover tat i'd taken.. ya.. lotsa clams and crabs and jelly and water melons and etc etc etc.. ** burp burppp ** veli full ler...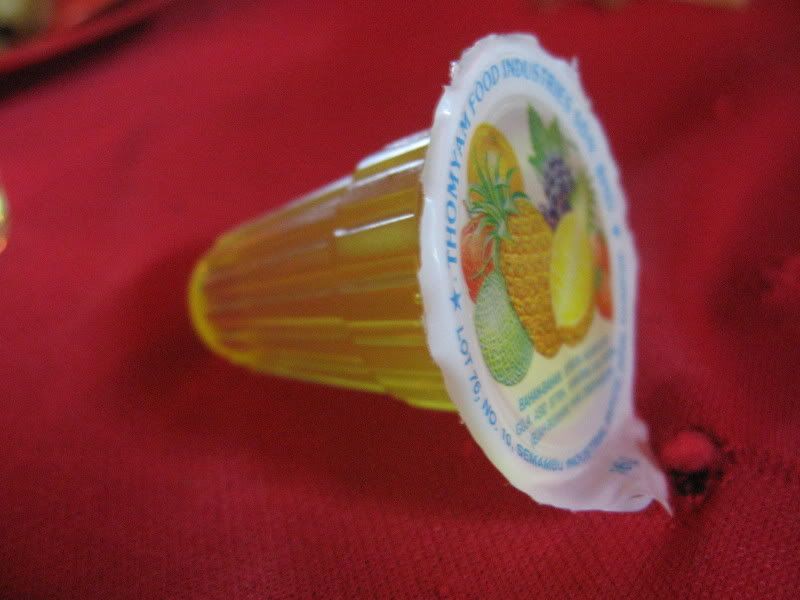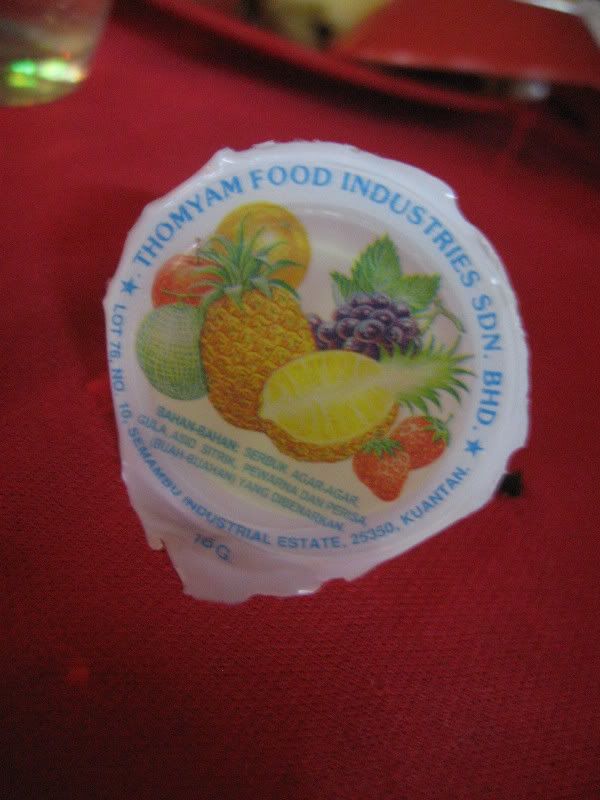 Yes!! my Jellwwweeee.. hehe.. yewwow in color. i ate red, green, orange and yellow.. tat's the onli colors they hv lar... summore Made In Kuantan wor... u see the factory name?? Thomyam Food Industries.. how come the jellwweee dun hv tomyam taste one??
wahahha.. well, tat's end my Nice Saturday....