yes!! I was there!! together wif jie jie. :) yahoo~~ got FREE tickets ma. y not go and feel the LIVE show rite? well, main purpose is not bcos of supporting the contestants at first but i wanna see my idol,
Eric Lim or Lin Jian Hui(林健辉)
!! yahoooo~~ i managed to snap a few pics of his.. wahahha.. yes yes yes!! had been sticking wif him ever since i watched 1 million star (a famous Taiwan Singing contest just like ASQ).. I'm TOTALLY fascinated wif his voice when he sang Frank Sinatra's My Way.. wow.. so romantic ler... plus his cute cute single eye-lid eyes and the thick think eye brows.. wahahha.. jus look like the real-life SinChan (蜡笔小新).. ok.. enuff for Eric. Later continue wif him ya.. hehe.. terlalu excited d...
The Tickets... FOC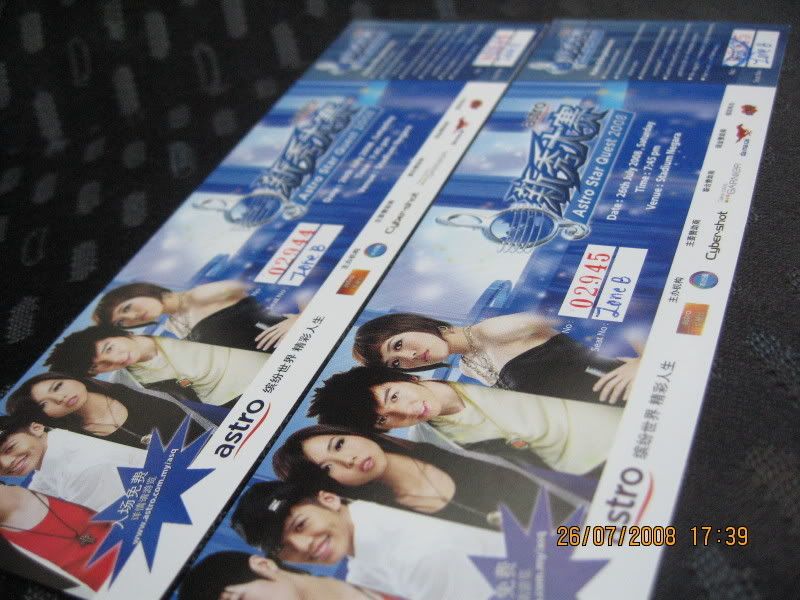 Top 5 Contestants (left to right): Wan Chean, Danny Koo, Debbie Lim, HouRen Chu & Natalie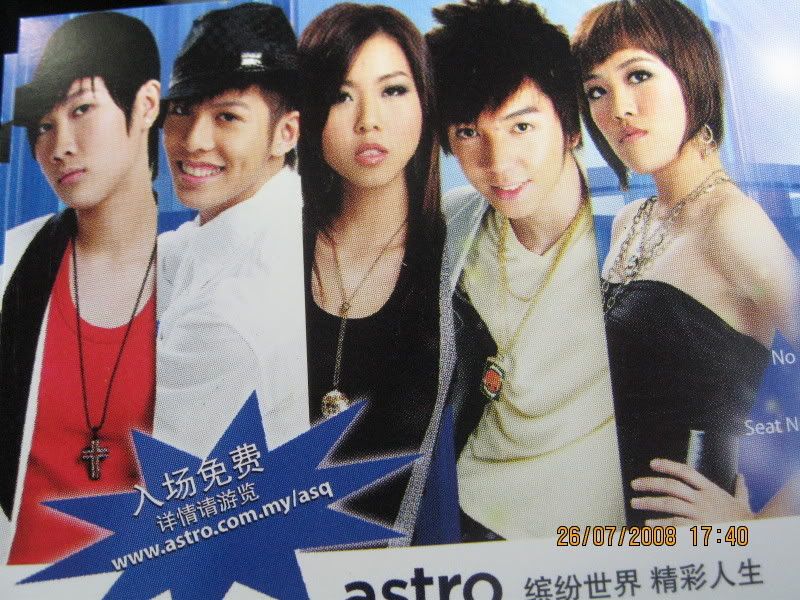 The Gift wif their pics.. :) i think this pic is nice especially Wan Chean looks good!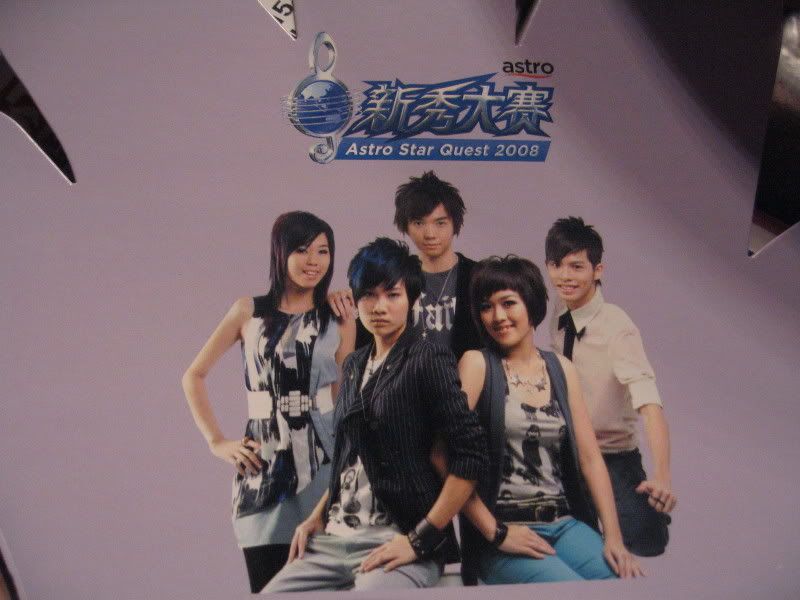 The Stage....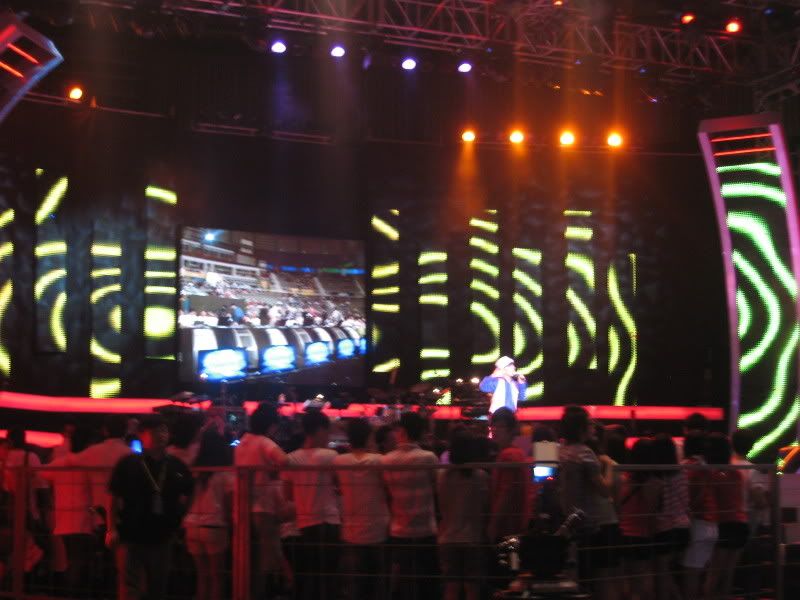 The 2 soh-pohs.. we were just sitting behind Top 21 ler.. quite near to the stage rite? hehe :P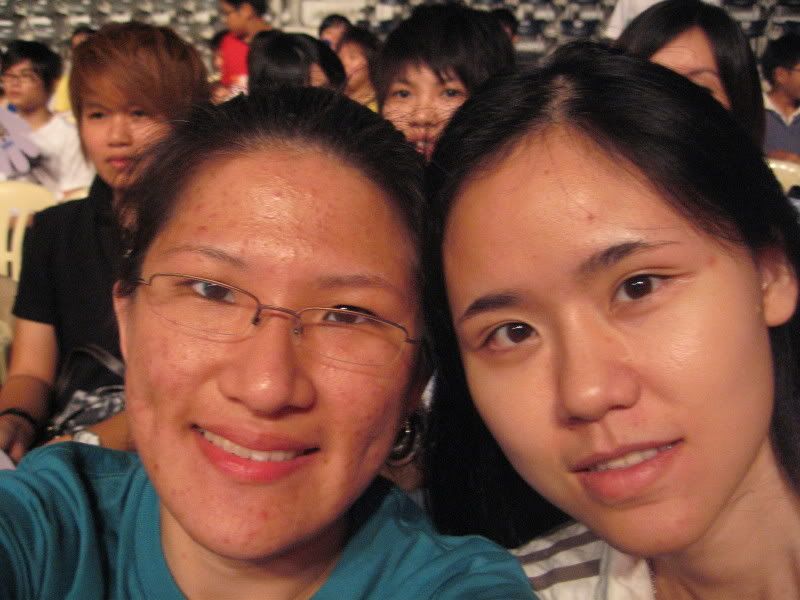 The MC - 文康
The Judges Seats.. and i was just sitting next to it.. hehe.. :P
and the judges...
Left pic (left to right) : David Koon, Alex San (standing Behind), 黄舒骏 & 包小松
Right pic (left to right): 包小松, 包小柏, 李志成 & 林琼珑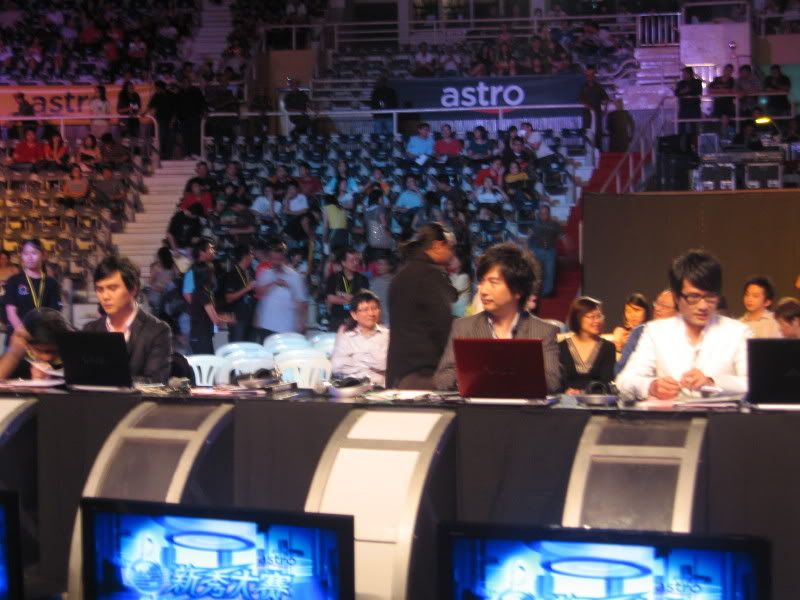 and my favourite.. 包小松.. he purposely looked at the security guard who was chasing me back to my seat. but nvm.. i stil managed to snap his pic :P hensem ler... he's veli handsome ok?
the Stadium.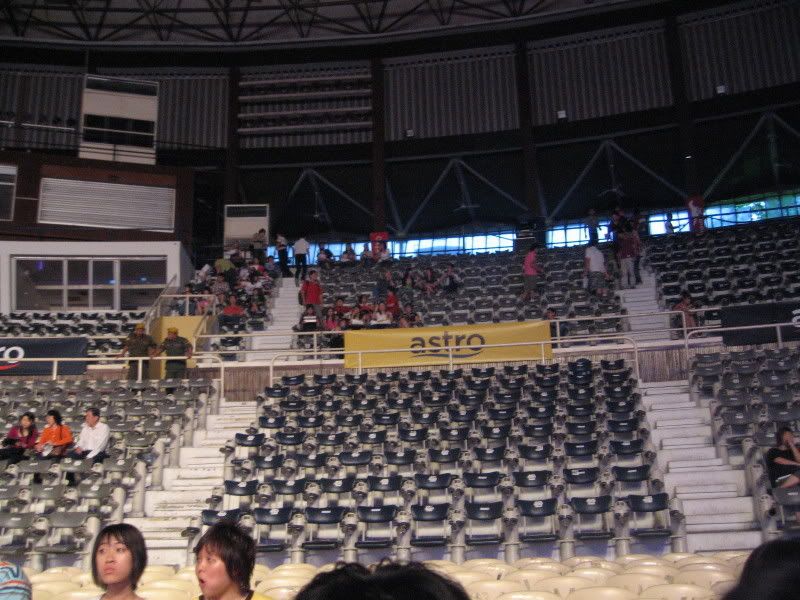 The Musical Band
The Opening.. with the top 5 performing on stage on their song (独领风骚)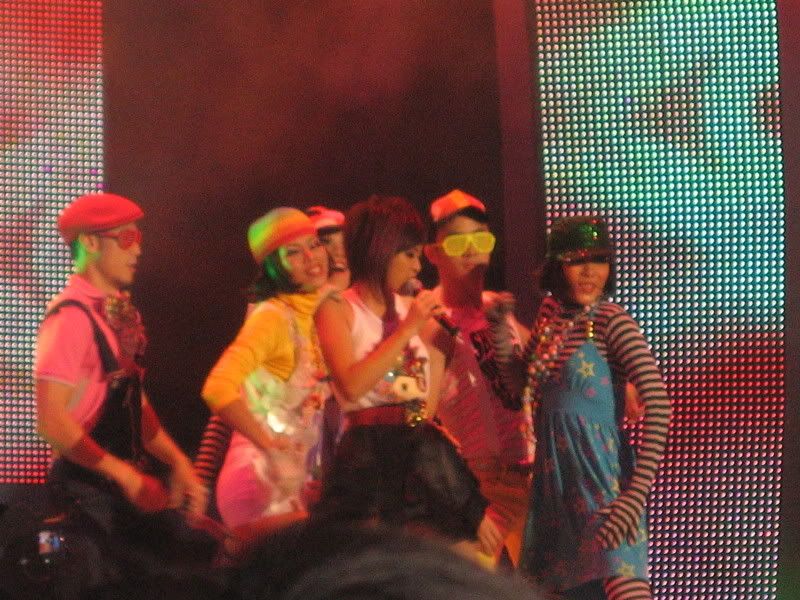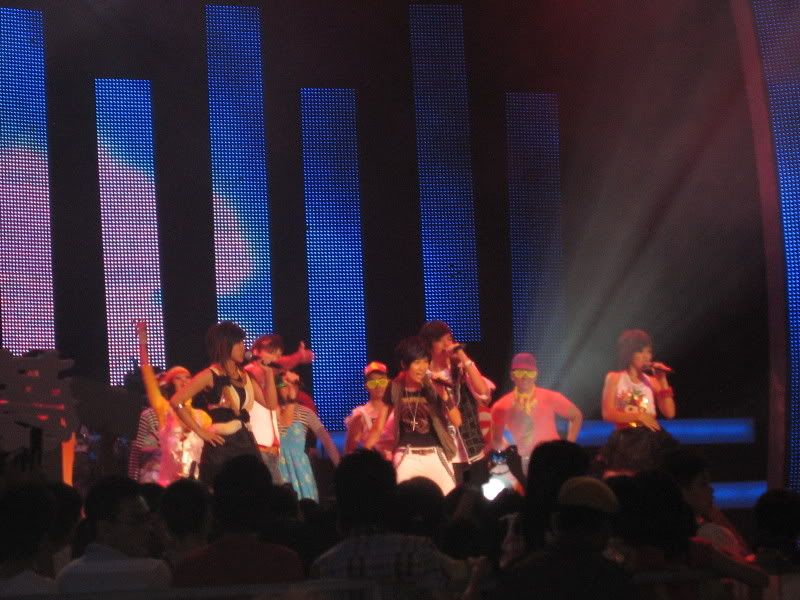 There were 4 rounds for the contestants to pass thru and after each round, 1 contestant will be eliminated from the contest. phew~~ quite difficult huh?? i nearly dropped my tears when everytime each of them eliminated.
Round 1
Danny and Wan Chean..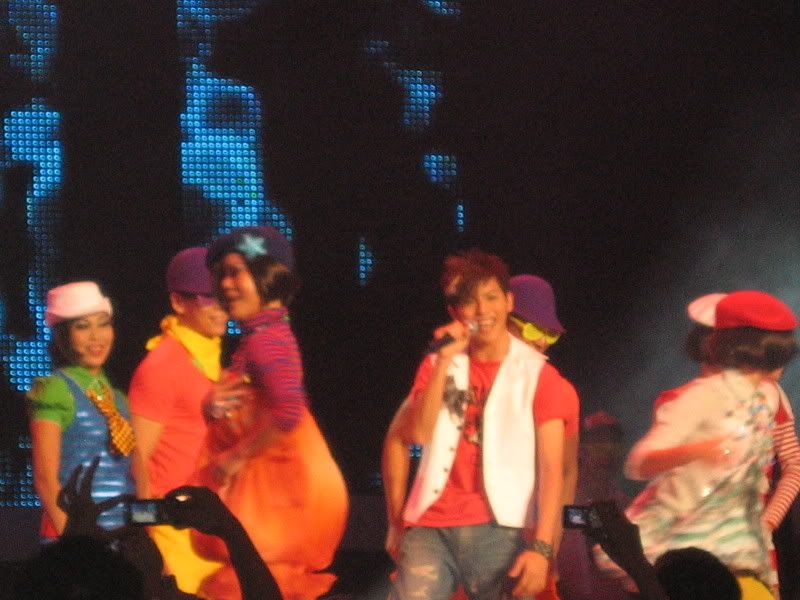 Debbie
Houren and Natalie..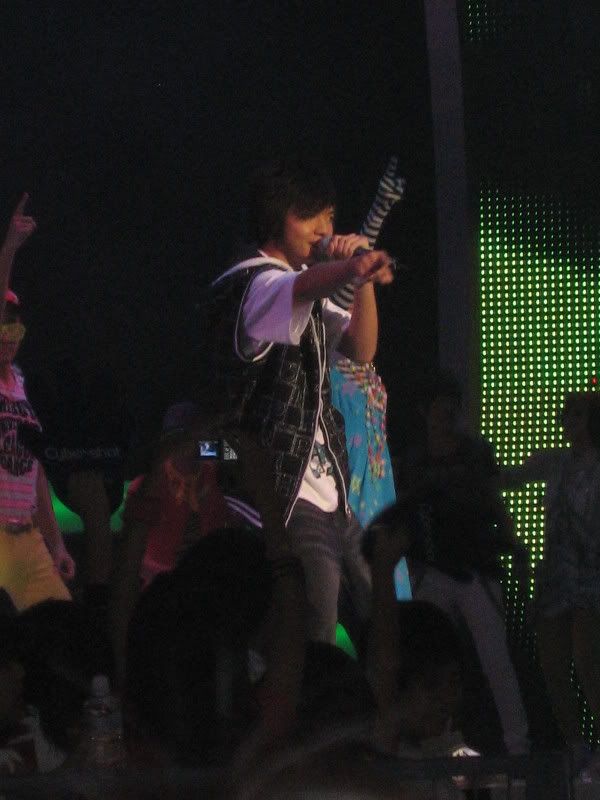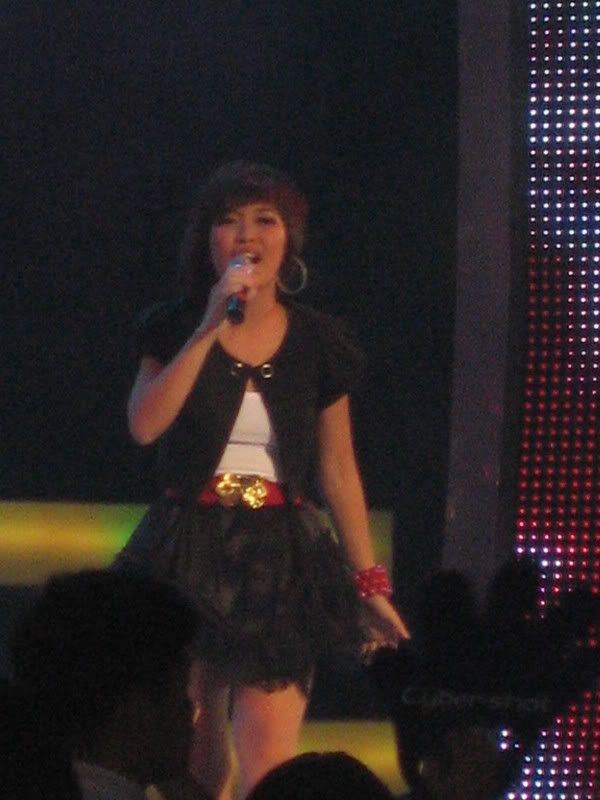 ok.. dun ask me abt the songs they sung. i reali forgotten but i enjoyed the show. the LIVE feel and sitting in front of the TV is totally different!
Round 1 ended with Natalie was eliminated. and she managed to get No. 5. not bad!! keep it up!! not easy to get No.5 out of so many ppl joining the contest rite?
Round 2 - Unplugged!!
Houren & Wan Chean
Danny & Debbie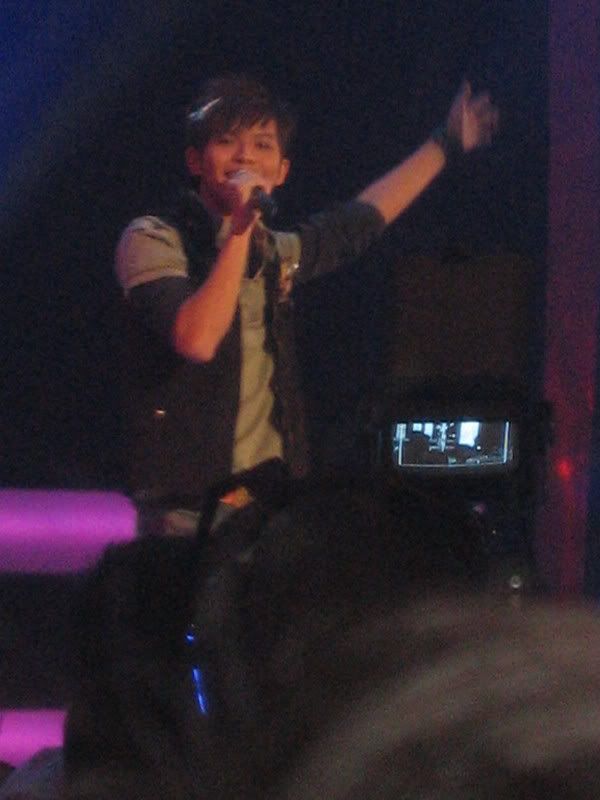 While busy taking pics on the contestants in Round 2, I looked to my right side and I SPOTTED SOMEONE FAMILIAR!! yes yes.. u guys r right!! yup, it's HIM!! yahoo~~~
Eric Lim (林健辉
). YES!! faster take pics.. i took a lot of his pics while he's sitting on my right side. and the guy beside him can u see? do u remember who he is? well, i dun. he got 方大同 and 伍家辉 look. jie jie told me he's 李政发. the previous year ASQ's champion. ooo... he's cute! He's friendly and keep on smiling to me when i curi curi look at Eric. and he even waved to me ler. wah seh.. so cute.. heart oso melt.. actuali i wanna take a first move to take pic wif him one, but i paisei.. so i din lor..
see.. see... Eric's blurry look and he smiled to me.. wahahhaha... aiyoo... kenot sleep tat nite cos thinking of him onli. look at the pic carefully.. no, he din. he was smiling to his PA for a snap of pic from her phone. jealous!!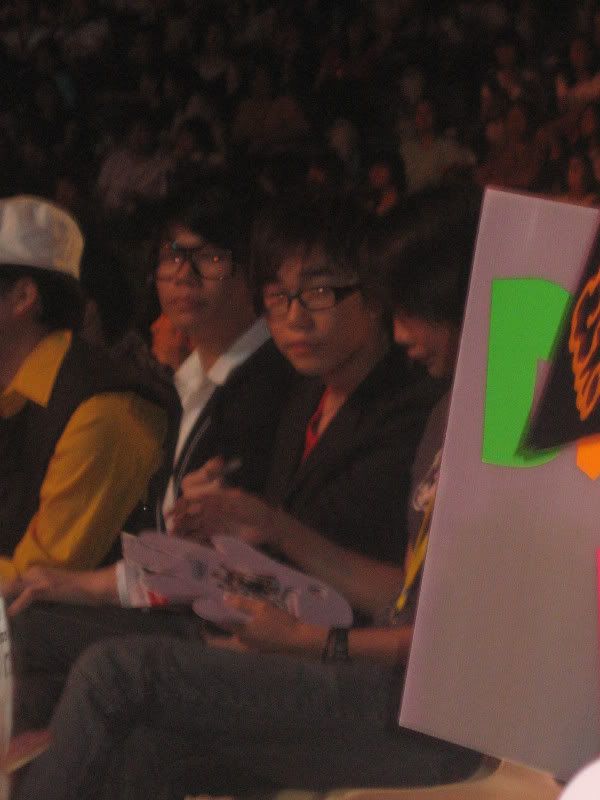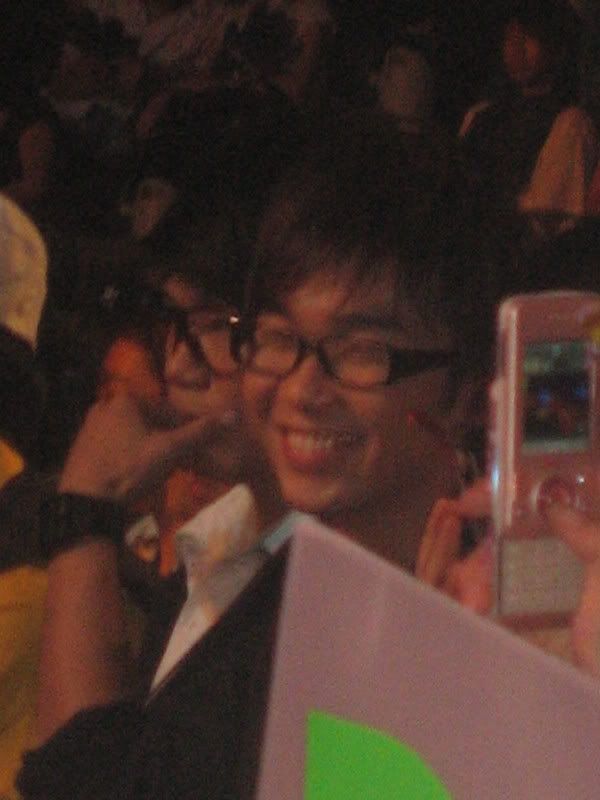 anyway, i was so happy.. real-life sinchan!! hehe... look even cute(r) than watching him in TV. listened to his voice in LIVE is nicer and sweeter compared to watching him in TV. so much better, man!! damn happy!
while waiting for the results to be announced, Fatt Zai (发仔.. wah.. macam veli close wif him) entertained by singing 2 songs. first time i heard him singing. not bad. the judges said he improved a lot since his last performance. :) good one!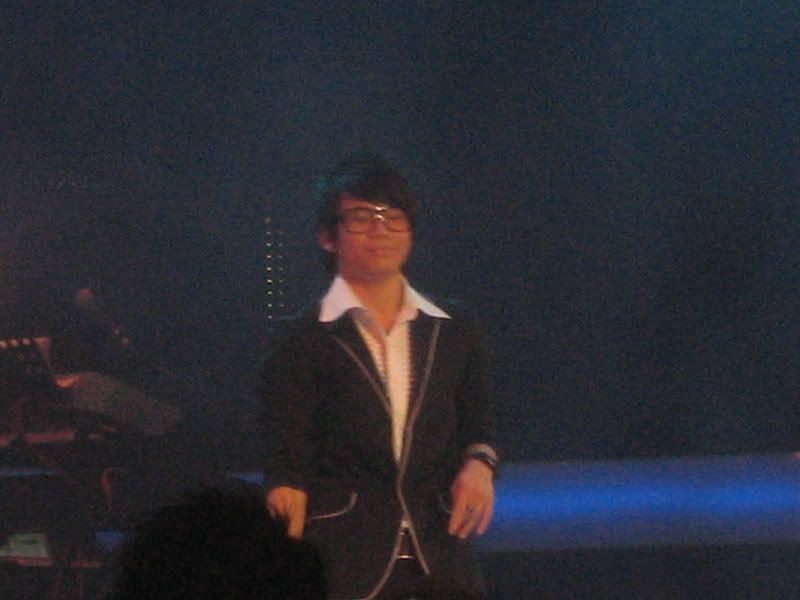 ok.. who's the one saying sayonara to us for this round?? hmmm.. our TALENTED Danny Koo. i was sitting together with his bunch of fans. wow, they're so disappointed when the result came out. so ke-sian.. nvm lar.. he oledi tried his veli best. and also signed the contract with Alex San's company. so i think we can hv his album veli soon d.
Round 3!!
ok.. left 3 of them.. This time, they duet together wif Eric.. hehe...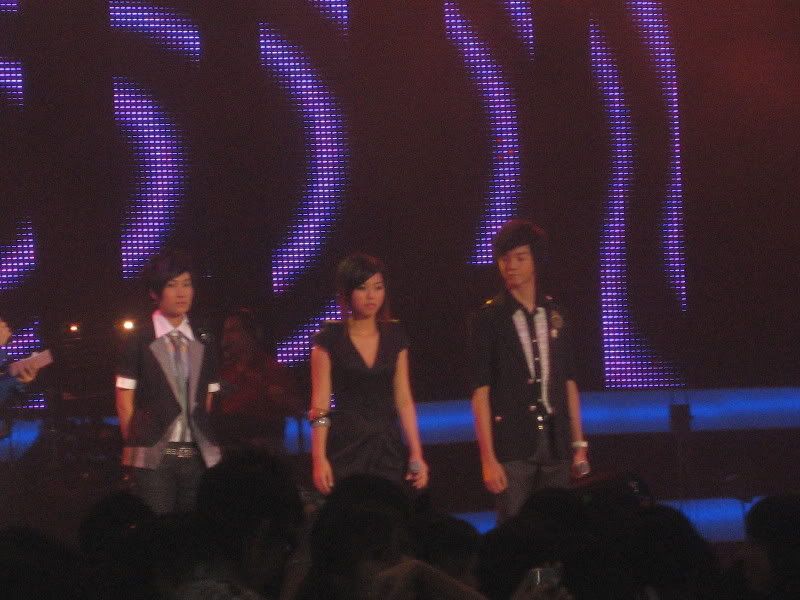 First Pair - Eric and Houren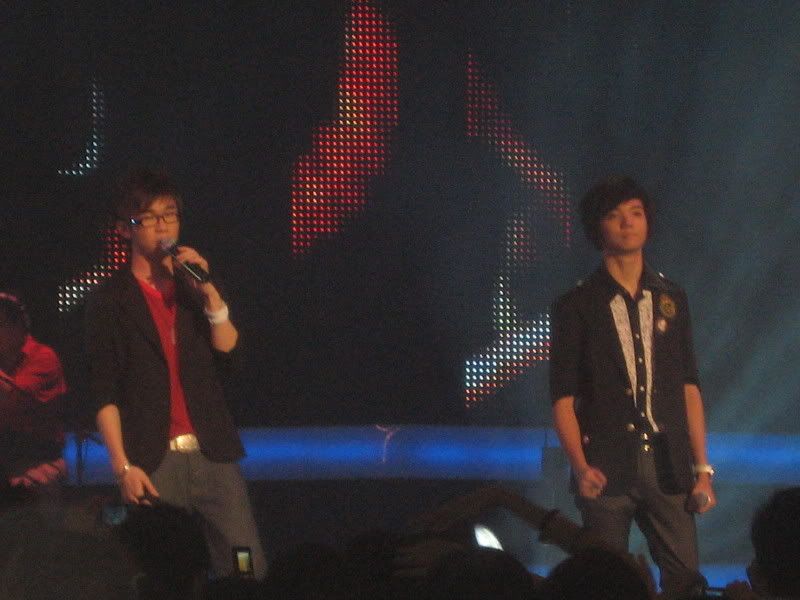 2nd Pair - Eric & Wan Chean
and the last one - Eric and his sister, Debbie.. wow!! fascinating. Fantastic one!! hehe.. different feel compared wif the previous 2.. hehe :)
whoa~~ see see... my idol again!! Eric was singing his new song(星光). he sang another one. but i cant remember wat's the song name. hehe.. sorry.. u guys kno i got short term memory lost rite?? :) hensem or not?? hensem rite?? wahha :P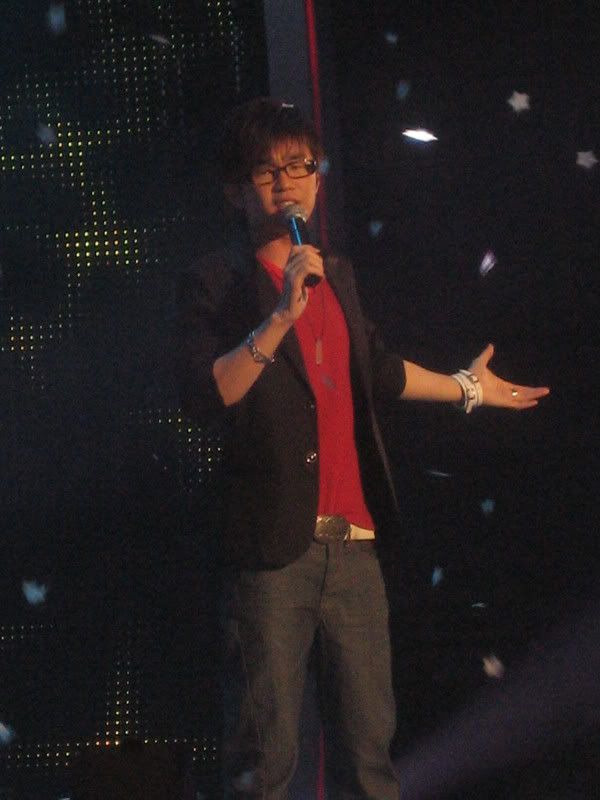 ok.. Round 3, Houren was the No. 3 for tat nite. hmmm... i think he must b a veli good fren to all the Top 21. they were hugging him like giving him comfort and support to him. Not onli him lar, the other 2 oso hv huggies from them. :) see.. this is wat frens are for rite?
Left Wan Chean and Debbie... they duet-ted together. 3 same songs wif free style performance..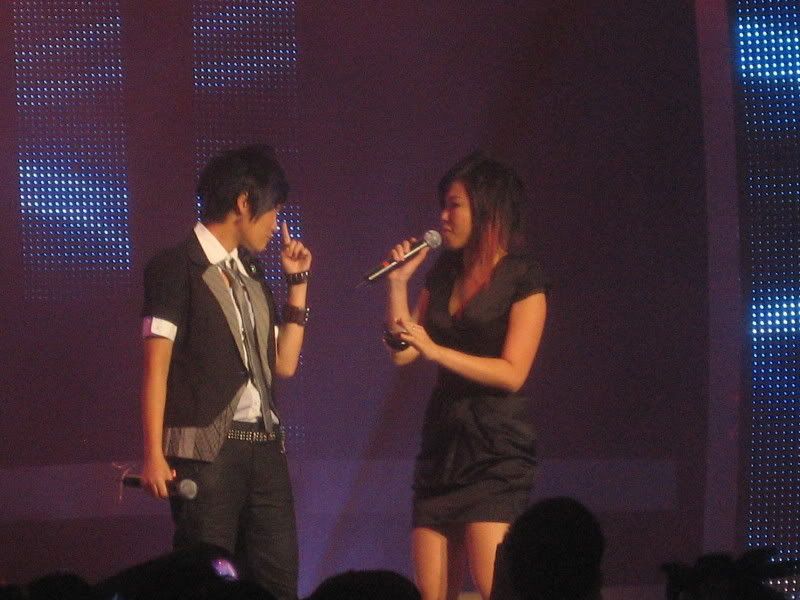 well, i personally think tat Debbie was in stress... cos her performance seems like a bit dropping tat nite. or mayb bcos she's a banana like me.. haha.. we used to call those who dun understand chinese a BANANA.. paisei.. but i think her chinese improved a lot. she alwis got my support!
Prize Giving... Houren got his prize and also The Most Likeable Prize.. hehe... i think translated to english should sound like tat gua.. ** correct me if i'm wrong ya **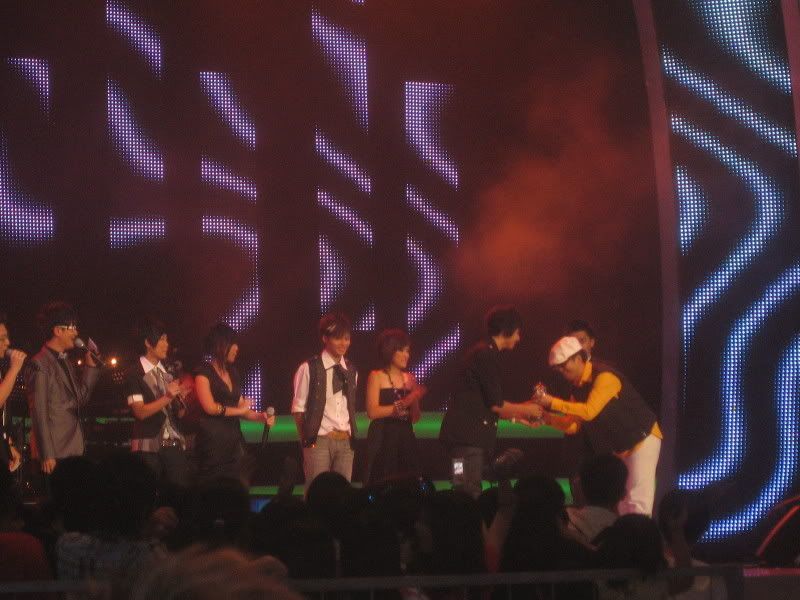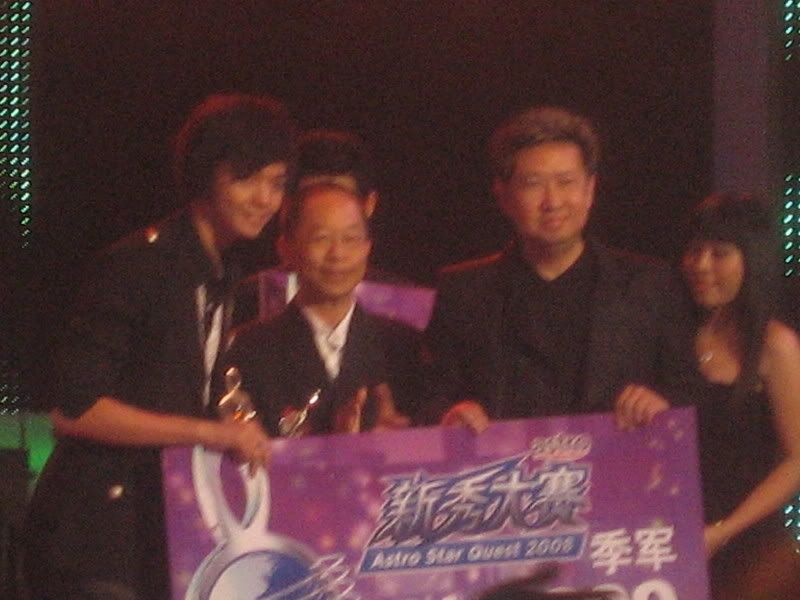 phew~~ heart beating fast at this moment when the judges were going to announce the CHAMPION...
this pic was
took
taken where the results announced was 3 vs 3 votes. i was nervous. although i'm not the one who's going to get the prize, i was stil nervous for them. both oso performed quite good that nite..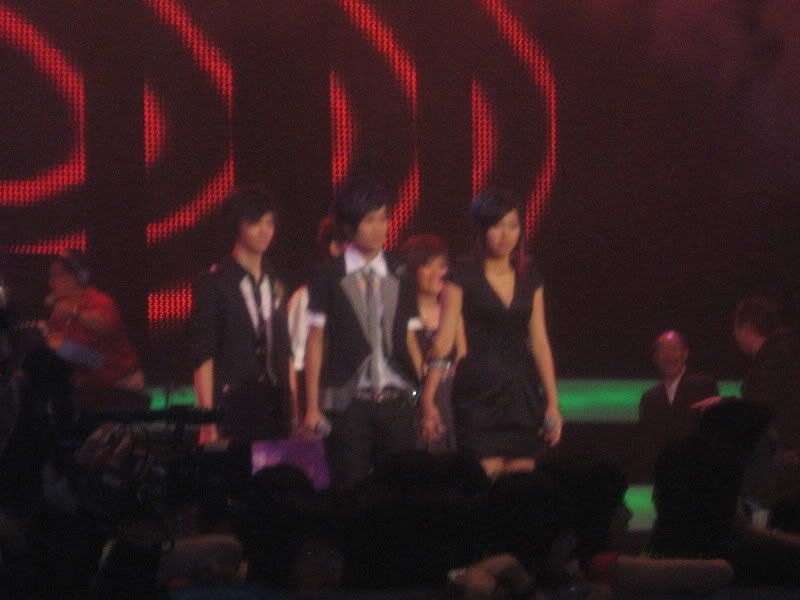 TA DA!!! Last vote went to WAN CHEAN!! if u were at the stadium, u can see how cheerful and happy were her fans!! they were screaming out of the lives man!! i'm stil happy. i went off b4 i can see her taking her prize plus my camera's battery went off rite at the moment!! so to avoid jam, i jus cabut lor.. veli enjoy. the show ended at 1130pm.. omg!! SHE's concert ended at 1045pm. haha.. luckily not so jam lar....
i like Wan Chean's SOLO!! veli nice...