i got this lil cute cactus on the 7th and i alwis the big head prawn(大头虾 => pls read in cantonese and when it's translated to english, it means forgetful). i alwis forget to take pics on it. everyday i saw it on my working table, it reminded me to get my cam but stil i can forget it after work. ok.. today manage to get my cam to work and manage to grab a pic of it.
ya.. cactus onli ma.. nuthin special. so y wanna take pic on it? aiya... it's a special cactus. a present not from liangzai but my good frens, CK and Yee Ling. they went to cameron the other day and i 'slaughter' them for souvenir from there and i mentioned tat i wan a CACTUS! voila, there comes my cute lil cactus. tat's y my topic entitled 'CACTUS of LOVE'.. of cos, not those 'lovey' stuff tat u think of, it's jus the love between frens.
reali appreciate tat they took my words seriously and grab one cactus for me. :) not onli cactus, they gip us 3 packets of cherry tomatoes wic i'd already used it for my spagetti. :) it's reali sweet. thx!
ok lar.. enuff for the crap. so here's the pic.. :)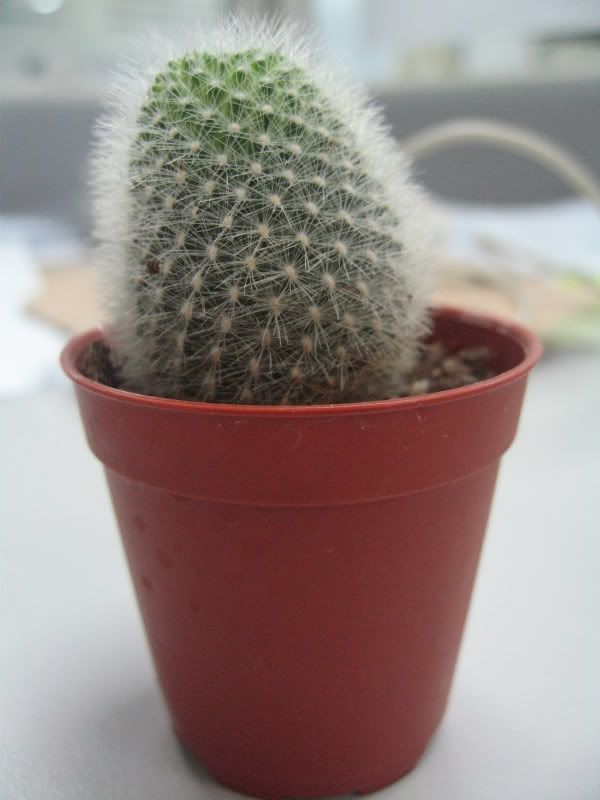 ya lar.. a bit senget.. cos CK torture it.. kelian my Cactus!! i think he wanna torture me but kenot.. tat's y he do tat to my Cactus :P