ya ya.. i kno.. i din blog abt food for some time d. cos no money ma.. how to go to luxurious restaurant and makan there?? so today going to post all those nice nice restaurant's food tat i had last week. hehe... prepare some tissue, napkin or handky.. make sure u dun drip ur saliva everywhere ya.. :)
Date & Time : 12-Jul-2008, 7pm
Venue: Kok Tai Restaurant, Ipoh
it was my liangzai's grand-aunt birthday. 82 yr-old lady. strong and humourous.. see...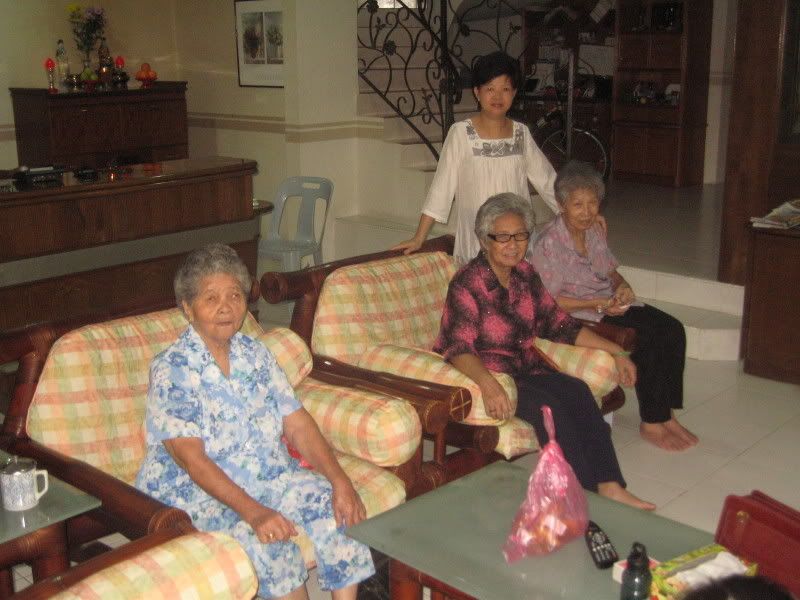 from left to right (first row) : 1st Grand-aunt(大姨婆), Grandma(阿婆) and youngest Grand-aunt(小姨婆)
the one standing at the back row: MIL
reached the restaurant. placed at a round table. everyone was so happy. and veli extremely talkative. u kno when u stick wif elder ppl, they got lotsa stuff to tel u especially during my hubby childhood time. so funny...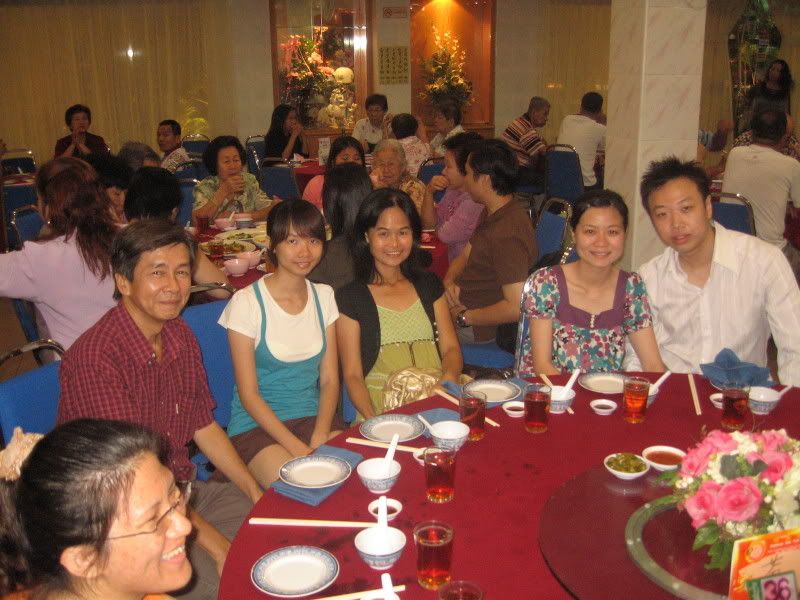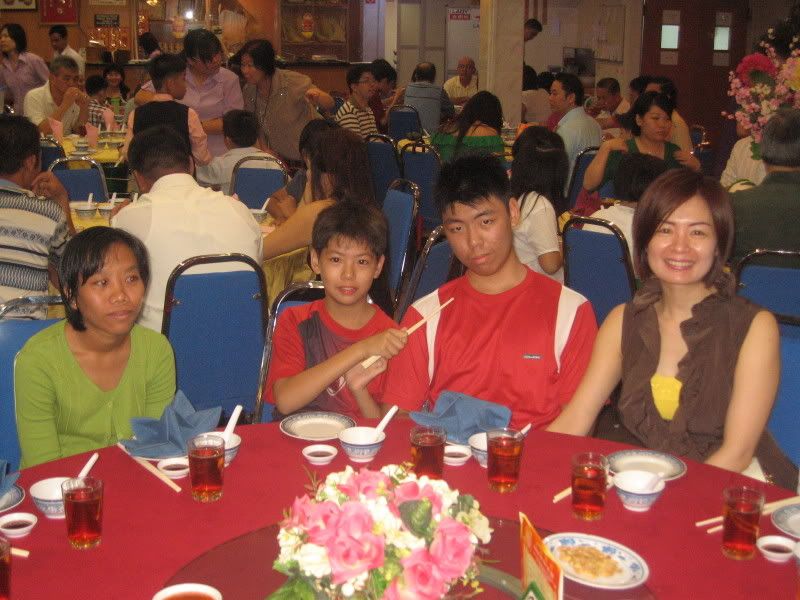 Left Pic (from left to right): ok.. ahem..liangmui, Uncle(表舅父), Ruby, Auntie(表舅母), Denise & Steve
Right Pic (from left to right): the maid, younger bro (i forgotten his name), Justin and Fen (my hubby's cousin)
this is the first dish => Assorted Dish. It supposed to be cold one (冷盘) but Sis Fen changed the menu to hot(热盘) cos elder ppl dun take much of cold stuff..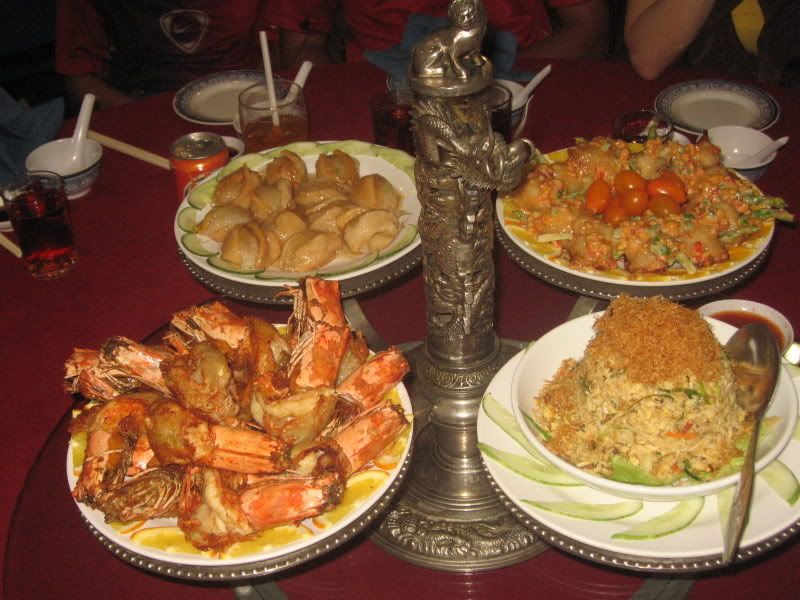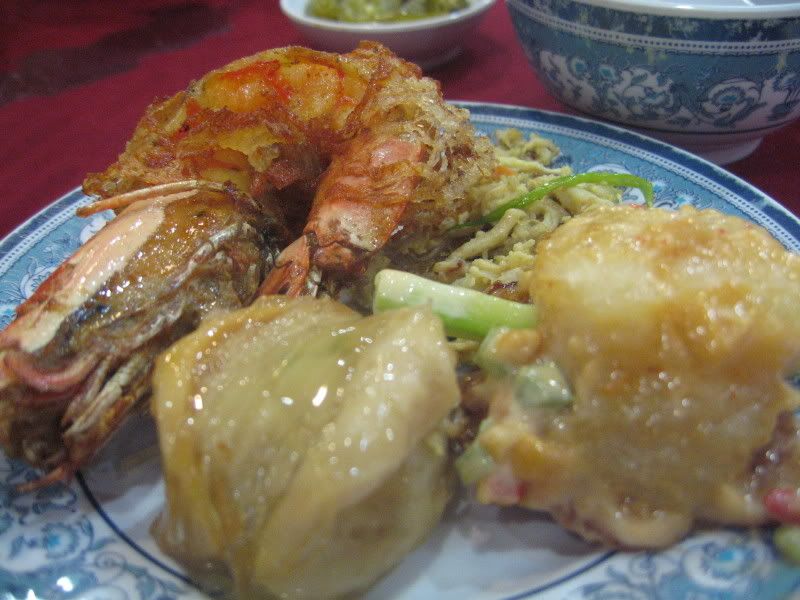 Left pic (Clockwise): Fried Prawns, Scallops, Crab meat Ball and Crab Fried Rice..
delicious. well, too bad i cant take prawns. liangzai & MIL ate more than 2 and they are praising it. Great, Fantastic!! ok ok... dun seduce me... but i oso the kiasu (scat to lose) type. i take 3 scallops. wei.. the scallops is bigger than 50 cents and it's veli thick!! so better eat it rite?
Next, the Pig Foot + Sea Cucumber Soup (猪脚海心汤)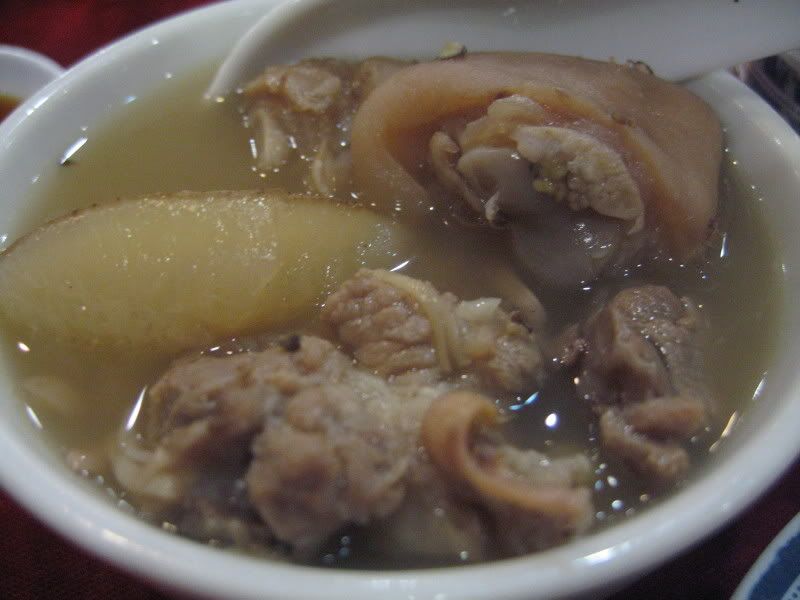 wahhhh... the best among the rest. aiya, i'm soup lover ma.. hehe... of cos will get attracted to soup rite. well, it's veli sweet, nutritious, not oily, and u stil can smell the sea cucumber fragrance!! do u realise tat there's a mobile stove??? the waitress told us.. this pot ar.. must put on the stove and the soup must served HOT!! or else not nice. ya, she's rite!! i dun like cold soup... hehehe.. liangzai likes warm but i like hot boiling one.. hehe.. taste better!
while waiting for the 3rd dish to be out, guess wat's the birthday lady (寿星婆) doing?? ehhheeee......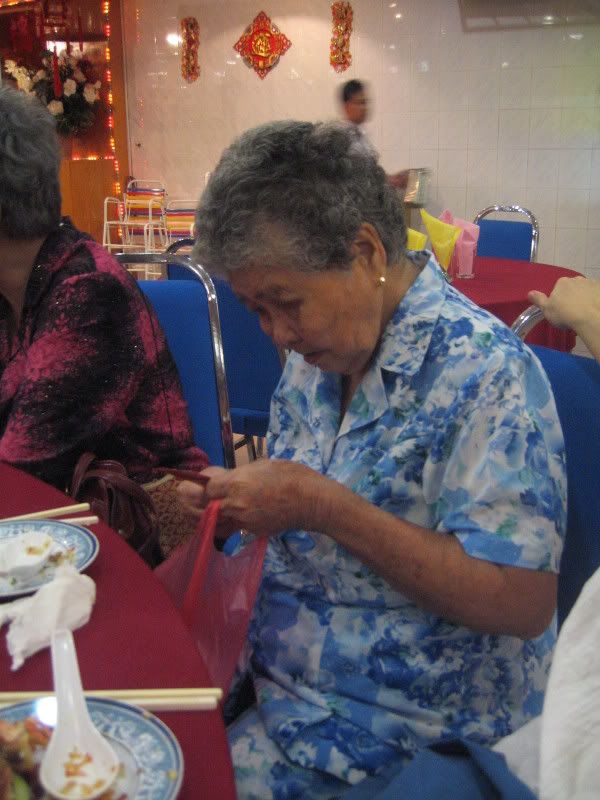 TA DA!!! Ang Pow session.... yea!! everyone got angpows.. hehe...
here comes the 3rd one....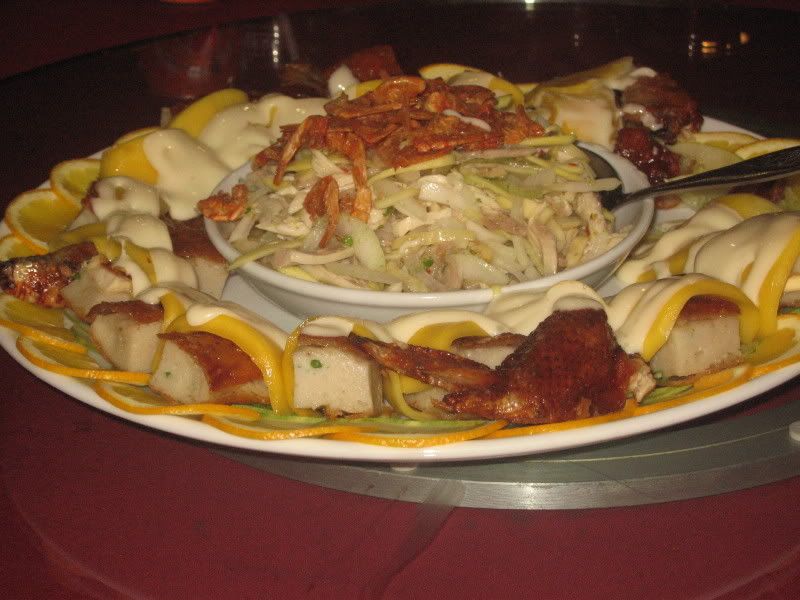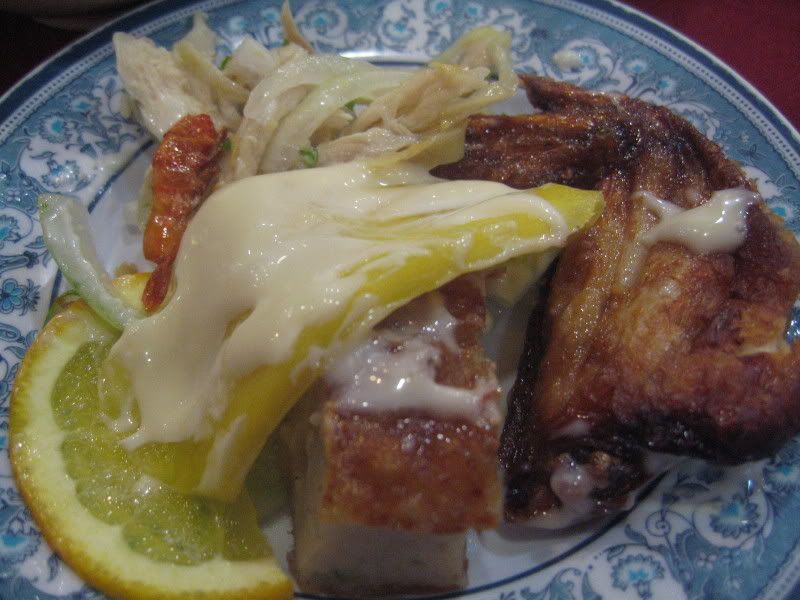 Mango Fried Chicken with Mayonnaise topping (芒果炸鸡) + Chicken Slices Kerabu(鸡丝莎律)
can u see the chicken wing?? mine is special one.. my MIL get the chicken wing for me ler.. and Steve jealous when i makan it.. :P dun care.. i took a lot of mangoes tat day. calories boost up. teruk teruk.... nvm lar.. makan first.. great combination. i think i wil try it at home. the kerabu was quite sourish wif some additional of fried baby prawns and chili padi. nice too! Sis Fen finished the kerabu.. haha... quite appetizing man!
Next one....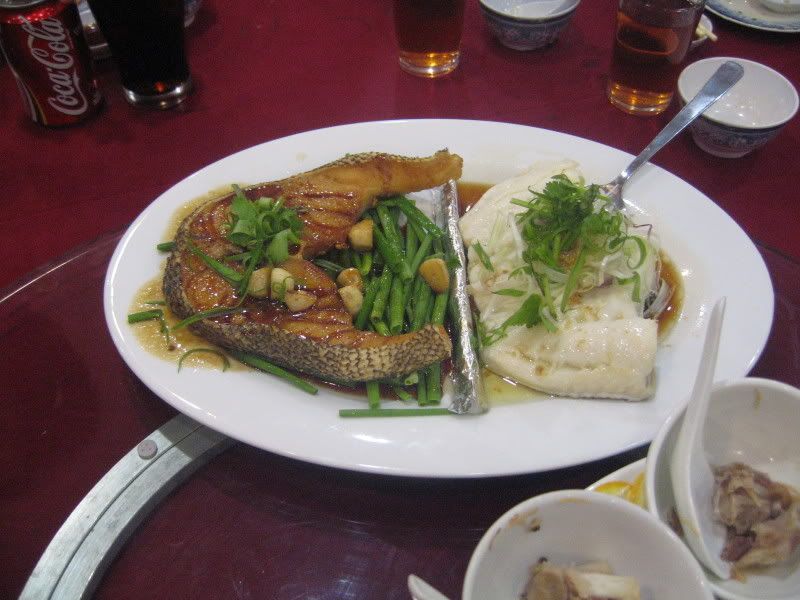 Double Combination of
Snow
Cod Fish => Fried and Steam
*** p/s: i was thinking wat's the name of the fish for quite some time ler... at the end i gip up.. jus direct translate it from mandarin to english.. tat's y lar.. ya lar.. i kno lar.. last time ask me to study hard but i play too much.. now regretted d. Thanks to IRISH for the reminder. muaks!!
wah.. the fish... aiyo.. teruk lar.. makan macam ni.. u tel me lar.. how to get skinny back???
Fried one => they fried it wif garlic and spring onions. i think the spring onions are quite fresh. i stil can taste a lil of the spicy flavour from it.. good... and it look veli greeny.
Steam one => snow fish steamed wif light soy sauce. omg~~ reali FRESH!! liangzai dun take fish one. after i psycho psycho him. he tested a bit and he said GOOD one.. not smelly. aiyo dear, if smelly one tat means the fish is not fresh. Fresh one veli nice one!!
Last but not least,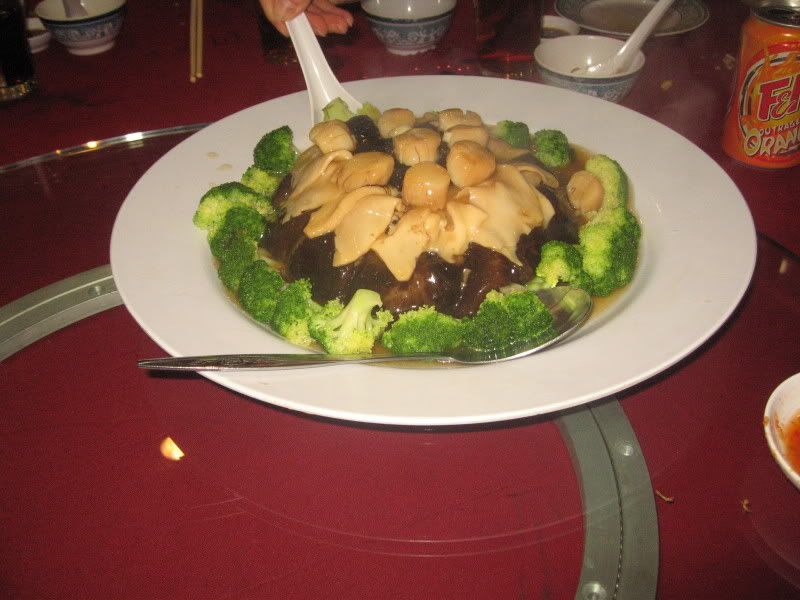 Lo Han Vege (罗汉斋)
haha... dun kena tipu by the name of the dish ar.. it contains not onli VEGE but look carefully... hehe... SCALLOPS AND ABALONE ler.... omg~~ how can i resist to these?? mushrooms and broccoli are jus decorations. the main portion wil be the scallops and abalone.. i took a lot.. there goes my diet~~ pls help me to say BYE BYE to my diet plan... hahaha....
At last,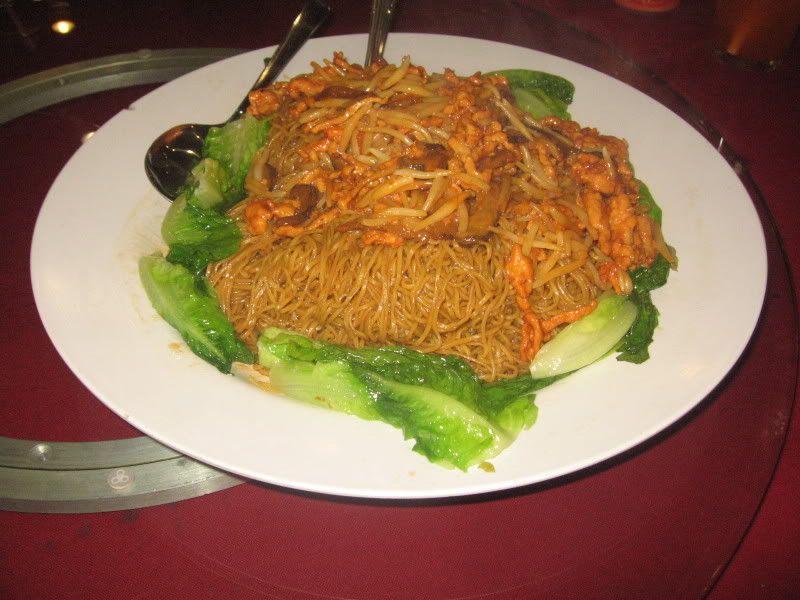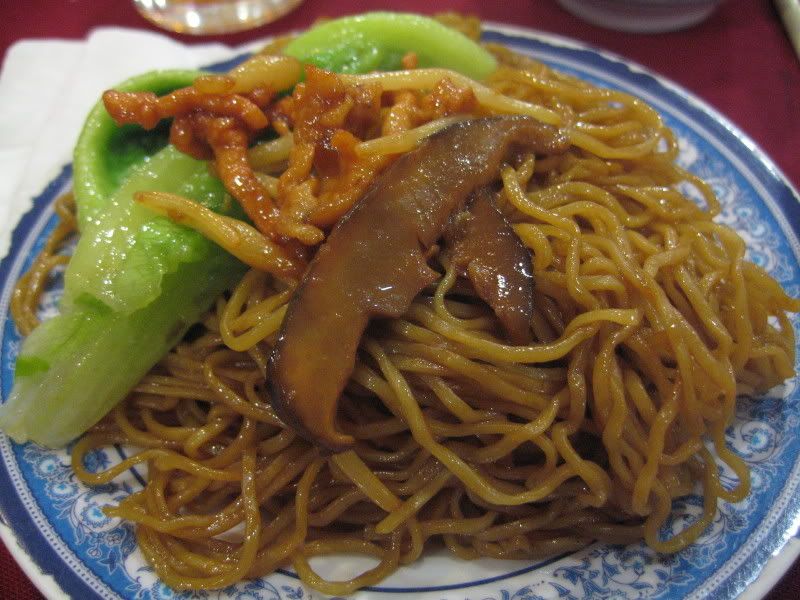 Sang Min (生面)
well, every birthday event will have this dish at last. it means that longevity in life.. :) tat means u live longer lor.. :) haha... we hv to wait for abt 30min for this dish. so long. but good oso. got chance to tok to the relatives. so fun. then Sis Fen rushed the waitress for the last dish. veli nice. nonit makan oledi can tell from the look. after makan.. omg~~ feel like i'm in the heaven ler... so nice. liangzai sapu all.. he's waiting for this actuali.. haha....
well, make a guess wan?? how much this dinner cost?
...
...
...
...
...
...
...
...
...
...
...
...
...
...
...
...
...
...
Ta Da!!! RM600++ for special discount cos Sis Fen kno the boss well...
but i think if normal ppl like me go and makan, it wil double up the cost rite? all those Grade A stuff ler.. luckily it's FOC.. we jus stick on the chair and makan.. the charges covered up by Sis Fen.
Thank you so much!!